Cardi B And Offset's Kids Live Extremely Lavish Lives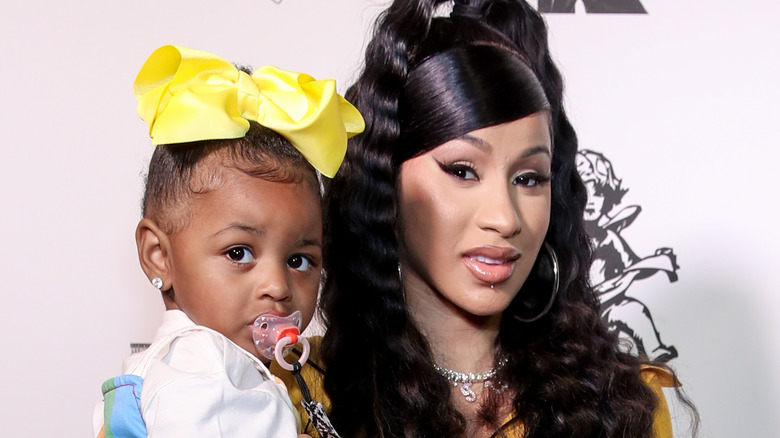 Rich Fury/Getty Images
With parents like Cardi B and Offset, Kulture Kiari Cephus and Wave Set Cephus were born to flex. But their mother and father have been scolded by social media for seemingly spoiling them with extravagant purchases.
When Kulture celebrated her fourth birthday in 2022, she wasn't stacking up LEGOS; she was stacking cold, hard cash — %50,000, to be exact. After Offset took to his Instagram Story to share a video of Kulture playing with what is more than many teachers make annually in the United States, some Twitter users jokingly begged to be adopted by the little girl's parents. However, others criticized the couple for doing the exact opposite of teaching Kulture the value of a dollar. "She'll be so spoiled rotten. I hope not but giving a child that kind of money is going to ruin her," one person tweeted.
Just days before Kulture received her controversial present, a Vogue Singapore interview with Cardi B was published in which she discussed raising her children. "They need to know to never feel comfortable. Don't ever feel like, 'I'm going to get it because I'm Cardi and Offset's kid,'" said the "Money" hitmaker. But while her hope is that her children will realize that making bank by working hard is better than having everything handed to them, it's evident that she can't resist spoiling her daughter and son.
Kulture's crazy expensive accessories collection
Kulture Kiari already rivals her mom when it comes to her collection of jewelry and handbags. For her first birthday, she received a custom Eliantte necklace featuring the colorful likenesses of "Word Party" characters sculpted in enamel. It was encrusted with jewels and worth around $100,000, per TMZ.
Kulture received an even pricier iced-out watch from her dad when she turned three in 2021. Her party had a princess theme and her parents got her jewels befitting a royal; Offset gifted her a Richard Mille watch that set him back $250,000, according to BuzzFeed. Cardi B's present was another Eliantte piece: a diamond necklace adorned with charms including a Minnie Mouse head and a Birkin handbag. Us Weekly spoke to an expert who estimated its value to be as much as $150,000.
Kulture often models her designer clothing and purses on her Instagram page, including the Louis Vuitton backpack she received from Cardi B's "WAP" collaborator Megan Thee Stallion in 2020. Per BET, it retailed for almost $2,000. Weeks earlier, her dad had presented her with a Birkin bag worth around $8,000, according to USA Today. But Cardi B outdid Offset the following year when she contacted Privé Porter CEO Michelle Berk about customizing a Hermès Birkin bag for her daughter's third birthday, per Page Six. The $38,000 accessory features a rainbow design created from Swarovski crystals and was inspired by a purse that Kulture had spotted at Claire's.
Why Cardi B and Offset spend big on their kids
While it's true that money can't buy happiness, it can buy you a customized, kid-sized Mercedes when you turn one, as Wave Set discovered in 2022. Wave was so young that he won't even remember his over-the-top, car-themed birthday bash, but Offset explained that he and Cardi B had a good reason for spending so lavishly on the event. "We travel a lot, we be gone a lot. So, we bring our family together, make it a big celebration for the kid," he said on "The Tonight Show Starring jimmy Fallon."
In a 2023 interview with The New York Times, Cardi B revealed she and Offset spent over $20,000 on a playground for their kids. "Overly spending on your kids doesn't mean that you're a great parent, but it makes you feel good. It makes you feel like that you're living your childhood dream," she said.
While it's sweet that the parents spend so much of their wealth on their kids, Cardi B also confessed that she wants her family to look cohesive. This is why her kids' closets contain the same luxury brands she splurges on for herself — even though her son and daughter couldn't care less about designer labels. In a video on her Instagram Story, she astutely pointed out, "If I was looking like a bad b***h, expensive b***h, and I had my kid looking like a bum bum, then y'all would talk s***."