Ivanka Trump's Daughter Arabella Rose Kushner Is Growing Up Fast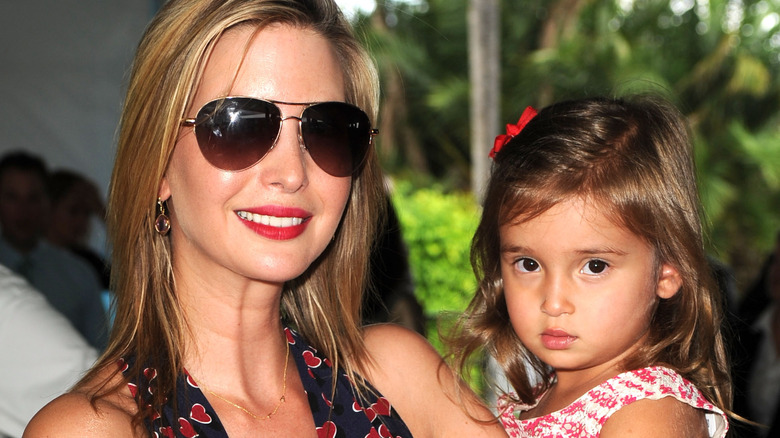 Larry Marano/Getty Images
Donald Trump might be collecting indictments the way his supporters collect limited edition commemorative gold coins featuring his likeness, but it's business as usual for Arabella Rose Kushner and the rest of the ex-president's grandkids. Just don't expect to see Arabella helping Donald out by providing him with some doting granddad photo ops on the campaign trail; in 2022, her mom, Ivanka Trump, released a statement saying she was done with politics. "I am choosing to prioritize my young children and the private life we are creating as a family," it read in part.
While Donald was in office, Arabella was occasionally spotted with her mother and her father, Jared Kushner, at political events. In 2017, Ivanka tweeted a video of Arabella singing in Mandarin — which the little girl can actually speak — for Chinese President Xi Jinping when he visited Mar-a-Lago. And when former Supreme Court Judge Anthony Kennedy invited Ivanka to observe oral arguments for a case before the Supreme Court that same year, then-5-year-old Arabella joined her. "I'm grateful for the opportunity to teach her about the judicial system in our country firsthand," Ivanka tweeted.
We don't know whether Arabella is learning more about the United States legal system now that her grandfather is getting plenty of firsthand experience with it himself, but we do know she's still celebrating some of her biggest milestones with the former reality show star.
Arabella Kushner wore a custom gown for her bat mitzvah
Speaking to Us Weekly as a first-time mom in 2013, Ivanka Trump shared how she planned to parent Arabella Kushner. "The one thing I won't tolerate is her being spoiled or bratty or having poor manners. That's one area [in which] I'll be very strict," she said. But Ivanka did spoil Arabella just a tad when her daughter celebrated her bat mitzvah in June 2023. Per Women's Wear Daily, Arabella wore a custom-made Custom by Zoe tiered gown for the special occasion. The skirt featured glittering gradient fabric in gold and pale blue, while the short-sleeved bodice was solid blue with semi-sheer shoulders. The bottom layer of the skirt was removable so that it could be converted to cocktail length. "We began working on the concepts for her bat mitzvah in January 2023," said a rep for Custom by Zoe. While Ivanka told Us Weekly that Arabella was obsessed with heels as a 1-year-old, she rocked a pair of Nikes with the dress after ditching the extra fabric.
In Ivanka's Instagram carousel featuring photos from Arabella's bat mitzvah, Donald Trump was nowhere to be seen amongst the Trump-Kushner clan. However, in a post on her Instagram Story, Ivanka revealed how Donald helped his granddaughter celebrate turning 12. "Thank you dad and Melania for throwing Arabella the sweetest birthday dinner at Mar-a-Lago a few weeks ago in advance of her Bat Mitzvah! It was very special," she wrote.
Arabella Kushner has a fondness for fillies and philanthropy
In her Instagram post celebrating Arabella Kushner's birthday, Ivanka Trump included a photo of her daughter and a show-jumping horse flying over an obstacle. The Daily Mail has published photos of Ivanka accompanying Arabella to riding lessons in Miami, and in a picture on Ivanka's Instagram Story, Donald Trump had Mar-a-Lago all decked out with horse-themed decorations for Arabella's birthday dinner. The table setting even included tiny blue ribbons like those awarded at show-jumping competitions.
Arabella apparently got her love of horses from her equestrian mother. In July 2023, they were both spotted riding horses at singer Julio Iglesias' ranch in Ojen, Spain, per Hola! Ivanka also plays polo and has co-chaired the Trump Invitational Grand Prix show-jumping competition at Mar-a-Lago.
While Ivanka told Us Weekly that she had some difficulty teaching Arabella to embrace the concept of sharing as a toddler, her persistence paid off. On Instagram, she praised the budding philanthropist for supporting the Jewish Community Service Kosher Food Bank. She also revealed that Arabella melded her passions for horses and helping others by doing volunteer work with Whispering Manes, a center located in Miami that offers therapeutic riding lessons for people with various disabilities. "Arabella's giving heart and commitment to making a positive impact embodies the spirit of this special milestone," Ivanka wrote after Arabella's bat mitzvah. "We couldn't be prouder of the extraordinary young woman she has become."