Who Is Hallmark Star Paul Greene's Real-Life Love, Kate Austin?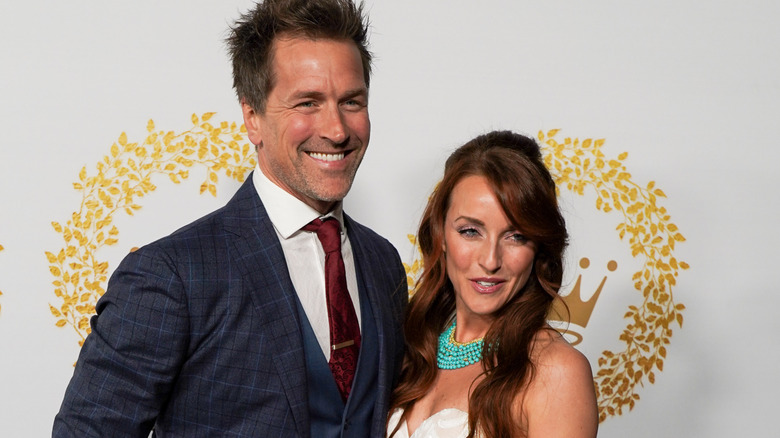 Rachel Luna/Getty Images
One of Hallmark's most musical leading men, Paul Greene, proposed to Kate Austin in 2019. Greene announced their engagement in an Instagram post that included photos and videos of the couple celebrating their new relationship status during a romantic trip in Italy.
Greene told ET that he and Austin had been dating for four years when he popped the question. "We are like two puzzle pieces that just fit perfectly together in every way," he gushed. He also praised his partner for being a great future stepmother to his son Oliver, whom he co-parents with his ex-wife, Angi Fletcher.
To capture the heart of the "When Comes the Heart" star, Austin didn't have to do much; upon seeing a photograph of Austin, Greene was instantly smitten. "[I] messaged her right away and asked if she wanted to go to a movie," he said. Their love story served as the inspiration for his song "I Love You Now," and he was determined to make his proposal another grand romantic gesture. However, finding the perfect place to propose proved to be a challenge. "We were in Rome and Kate had a dental emergency, so that eliminated Rome," he told MediaVillage. Tourists interrupted another attempt, but Greene tried again. "I grabbed the ring and Kate said, 'My fingers are so swollen from all the hiking — so, again, nope," he continued. He finally got that ring on Austin's finger at their hotel, and the two keep proving that they're the perfect match.
Kate Austin and Paul Greene are wellness gurus
Kate Austin hails from the Land Down Under and has appeared in episodes of the Australian TV series "Forensic Investigators" and "Home and Away." In 2016, she told Media From the Heart that she, Paul Greene, and some of her friends were working together on a pilot for a TV series titled "Stay with Me." When discussing what Greene was like as a castmate, she said of her future fiancé, "He's one of the most exceptional human beings I've ever met in my life. ... There's no prima donna, fake actor in him. He's a kind beautiful soul to everybody."
Their pilot didn't get picked up, but the couple went on to work on a few short films together. However, their biggest shared passion project seems to be Freedom Alchemist, a health and wellness platform through which they offer paid online courses. Greene also has a background in nutrition and fitness, so he's the health guru of the pair. As for Austin, she has a master's degree in NLP (Neuro-Linguistic Programming), a somewhat controversial method of modifying behaviors and thought patterns to help clients achieve a desired outcome. (Some researchers have dismissed it as pseudoscience). Austin has trained with celebrity life coach Tony Robbins, and she also offers private coaching sessions. "In a true sense I am a life strategist, I have helped hundreds of people transform issues around, relationships, health, finance, family and career," she writes on the couple's website.
Motherhood made her more emotional
Before Kate Austin and Paul Greene celebrated the birth of their son Austin "Ozzie" Greene in 2021, Kate told People, "I am thrilled about becoming a mom, but I have never felt that I needed a child to be complete." However, it seems that seeing how good Paul is with his now-adult son Oliver made parenthood seem more appealing to Austin.
The life coach had to adjust to some unexpected changes after Austin's arrival. "Something you aren't aware of when you have a kid is that you become much more of a mush bag. I cry at all sorts of things that would have never effected me before," Kate wrote on Instagram. Luckily, she's been doing plenty of smiling, too, as evidenced by the family photos on her Instagram page. She also revealed that motherhood has been a lot less stressful than she thought it would be. "I haven't found any of it hard, not a single day, even when there are sleepless nights I am in full surrender of it all," she wrote.
Austin was 41 when she gave birth, and she suggested that her age possibly had something to do with her mindset. It probably also helps that she and Paul are one happy, healthy couple. "Paul and I have two Pilates machines, we beach walk, eat organic food and enjoy our time together," she told People. "We have a unique relationship, we actually wake up in the morning laughing."