Adam Sandler Met His Wife Jackie On The Set Of One Of His Biggest Movies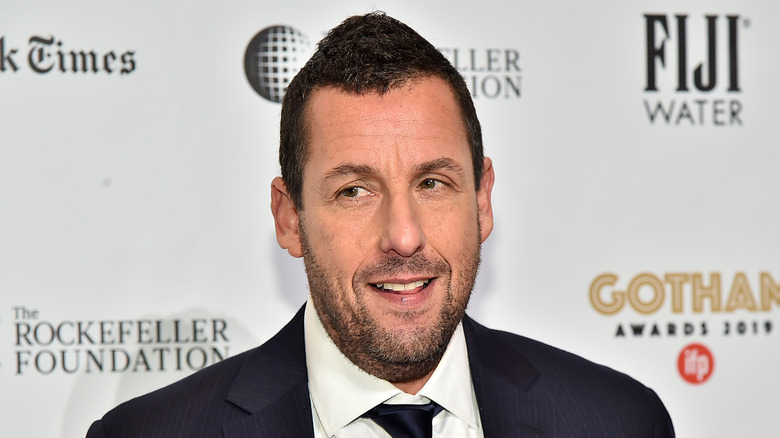 Theo Wargo/Getty Images
Adam Sandler is the rare case of an A-list actor who doesn't have an extensive relationship history for the world to dissect. Instead, Adam has spent the past two decades with Jackie Sandler. "The Wedding Singer" star and Jackie tied the knot in June 2003 in a star-studded ceremony that included Adam's close friend Jennifer Aniston among its guests. The decision to wed Jackie is one he's forever grateful for. "Your 'I do' was the best gift of my life," Adam captioned an Instagram post to celebrate their 20th anniversary.
Adam and Jackie started a family in May 2006, when they welcomed their daughter Sadie. The couple expanded the brood in November 2008 with the addition of a second daughter, Sunny. "I love and appreciate your devoted soul more and more each day. Us. The kids. Lets keep going and going babe. Lots of love to give you. Always," he wrote in the post. Adam's love for and dedication to his work transcends to his personal life.
Despite his busy schedule, he makes sure to find time to go to his girls' school so he can show off his parenting abilities during lunch. "I am the coolest ... You can just show up with In-N-Out Burger and your kid loves you more," he said at a 2014 conference to promote the film "Blended." Adam maintains his family and career pretty close, keeping them involved in his projects. That's been true from the get-on, considering he met his wife on set. 
Adam Sandler met Jackie in 1998
Adam Sandler's fans remember the growing up he did alongside the Sprouse twins in 1999's "Big Daddy." Behind the scenes, the real Sandler was also going through a transformative experience. In the movie, the character co-played by Dylan and Cole Sprouse has a brief exchange with a waiter who asks him about the game he's watching. As she walks away, Sandler's character joins his future foster son at the table. "It's too bad you don't like girls — I think you could have had her," he tells him.
"Her" is played by Jackie Sandler, then Titone. That's her only scene in the Dennis Dugan film, but it was enough to win Adam over. Adam and Jackie met thanks to Rob Schneider, who suggested her for the role. Back then, Jackie was still mainly working as a model, though she moved to L.A. to pursue her a career in acting. After snagging a small role in "Deuce Bigalow: Male Gigolo," screenwriter Schneider convinced his friend Adam about to include her in his upcoming project, "Big Daddy."
Adam needed no time to fall in love with her. "My heart has been yours since the first second I saw you," he noted in his 20th anniversary Instagram post. In 2020, he celebrated the years that had passed since they met on set. "22 years ago today we locked eyes and fell deep. Look forward to the next 22, young lady. Love you my forever girl,"  he captioned the Instagram post. 
Jackie has been featured in several Adam Sandler movies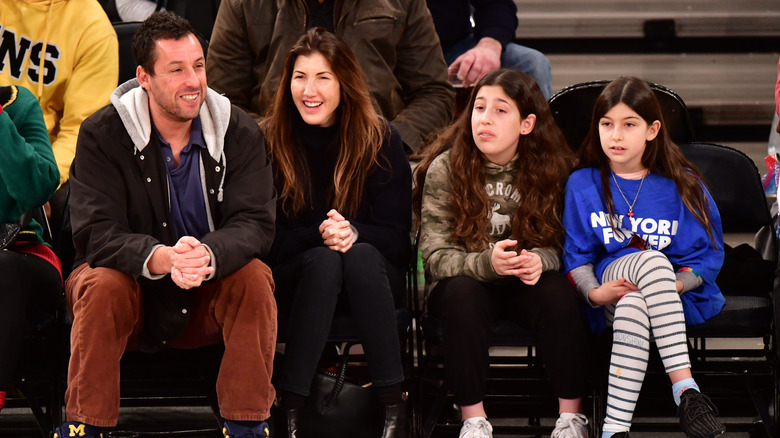 James Devaney/Getty Images
Jackie Sandler isn't a household name like her husband, but many movie buffs might recognize her from several of Adam Sandler's films. After appearing in "Big Daddy," Jackie played a small part in "Little Nicky," which came out a year after. In 2002, Jackie starred in his animated film, "Eight Crazy Nights." The two continued to share the screen throughout the next two decades, from 2004's "50 First Dates" to 2019's "Murder Mystery." In all, Jackie has starred in nearly 20 of his movies.
And Jackie isn't the only Sandler Adam likes to cast in his movies. His daughters Sadie and Sunny are also frequent stars, having appeared alongside their parents several times. That means Jackie, Sadie, and Sunny have also shared the screen with Jennifer Aniston and another of Adam's famous friends, Drew Barrymore. That obviously also means the whole pack has witnessed plenty of romantic scenes between her husband and some of Hollywood's most sought-after stars.
But they're totally OK with that. Adam felt a bit weird kissing Aniston in "Murder Mystery" in front of his family, but they didn't share his unpleasantness. "The only awkward part is hearing my wife on the side going, 'Harder! Harder! Kiss her harder! Deeper!" he told The Associated Press in 2019. "They (Jackie and the kids) watched the kissing. They love it. They love Aniston, and they want her to have good things and they say, 'Give her something nice."