What Happened To Mitch McConnell's First Wife, Sherrill Redmon?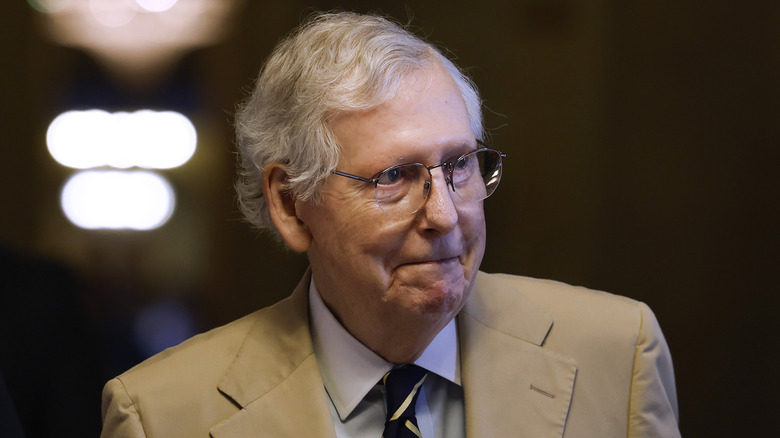 Anna Moneymaker/Getty Images
As the longest-serving Senate party leader, Mitch McConnell has become a major piece in the U.S. conservative movement. But the Republican likely wouldn't have achieved this status without the help of the women in his life. McConnell's wife, Elaine Chao, who served as secretary of labor under George W. Bush and as secretary of transportation under Donald Trump, has been particularly fundamental in his journey from Kentucky senator to one of this century's most influential politicians.
In addition to being involved in politics herself, Chao is the daughter of a Chinese shipping mogul whose business proved essential in advancing McConnell's career. Chao's family has poured a pretty penny into McConnell's campaigns, starting even before he married her in 1993, according to the New York Times. And money isn't the only way Chao has helped McConnell. He has also used her in ads to stave off criticism of his policies that are widely considered anti-women and discriminatory. 
Although McConnell made a name for himself as a conservative lawmaker, his beliefs weren't always on the far-right end of the political spectrum. A big testament to that is his ex-wife, Sherrill Redmon, whom he married in 1968  and with whom he shares three daughters: Eleanor, Claire, and Porter. Not only did McConnell build a family with Redmon, he also leaned on her political knowledge in the early days of his career. Despite her early influence and the fact that she's mother of his only children, McConnell now all but pretends she never existed. 
Sherrill Redmon went on to become a feminist scholar
While Mitch McConnell's love story with Elaine Chao is plastered on the walls of the University of Louisville, his alma mater, the name of his ex-wife, Sherrill Redmon, is nowhere to be found. "Big surprise there," Redmon told the New York Times in  2014. That's because Redmon's beliefs contradict the foundation on which McConnell has built his reputation. Following their divorce in 1980, Redmon, who has a Ph.D. in American history, moved to Massachusetts, where she worked on the Voices of Feminism Oral History Project with none other than feminist icon Gloria Steinem.
Redmon wasn't just a spectator in McConnell's political career — she actively campaigned for him in the late '70s. "Of course, the irony of all that is not lost on you," she said during a 2017 conference at the University of Houston. But McConnell was different back then. Although he wouldn't use the word "feminist" to describe himself, Redmon said, McConnell worked with late Senator Marlow Cook to promote the Equal Rights Amendment. 
But Redmon hasn't always been so keen in discussing her marriage. "Despite Sherrill's devotion to recording all of women's lives, she didn't talk about the earlier part of her own," Steinem told The New Yorker in a 2020 email. The second-wave feminism leader doesn't blame her. "I can only imagine how painful it must be to marry and have children with a democratic Jekyll and see him turn into a corrupt and authoritarian Hyde," she added.
Mitch McConnell's daughters are also progressives
The ideologies of Mitch McConnell's only children also differ vastly from that of their father. Porter, his and Sherrill Redmon's youngest, leads Take On Wall St., a coalition of unions and other organizations that promotes financial reform to include disenfranchised minorities. On Twitter, Porter describes herself as an activist for "economic, racial and gender justice." Porter is also against the privatization of the U.S. Postal Service promoted by former President Donald Trump, a cause McConnell was involved in.
During the 2018 highly publicized judiciary hearing of Supreme Court Justice Brett Kavanaugh following sexual assault allegations made by Christine Blasey Ford, Porter publicly accused Republicans of sexism. In response to a tweet that noted the "irony" of Trump supporters chanting "lock her up" in reference to Hillary Clinton at an event in which Trump defended that Kavanaugh "should be presumed innocent until proven guilty," Porter responded on October 3, 2018: "That ain't irony, it's misogyny," the Daily Mail reported. 
McConnell worked hard to have Kavanaugh confirmed as justice in the Senate, which took place three days after Porter's tweet. Porter isn't the only member of the family to have come out against Kavanaugh. "His testimony, while doesn't prove him guilty, does show that continual evasions, misdirections and lies amount to perjury and prove him unfit to be a judge," Richard Jerram, Claire's husband, argued on Facebook, according to the Daily Mail. Meanwhile, Eleanor, the eldest sister, is a registered Democrat, The New Yorker noted.