Details You Didn't Know About Mitch McConnell's Wife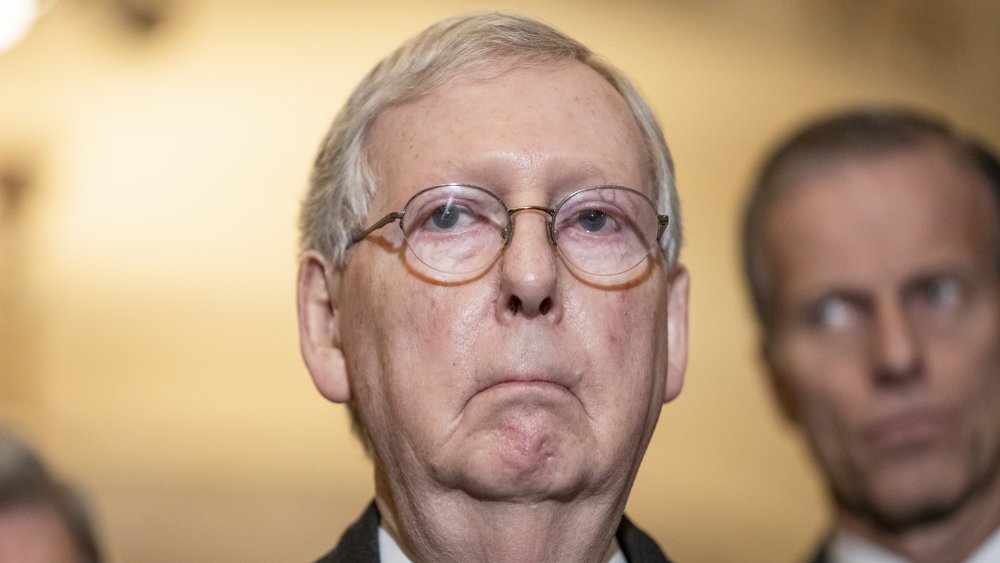 Samuel Corum/Getty Images
Senate Majority Leader Mitch McConnell may not be winning a popularity contest anytime soon — apparently the conservative figure is one of the least favorite members of the senate with a 50 percent job disapproval rating, per The Hill — but someone slightly less divisive in politics is...his wife! 
Elaine Chao, President Donald Trump's Secretary of Transportation and McConnell's spouse since 1993, is pretty well-liked across the board. Despite some controversies (we'll get to that), Chao has earned praise from both Republicans and Democrats, per U.S. News. "It would be hard to come up with a more qualified nominee than Secretary Chao for this important role," said Republican Sen. John Thune, who headed the committee that reviewed her nomination, per USA Today. "Secretary Chao has repeatedly proven her willingness to roll up her sleeves to address the challenges facing our nation." 
Indeed, Chao is an impressive figure with a political resume that dates back to 1989. According to ABC News, she served under both Bush administrations, including a long run as labor secretary under George W. Bush. She was also the first Asian-American woman to serve in a president's cabinet. Under President Trump, she's handling a budget of $86 billion, making her "one of Washington's most powerful women." That's especially notable given her origin story. 
There's much more you probably didn't know about Mitch McConnell's wife. Find out why Elaine Chao is pretty much the American Dream personified!
Elaine Chao immigrated to the U.S. not knowing English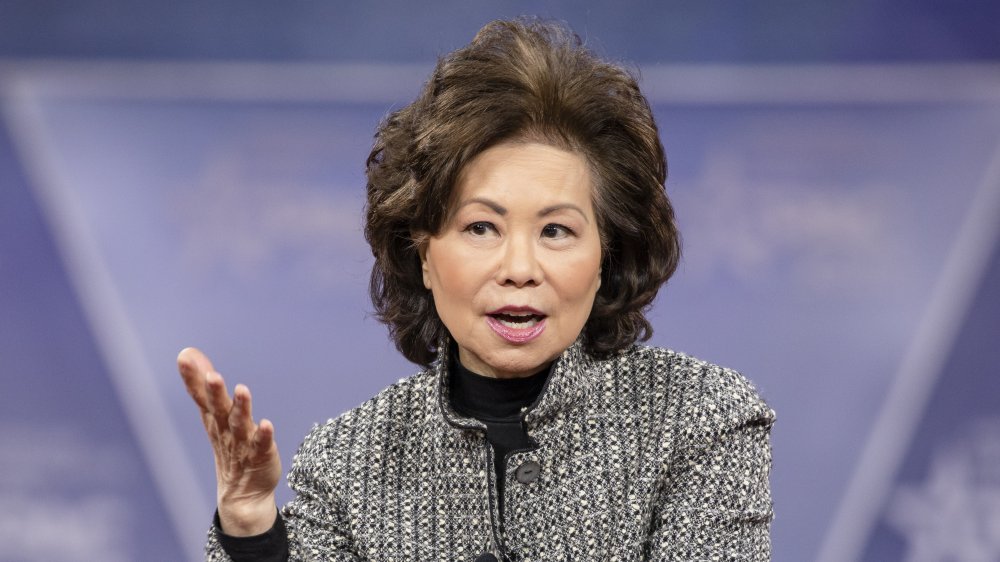 Samuel Corum/Getty Images
What's the story of Mitch McConnell's powerful wife Elaine Chao? For starters, according to Town & Country and to her website, Chao has triumphed through a lot of early hardship. Immigrating to the United States at the tender age of 8 aboard a cargo ship, she arrived speaking no English. The voyage from Asia to America apparently took 37 days and, per her website, "was difficult and sometimes terrifying." Her sister reportedly got "desperately ill" while they traveled, but both persevered, making it to the States safely. Elaine quickly learned English, reviewing every day's classroom lesson after school with her father, who had made the trip himself three years earlier. Talk about an origin story.
Chao worked hard, becoming a U.S. citizen at age 19, graduating from Mount Holyoke College, and earning her MBA from Harvard University. She made her way to Washington D.C., getting in on Republican inner circles and eventually being selected as one of 12 White House fellows during the Reagan administration. She remained involved during the Bush years, and with hard work, became a Republican power player and essentially a fixture in the political world. 
But here's another fact you may not know about Chao: how she and Senate Majority Leader Mitch McConnell met. Cue the romantic violin! 
Elaine Chao & Mitch McConnell have a cute, but murky, love story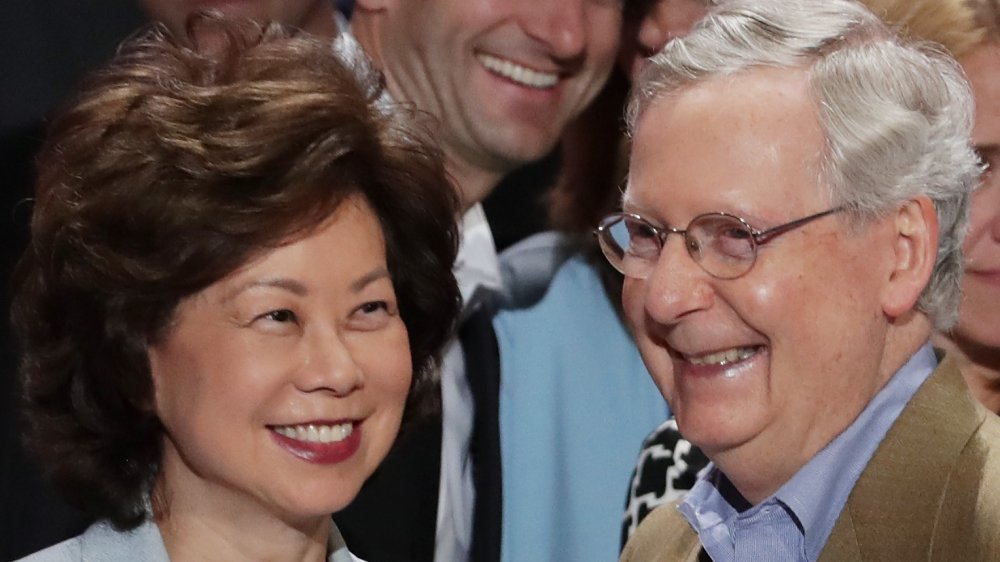 Alex Wong/Getty Images
Elaine Chao and Mitch McConnell reportedly met on a blind date set up by a mutual friend. Cute! Apparently, that friend invited both to a Washington D.C. candlelit dinner, and there was definitely something heating up aside from those candles. "I don't want to say that sparks flew," the friend and mentor of Chao's told The New York Times, "because that's not the way either of them is." But the couple hit it off right away."
Things progressed, and the two got married in a very, um, political fashion, purposefully tying the knot on Ronald Reagan's birthday on Feb. 6, 1993, per The Washington Post. Though they don't have any children together, it's been nearly three decades of happy marriage. "I think he's very sexy," Chao told WaPo in 1998. Well hey, that's sweet!
But Chao has seen controversies, too. In 2019, per The New York Times, she reportedly attempted to include members of her family's prominent shipping company in meetings with Chinese officials, though she was serving in an official capacity for the White House. According to Vox, Chao also greenlit nearly $80 million in grants for infrastructure projects in Kentucky, where McConnell is a senator, thus in theory, politically helping her husband. There was a House Oversight and Reform Committee investigation launched over Chao's actions. 
Despite murky territory, Chao has remained a loyal republican who supports the men in her life — her husband and now her boss, Trump. "I stand by my man," she said, via CNN. "Both of them."