Here's What Margot Robbie Looks Like Without Makeup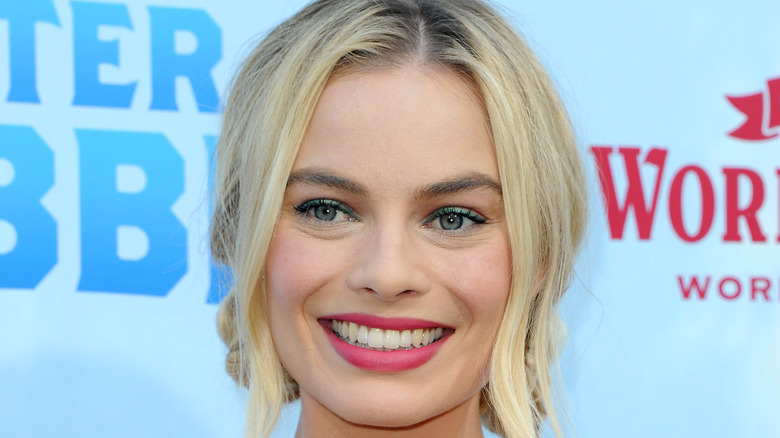 Tinseltown/Shutterstock
Margot Robbie has been blowing up all over the media, thanks to her stunning portrayal of "Barbie." 
In fact, the actor has been staying true to the iconic character and has been channeling Barbie even before the movie came out, inspiring masses of fans to try the Barbiecore makeup trend. Robbie's makeup artist for the premiere, Patti Dubroff shared that while she used a variety of products to transform the actor into the doll, "Her beauty radiates from deep within, that's who she really is ... a glow that is not made up purely of cosmetics it's the one that's most aspirational from within. That's real beauty," per Vogue.
Robbie does indeed have a fresh-faced look and shared with Vogue UK, "I always start by cleansing in the shower — I don't do too many steps because I genuinely don't have that much time, but I'm anal-retentive about having really clean skin. Especially with my job, where they just layer makeup on and on and on," (via Women's Health). While we're used to seeing Robbie all glammed up while she's playing Harley Quinn or Barbie, as well on the red carpet, she looks just as stunning makeup-free.
Margot Robbie's skin is flawless
Many celebrities don't leave the house without a full face of makeup, but Margot Robbie bared it all for an ad for Vogue. In a spoof of the movie "American Psycho," the native Australian actor is seen applying a "proprietary glycolic and pearl mask" and states with a deadpan face, "I always use a small batch placenta infused facial toner for that third-trimester glow without the cravings." Even without getting glammed, Robbie's flawless skin gleamed and while she used a pair of cold spoons to soothe her eyes, in real life, her "Barbie" skin expert Jasmina Vico revealed that she used "lots of iceballs" for "depuffing and lymphatic drainage," per People.
As for her personal makeup preferences, Robbie likes to keep her look simple. "When I'm not filming, I use Ellis Faas foundation mixed in with moisturizer," the "Wolf of Wall Street" star told Harper's Bazaar. She's not into too much product on her lips, however, and stated, "I don't like wearing lipstick because I get it all over my face, so I wear lip balm with a bit of a stain." With her natural beauty, Robbie has been the muse of many fans and a comment about her appearance had many up in arms defending the actor.
Fans come to Margot Robbie's defense for her no-makeup look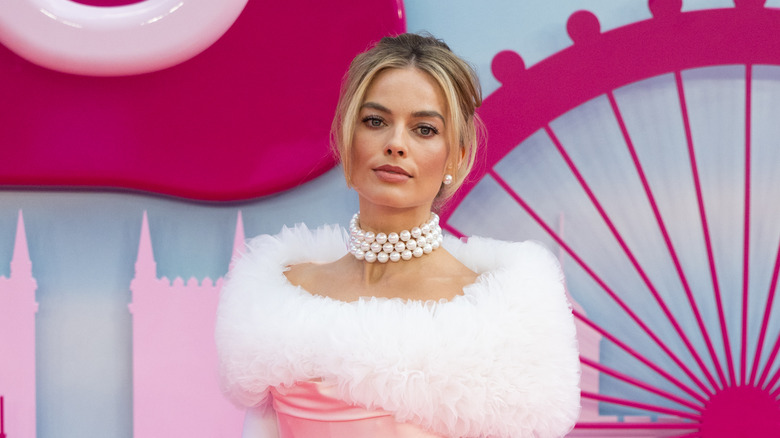 Samir Hussein/Getty Images
Of all the things Margot Robbie is, it is definitely not "mid." As reported by Newsweek, the actor was the point of discussion when a Twitter user posted a pic of Robbie seemingly without makeup and stated, "This is her without makeup. Definitely mid," the person said, implying that she was just average-looking. A fan came to her defense and tweeted, "this new trend on twitter trying to convince us that margot robbie is mid is insane."
While many are quick to defend the actor for not being "mid," Robbie is the first to show how humble she is. "In my big group of girlfriends at home, I am definitely not the best-looking. I did not grow up feeling like I was particularly attractive. You should have seen me at 14, with ­braces and glasses, gangly and doing ballet," she told Vanity Fair. Robbie maintains her glow-up by keeping her makeup simple and being diligent about her skincare. "Good skin is all about good skin prep. I've been using this micro-current device called Ziip which has given me noticeable results. I'm not paid by the brand or anything, it's really, really good," she gushed to The Telegraph. As for what truly makes a person beautiful, Robbie declared, "When I catch people in that moment when they're genuinely laughing, that's when they're glowing and look gorgeous."