Woman Behind Viral Plane Meltdown Is An Exec In Real Life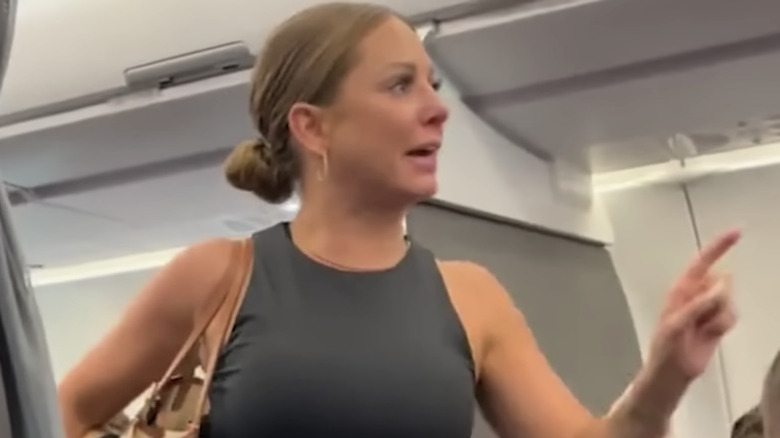 Joe Raedle/Getty Images
It turns out that the mysterious airplane passenger who went viral while on an American Airlines flight over the Summer has a really great job. Did you miss the video of a woman confidently asserting that one of her fellow airplane passengers was "not real?" Well, she actually said, "That mother f***ker back there is not real," along with a bunch of other colorful musings that delighted the world for weeks. She also pointed to an unknown man, who internet enthusiasts tried their best to identify. Unfortunately, the search never turned up any promising suspects, although the accompanying jokes were awards all on their own.
According to Fox 4 News, Carrot Top was aboard the flight and was one of the few unfortunate souls who'll be able to recount the tale firsthand. Shortly after the moment went viral, the comedian took to Instagram to give his side of the situation, claiming she screamed "at the top of her lungs like, 'F**k this, f**k this! You guys are doomed! Get me off this f**king plane!' So, we're off the plane. She got her wish." He also posted his hopes that she'd end up "behind bars in Dallas, Texas." But now that the woman has been identified, there's certainly been a renewed interest in this mind-boggling moment.
The woman from the airplane is Tiffany Gomes
Turns out, the woman from the plane video has a name and a job. According to the New York Post, the terrified passenger in everyone's fave viral video is a woman named Tiffany Gomes. The outlet uncovered Gomes' identity by sorting through police records that were filed following the incident. According to the report, Gomes was in the process of confronting her relatives over Airpods that she believed they had stolen before claiming "the aircraft was not safe" and she didn't believe it would "make it to its destination." The paperwork also stated that, despite Gomes' hysteria, she attempted to reboard the plane, which had been evacuated.
So, what does Gomes do? Well, she's apparently a marketing executive who makes money enough to afford a $2 million house in an upscale Texas neighborhood. We don't know if this makes the story more puzzling or less. However, at least one person will be happy with this revelation. On July 12, roughly 10 days after the incident, one Twitter user tweeted, "I find it uncanny that the internet has found every Karen who's ever lived, yet, no one has been able to identify the lady who saw the mf that is not real." The tweet racked has since racked up over 230,000 likes and 18,000 retweets.