Megyn Kelly's NBC Colleagues Bash Her Following Blackface Controversy
Getty Images
Megyn Kelly's co-workers at NBC were apparently not big fans of hers. And they ultimately expressed as much as Kelly was effectively booted from her hour of the Today show following her comments on using blackface for Halloween.
Several NBC staff members spoke with media outlets after Megyn Kelly Today was reportedly canceled and opened up about how they really just wanted the controversial TV journalist gone. Some encouraged NBC News chairman Andy Lack to simply pay Kelly the rest of her three-year contract, which nets her $23 million per year. "Everyone's feeling is, even if you have to pay her [the remainder of her contract], pay her," one employee told The Washington Post. "Andy, you can save face with this entire thing. Just get rid of her."
Another staffer noted that Kelly never fully fit in with the network, as she "doesn't understand that she represents more than just herself when she is here." One worker called Kelly's on-air behavior, specifically her interactions with actress Jane Fonda, "very un-Today show like." Kelly had previously fought with Fonda after having the star on her show. Fonda got upset when Kelly asked her about her plastic surgery, and Kelly later delivered a biting monologue, taking aim at Fonda, her Vietnam War protests, and her nickname "Hanoi Jane."
Kelly was also reportedly unpopular on her own show for going off-script. "We try to produce a segment and then she goes off the rails," a staffer stated. And, in some cases, Kelly's choice of words during her show hit employees hard. Two people told The Washington Post that Megyn Kelly Today executive producer Jackie Levin was heard sobbing in an NBC office on Tuesday, Oct. 23, 2018 — the day Kelly remarked about using blackface. "You could hear her through the floor," one staffer said.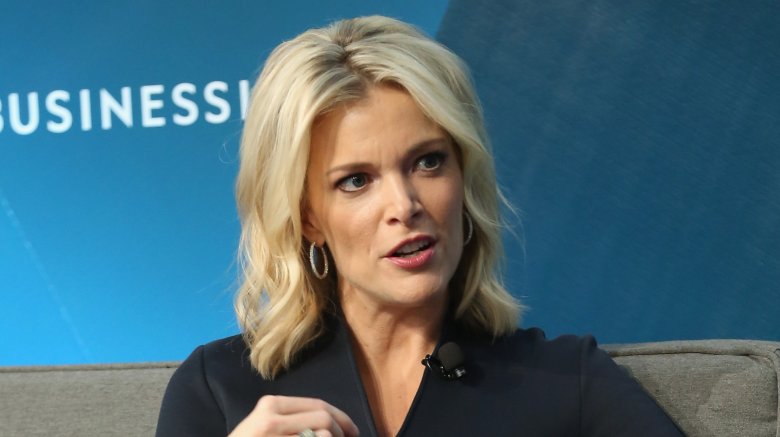 Getty Images
For those who may have missed the controversy, Kelly discussed what Halloween costumes were considered inappropriate with Jacob Soboroff, Melissa Rivers, and Jenna Bush Hager on her Oct. 23 show. During the segment, Kelly asked, "What is racist?" She stated, "Because truly you do get in trouble if you are a white person who puts on blackface at Halloween or a black person who puts on white face for Halloween. Back when I was a kid, that was okay as long as you were dressing up as like a character."
She also defended The Real Housewives of New York star Luann de Lesseps for dressing up as music icon Diana Ross for Halloween in 2017 — something that Lesseps herself has apologized for.
The next day, Kelly apologized for what she'd said, saying, "Good morning everyone and welcome to the show. I'm Megyn Kelly and I want to begin with two words — I'm sorry." She added, "I learned that given the history of blackface being used in awful ways by racists in this country, it is not okay for that to be part of any costume, Halloween or otherwise."
But her apology was apparently too little too late. Rather than air new hours of her show the rest of the week, NBC instead broadcast pre-recorded shows on Oct. 25 and 26. And though an official announcement from NBC has yet to be released regarding the show's future, it'd seem that Megyn Kelly Today has been canceled.  A source revealed to People that the network had been reassigning Megyn Kelly Today workers to other roles. "Everyone's being told that they still have a home here, but it won't be on Megyn's show," the insider shared.
As for Kelly herself, a source told NBC News, "Conversations have already started about Megyn's exit from the network." Kelly, who is no longer represented by talent agency CAA, has hired litigator Bryan Freedman (via The Hollywood Reporter). According to Page Six, Freedman will meet with NBC executives on Friday, Oct. 26 and has requested that writer Ronan Farrow, who famously exposed movie producer Harvey Weinstein for decades of alleged sexual misconduct, be present during their meeting.
NBC had allegedly attempted to squash Farrow's Weinstein exposé, which prompted him to take his story to The New Yorker, where it was ultimately published. Regarding NBC's alleged reluctance to share the Weinstein article, Kelly suggested that an outside agency conduct an investigation into the matter. "There's the question of the faith and confidence of the public in the reporting of NBC on matters involving itself," she stated at the time. "For me, as a lawyer, it's always better if you just send it outside. And then people can have more faith in it."
According to Us Weekly, NBC has wanted to end Megyn Kelly Today for some time. "This is not a recent development," a source told the magazine. "NBC was practically waiting for a reason to end this show, and what Megyn delivered was a gift — an 'out,' essentially."