Tyler, The Creator Crashes Car After Falling Asleep At Wheel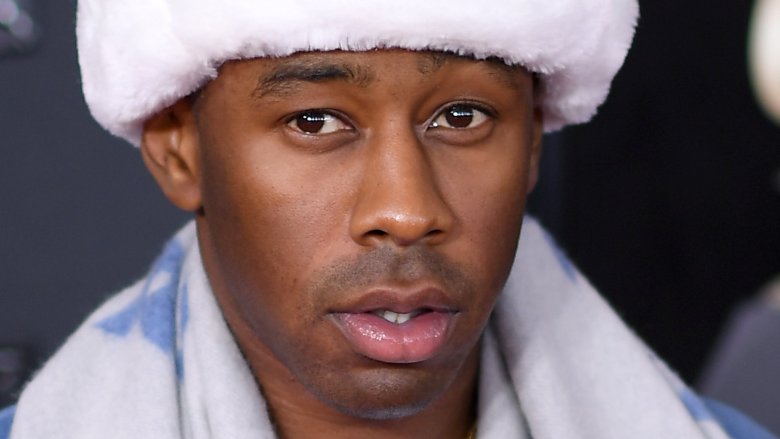 Getty Images
Rapper Tyler, the Creator was in a car crash in the early morning of Thursday, Oct. 25, 2018 — and there was some serious damage done to the vehicles involved.
TMZ reports that Tyler (real name Tyler Gregory Okonma) was driving his Tesla Model X when he fell asleep at the wheel, crashing into a parked car near the University of California, Los Angeles. Police told the celebrity news site that the car Tyler hit — a Honda CR-V — was "flung some 50 feet away."  The police department and fire department responded to the accident, though, fortunately, no one was injured.
Tyler later commented on the accident on social media, explaining that he'd drifted off to dreamland while driving. "My big doopy a** usually go to sleep 10:30 (i wake up at 7 er morn) and guess who wanted to finish music super late and dosed off for a few seconds while driving home," he wrote on his Instagram Stories, as reported by People. "Im a dumb a** b**** but lil mama don't have a scratch im lucky."
Referencing Tesla CEO Elon Musk, he continued, "I calmly jumped out the back and called the people. thanks elon for the excessive airbags u a qt. good day sir." According to TMZ, the front and side airbags on Tyler's Tesla deployed during the crash. The gossip rag also noted that the front of Tyler's car was "smashed in."
Tyler reportedly left his information for the owner of the Honda CR-V. No arrests were made.
The Blast notes that the Honda's owner was upset that his car was involved in an accident but that he was looking forward to the "decent check" he'll get from Tyler.   
Before discussing his early morning car accident, Tyler released a new song — a cover of the holiday classic "You're a Mean One, Mr. Grinch." The track will be a part of the soundtrack for Dr. Seuss' The Grinch, which will be released in theaters on Nov. 9, 2018.