Here's What Happened When Shemar Moore Crashed Matt Rife's Comedy Show
Let the record show that it was Shemar Moore who slid into Matt Rife's DMs "like a bish." The story goes that Moore's baby mama Jesiree Dizon is a fan of Rife's standup comedy and had turned Moore onto him. It wasn't long before the "Criminal Minds" actor sent a message to the comedian and they started talking. As Moore explains, "He [Rife] DM'd him back like a bish" and gave him tickets to boot. Moore, who went from "The Young and the Restless" soap star to adrenaline junkie Derek Morgan on "S.W.A.T.," took some time out from his busy schedule as a first-time dad and went to Rife's comedy gig.
Rife, whose meteoric rise to fame is TikTok-worthy, was minding his own business and working the crowd at the Ontario Improv Comedy Club in early May. In particular, he was poking fun at a heavily pregnant lady and her deputy sheriff partner. That is, until Shemar decided to step up and give the comedian a run for his money. A video of what ensued blew up and went viral thanks to Moore's antics — and Rife's quick wit. 
Shemar Moore and Matt Rife's bromance makes a brother proud
Matt Rife posted a video clip on his Instagram of the time Shemar Moore joined him at a comedy show. The funnyman was working the stage until a voice in the crowd started heckling him. "Don't be scared," it taunted. To which Rife replied, "Boy, you're making me scared. Don't do that... Especially in the dark. I can't even fight you back there, bro." The audience erupted in laughter and it wasn't long before the heckler made his way to the audience and Rife realized who he was. "You scared the s**t out of me, dawg," Rife said before introducing Shemar Moore to the audience.
"This motherf***er is funny, and he's pretty, and no, but like, pretty people ain't supposed to be funny," Moore began his speech. He then listed some big-name comedians, comparing them to Rife. "Kevin Hart is not pretty. He's short and he's funny. Chris Tucker, motherf***ing d**k, okay. Dave Chappelle is rich as f**k, he's not pretty. I'm pretty...  Well, I was, I was... This motherf***er is pretty, but he's honest, he's real, and he's funny."  Moore ended his stint on-stage by saying, "I believe that this dude is on his way... My point is let's applaud the bravery, the boldness, the unapologetic Matt Rife, and let's watch him grow." Of course Moore didn't leave the stage before they hugged. No cap, we don't want a bromance unless it looks like Rife and Moore's.
Shemar Moore interrupted Kym Whitley with a kiss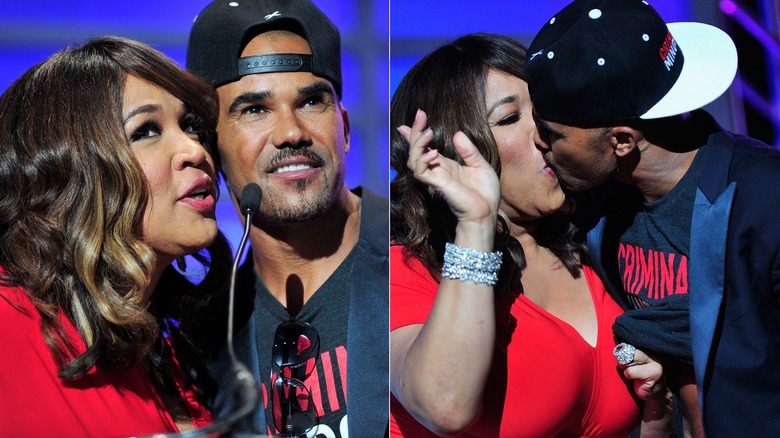 Moses Robinson/Getty Images
Shemar Moore has a penchant for interrupting comedians on stage. In 2013, Kym Whitley presented an award at the Steve Harvey Neighborhood Awards and decided to work the audience. In the video clip, she flirted with Moore, who was in the audience. 
"Hey Shemar, yeah. Why don't you take a ride on the fluffy side?" However, the "Act Your Age" star wasn't prepared for what went down next.  Moore rose from his seat and approached the stage, much to Whitley's shock. "What are you getting up for? Don't... I was joking!" 
Whitley spilled the tea on "The Kelly Clarkson Show," sharing, "And this is the first thing, especially with a big girl, all men think they can just pick you up. That's the first thing they want to do. I'm looking at little Shemar, little skinny ass, I was like, 'Don't you do it. Don't you embarrass yourself. Don't you pick up this. I'm solid.' So, he comes up, and he looks at me... And I whispered in his ear, and he came up close, and I said, 'Don't pick me up. Please don't pick me up.' He was like, 'I'm not going to pick you up.' And he grabs my face, and he sticks his tongue down my throat." Evidently, Moore delivered because he had Whitley on her knees — literally — after the smooch fest. Moore definitely stole her breath, and the show, and we are totally here for it.