How Matt Rife Really Got Famous So Quickly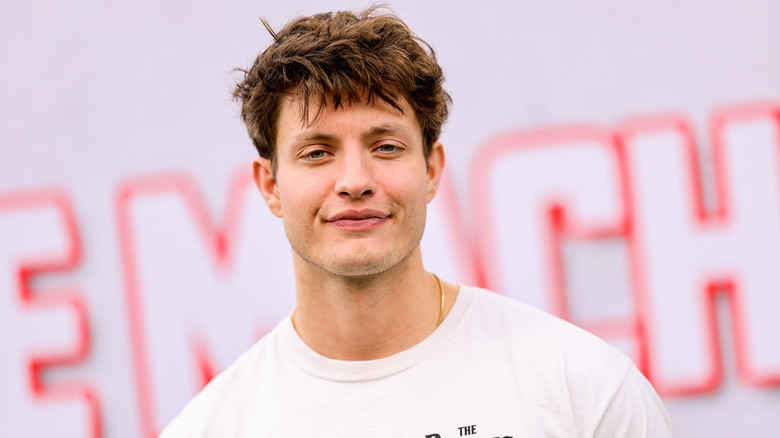 Matt Winkelmeyer/Getty Images
If you've ever spent a considerable time on TikTok over the past few months, you've likely come across Matt Rife, the tall and jarringly handsome comedian who can crack up an entire audience with his wit. You may even have been compelled to hit the follow button, and you're not the first one to do so. Rife has been racking up followers across his socials around the clock, and not just because of his good looks — he's darn funny, too, making him a rarity in the comedy space if we're being honest.
If you've only noticed Rife recently, though, you may be surprised that he didn't become popular overnight. He's been around for quite some time now, and he even found himself on the tabloids when he dated Kate Beckinsale in 2017. The comic has actually been doing standup since he was a teenager and was a cast member of Nick Cannon's "Wild 'N Out." He also co-hosted the short-lived reboot of "TRL." A hustler through and through, he has dabbled in acting as well, having guested on shows like "Brooklyn Nine-Nine" and "Fresh Off the Boat."
As to how he got really famous? Rife has to thank TikTok for that. Before he blew up, he was barely selling out shows and even willingly performed without pay. But now? He's got enough pull that his world tour reportedly caused a Ticketmaster ruckus, Taylor Swift-style.
Matt Rife's career blew up thanks to TikTok
If it hadn't been for TikTok, Matt Rife would have probably still been trying to get his name out there. The comedian shared with The New York Times that before he became famous, he was only averaging 70 tickets per show — sometimes earning only $150 a night.
But then he decided to post his stuff on TikTok, something he was initially skeptical about. "I'm about to post this video of crowd work. I was watching it, and I was like, this is so stupid. Why am I even doing this?" But it ended up being a huge advantage for him as he went viral overnight. "That video did 20 million views in two or three days," he recalled. "It became this massive chain reaction and an explosion of an audience. From then on, every video I posted went viral." As of this writing, Rife has 16.3 million followers on TikTok and 5.2 million followers on Instagram.
In an interview with E! News, Rife confessed that even though he has contempt for social media, it ultimately brought him to new heights. "Social media has changed everything for me," he said. "I mean, just in the past 10 months, everything has shifted because of clips online. But for the past two, three years, when everything was kind of exponentially growing towards social media for stand up, luckily, it's changed everything."
What's next for Matt Rife?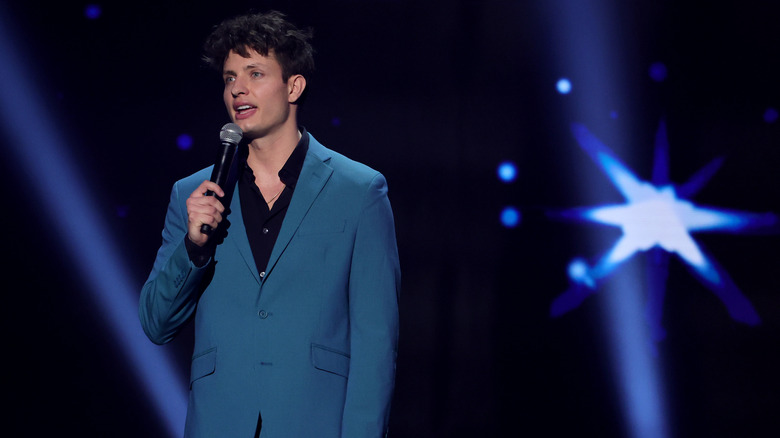 Ethan Miller/Getty Images
Matt Rife has finally reached a point in his career that he only dreamed of in the past. Sure, he may not have time for anything else (at least for now), but he wouldn't have it any other way. "I never have a day off... It's exhausting," he told Elite Daily. "I refuse to complain about it because even though I'm tired and I don't have a moment to myself, and I don't have time to sleep or whatever, I had years of waking up every day at 4 p.m. with nothing to do, and I was absolutely miserable."
In June 2023, Slate reported that Rife's "ProbleMATTIC" world tour sold out so quickly on Ticketmaster that it sparked fan outrage because of how stressful the ticketing process was. Apparently, everyone and their mother were trying to get their hands on tickets, so many had been booted off queues and experienced errors on the site. It also didn't help that Rife shared presale codes online to help those who weren't lucky enough to receive them. When it sold out, he took to Instagram to express his gratitude. "Thank you to everyone who made this happen- especially YOU. The fans/friends. You guys did this," he wrote. "I love you all and [I] can't wait to see you in your city!"
Don't be surprised if you catch Rife again on the big screen, though. As it turns out, he still wants to get a piece of Hollywood. "My plans for the future include developing my own TV and film projects while touring the country doing stand-up," he told Digital Journal.