Demi Moore Opens Up About 'Self-Destructive' Past And Recovery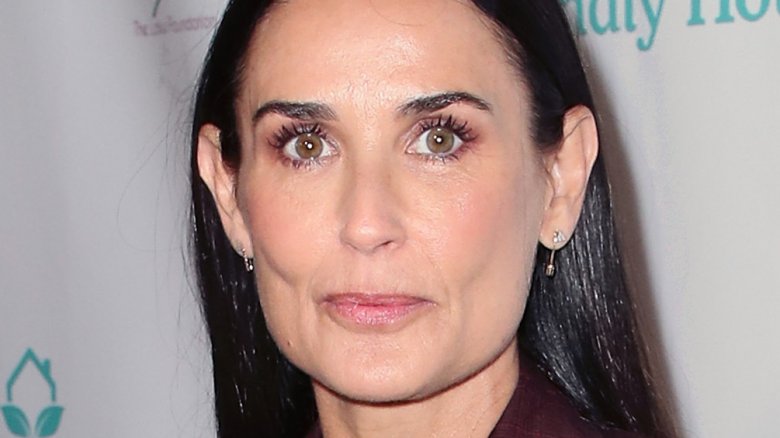 Getty Images
Actress Demi Moore is reflecting on her past struggles.
While receiving the Woman of the Year Award at the Peggy Albrecht Friendly House's 29th Annual Awards Luncheon at the Beverly Hilton Hotel on Saturday, Oct. 27, 2018, the Hollywood icon candidly opened up about her recovery, Variety reports. According to its website, the Friendly House is a Los Angeles-based non-profit organization which provides "women seeking recovery from alcohol and other substance use disorders with a safe, structured and supportive home-like environment that fosters recovery, personal growth and civic responsibility."
"I was spiraling down a path of real self-destruction and no matter what success I had, I just never felt good enough," Moore said of her early career, explaining that it was this path that "really quickly brought [her] to a real crisis point." As the 55-year-old actress went on, she revealed that two people she "barely knew" stepped in to help her turn things around. "It gave me a chance to redirect the course of my life before I destroyed everything," she said, adding, "I'm so grateful because without that opportunity, without their belief in me, I wouldn't be standing [here] today."
As Nicki Swift previously reported, Moore first went to rehab in 1996 to receive treatment for drug and alcohol addiction. The movie star, who recently attended the royal wedding of Princess Eugenie of York and Jack Brooksbank, was later hospitalized in 2012 after reportedly suffering a seizure. At the time, she was reportedly treated for exhaustion, anorexia, and substance abuse.
While Moore didn't delve into the specifics of her journey toward recovery during her recent gala appearance, she concluded her heartfelt speech with an empowering message, saying, "Life is certainly not a straight line, and I think everybody here has dealt with not feeling good enough at some point in their lives." She added, "I know that in a moment of great struggle for me, I reached out to a wise teacher and I expressed my fear that I wasn't good enough. And she said, 'You will never be good enough, but you can know that value of your worth. Put down the measuring stick.'"
The Ghost star continued, "So today, I put down the measuring stick. And I thank you for this beautiful acknowledgment and the opportunity to know the value of my worth."
Moore, who shares daughters Rumer, 30, Scout, 27, and Tallulah, 24, with ex-husband Bruce Willis, later took to Instagram on Sunday, Oct. 28, to further express her gratitude for her family and friends' continued support.