How Princess Diana Embarrassed Prince William In Front Of Naomi Campbell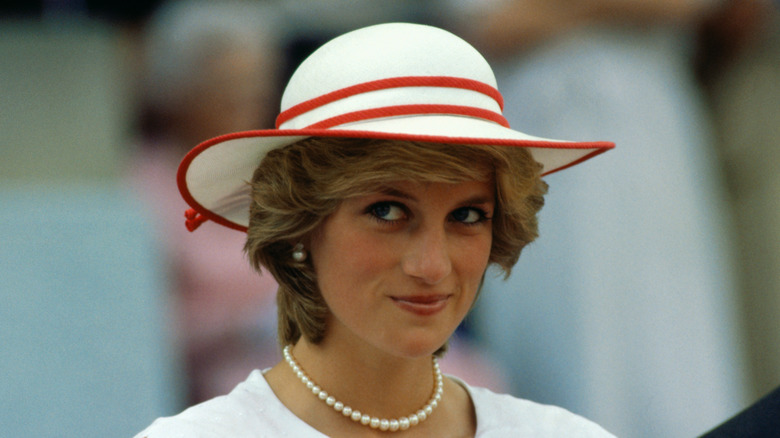 Bettmann/Getty Images
Princess Diana was known for her grace, charm, and beauty to the public but those close to her knew her for her wit. DJ of Boom Radio, Graham Dene, shared how Princess Diana had a "cheeky sense of humor" and once sent him a hilarious gag gift, per Express. "It was a white mug, with a caricature of Diana on it. She was wearing a low-cut blue leotard and had a top hat and cane in her hands while doing a high kick ... She bought the mug in Kensington Market, apparently, and sent them to various people and I was one of them," Dene recalled. He also revealed that the late Princess of Wales once told him a naughty joke about Kermit the Frog and Miss Piggy but declined to share it. "It was a very rude joke and it's better if I don't say it — it would make anyone blush!" he warned.
Dene wasn't the only recipient of Princess Diana's jokes. Her trainer, Carolan Brown, shared with the Daily Mail, "I remember her playing pranks on Princess Michael. Once she waited for her to come out and get into her car and then she ran down in her skimpy gym outfit and waved her off. Diana had a huge sense of humor," adding that the princess "loved a dirty joke." 
She was such a big fan of pranks that she pulled an epic one on Prince William for his birthday that he's never forgotten.
Princess Diana pranked Prince William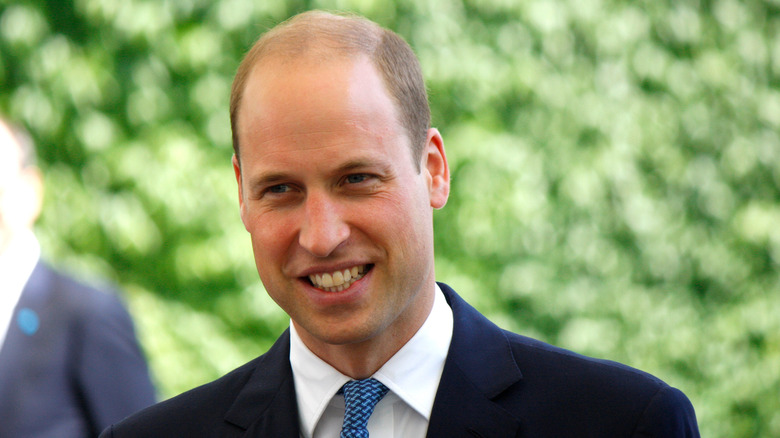 360b/Shutterstock
While embarrassing kids is part of a parent's job, Princess Diana went above and beyond for her son, Prince William, when he was a tween. In "No Filter with Naomi," the supermodel recalled being invited to Kensington Palace, along with Christy Turlington and Claudia Schiffer. "He was coming home from school ... we'd gotten there before he got home from school ... and we were like, 'What do we do?'" Campbell shared. Her guest, Cindy Crawford also revealed that she was invited at a later time, to which Campbell asked, "Did he blush when you met him?"
In the documentary "Diana, Our Mother: Her Life and Legacy," Prince William revealed that he indeed did turn red at seeing the models. "[My mother] organized, when I came home from school to have Cindy Crawford, Christy Turlington, and Naomi Campbell waiting at the top of the stairs. I was probably a 12 or 13-year-old boy who had posters of them on his wall and I went bright red and didn't quite know what to say and sort of fumbled," he stated (per The Sun).
 As embarrassed as he may have been, Prince William remembers the moment as "a very funny moment" and affectionately remembered his mom as "the joker." The prank wasn't a one-time thing, however, and Princess Diana often loved giving Prince William cheeky gifts.
Princess Diana sent Prince William naughty cards to his school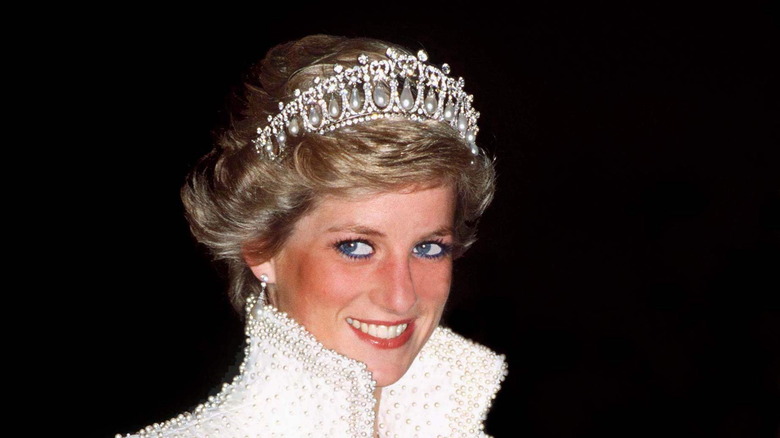 Tim Graham/Getty Images
Princess Diana loved a good joke — even if it meant making Prince William blush. In "Diana, Our Mother: Her Life and Legacy," he shared that he had often received inappropriate greeting cards from his mom while in boarding school. "I would be at school and I'd get a card from my mother. Usually, she found something you know, very embarrassing, very funny card, and then sort of written very nice stuff inside. But I didn't open it in case teachers or anyone else in the class had seen it," he mused (via the Mirror).
Although Princess Diana is gone now, her legacy of pranking people lives on. Prince George's godmother, Julia Samuel, shared on the "How To Fail" podcast that she gives the kids "impossible toys that are really noisy and take a lot of making," which is what Princess Diana did with her children when they were young. "William then has to spend days putting together. And then put all the machinery together, and it makes awful tooting noises and lights flashing and all of that and it makes me laugh, and it makes George laugh," Samuel chuckled.