Sarah Hyland Blamed For Spoiling Modern Family Death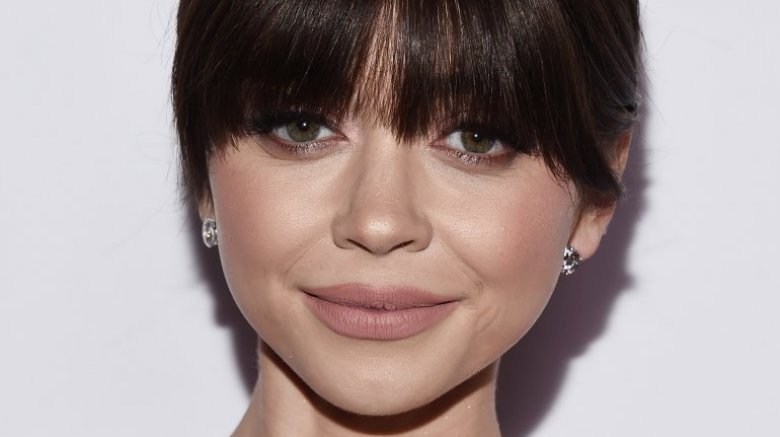 Getty Images
Some Modern Family fans aren't too happy with actress Sarah Hyland, who plays Haley Dunphy on the popular ABC comedy series.
On Thursday, Oct. 25, 2018, the TV star took to Instagram to share a heartfelt tribute to — just to cover our bases: SPOILER ALERT — the character who was killed off during the previous night's episode, DeDe Pritchett. Portrayed by Hollywood icon Shelley Long over the course of the show's ten-year run, DeDe, who was Haley's grandmother, died in her sleep while away in Greenland during this season's hyped-up Halloween episode, "Good Grief."
"We'll always love you grandma," Hyland wrote to her 5.9 million followers, captioning a sweet snapshot of herself with Long and actress Ariel Winter, who plays Hyland's on-screen sister Alex. Alongside heart and prayer hands emojis, she added, "So blessed to have worked with such an iconic woman like Shelley Long #modernfamily."
It's a super sweet post, right? Well, apparently not everyone saw it that way. Even though Hyland waited until the day after the episode aired to share her tribute, a number of social media users accused the actress of posting an alleged spoiler. While one fan rationalized, "How is this a spoiler when the episode aired yesterday? If you haven't watched it yet that's not Sarah's fault. Of course it's going to be in the entertainment news and all over social media so if you happen to see it don't blame her," others quickly took to the comments section to air their grievances over her timing (via The Wrap).
"You should've waited a few more days omfg spoiler alert," one person wrote, while another commented, "What. The. F**k. Why would you post this today!?! I've been dodging any conversation all day so i could watch and find out for myself. No point of watching now." Yikes.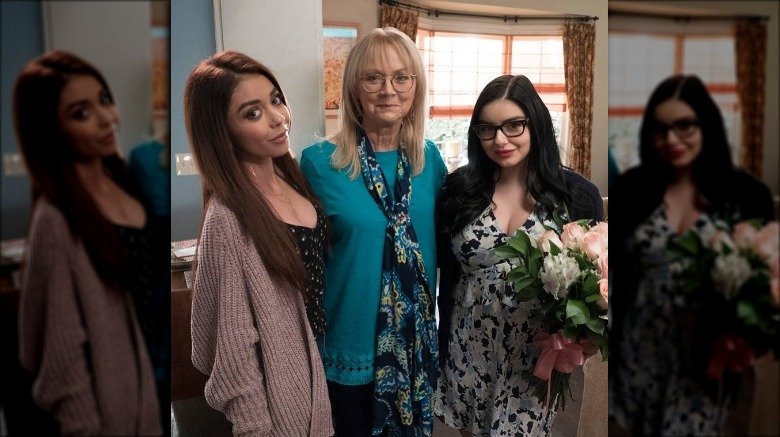 Instagram
Unfortunately, Hyland's lack of a spoiler alert wasn't the only reason why Modern Family fans were upset this week, as many were apparently underwhelmed by the death itself. As Nicki Swift previously reported, it had been teased for weeks that season 10 would see the passing of a "significant character." As series co-creator Christopher Lloyd told Entertainment Weekly last month, "We're handling some bigger life events in this season. We do deal with a death, which is certainly a topic that families have to deal with, and on television, it's not easy to do because that's a heavy subject. But at the same time, it would seem unusual for a family not to go through it." He added that the loss would "be a moving event — and an event that has repercussions across several episodes."
However, while DeDe was certainly significant to the show's characters, who all dealt with her passing in various ways, she wasn't necessarily significant to Modern Family's fanbase after only appearing in seven episodes over the last decade. Unfortunately, a number of fans felt that this particular storyline was merely a last-ditch attempt to increase ratings. "THAT'S who they killed off??? After all the hoopla? Oh please," one person tweeted. "I'll always hold #ModernFamily in high regard, but that reeks of 'please tune in live to Season 10 of our show' desperation." Meanwhile, another Twitter user wrote, "Modern Family killing off DeDe is anticlimactic & feels like they hyped up an insignificant death for ratings. How boring."
At the time of this writing, Hyland has yet to respond to the recent backlash over her Instagram post. However, she's since spoken out in defense of the show's Halloween episode. "There's so many things I loved about that storyline," the 27-year-old actress told The Hollywood Reporter over the weekend. "I think especially the idea of a brother and sister [Mitchell and Claire Pritchett] having a very different relationship to the family member that has passed and being able to come to solid ground on how they feel."
Hyland, who recently made headlines over her adorably clever couple costume idea with boyfriend Wells Adams, went on to tease that there's a "bigger thing than the death" that will play out on the small screen this season. She added, "It was a shock, that's for sure." 
Whatever it is, here's hoping Modern Family's showrunners deliver this time around when it comes to the upcoming hype.