Ashton Kutcher Once Helped Kate Beckinsale's Ex Prank Her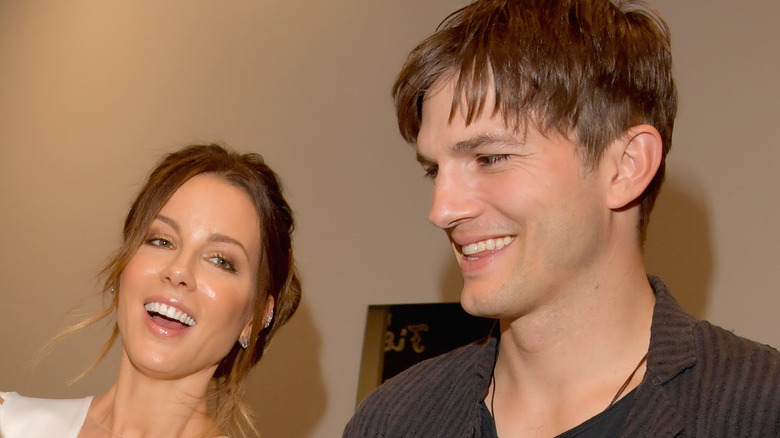 Lester Cohen/bbma2016/Getty Images
We all know Ashton Kutcher enjoys a good prank. A large number of A-listers can attest to this after falling victim to his elaborate practical jokes on the MTV series "Punk'd" — including Kate Beckinsale.
Although it's Kutcher's ex, Demi Moore, and not the "That '70s Show" star who scored an invite to Beckinsale's 50th birthday party, the "Underworld" actor apparently does love a man with a sense of humor. Beckinsale's exes include comedians Pete Davidson and Matt Rife, who, incidentally, enlisted Kutcher to help him promote his "ProbleMATTic World Tour." She's also quite the practical jokester herself. In a 2016 appearance on "The Late Late Show," Beckinsale had host James Corden and fellow guest Bill Hader in hysterics with her anecdote about the time she stuck a piece of chocolate between an unidentified bedmate's butt cheeks while he was sleeping. Her unfortunate victim didn't notice the melted candy until he was at work. "He was like, 'Oh my God, that's happened without me even feeling it,'" Beckinsale shared.
Beckinsale got a taste of her own medicine when she appeared on "Punk'd" in 2006, and things also got a bit messy (just not so sticky). Kutcher helped one of her exes set her up, but while the prankster in question has dated a famous comedian, he's not one of the stand-up stars who are part of Beckinsale's relationship history.
Why Michael Sheen Punk'd Kate Beckinsale
"Twilight" actor Michael Sheen and Kate Beckinsale dated from 1995 to 2003 and share one child, a now-adult daughter named Lily Sheen. They've remained friends since their split, so Beckinsale didn't suspect that there was anything fishy going on when her ex invited her out to dinner. But the "Punk'd" cameras captured the moment when an actor posing as a creepy guy accosted Beckinsale and pretended to hit on her while Michael was away from their poolside table. When Beckinsale told Michael what had happened, to her horror, he confronted the wrong man (another actor) and pushed him into the pool.
Beckinsale was a good sport when she learned she'd been Punk'd, hugging her ex and telling him, "I knew something was up!"
In a 2007 interview with Who magazine, Michael revealed that the "Punk'd" team initially approached him about pranking Beckinsale. "Kate is a huge practical joker, so I said absolutely," he revealed. "I didn't want anything that would upset her in the wrong way or involve my daughter, though. It was the most stressful experience ever, because it's so difficult to plan and you have to do it in secret." While the exes were able to share a good laugh over the experience, Michael said, "I live in dread of her getting me back." After hearing her story about that chocolate cheeks prank, we can't blame him.
Kate Beckinsale enjoys pranking her family members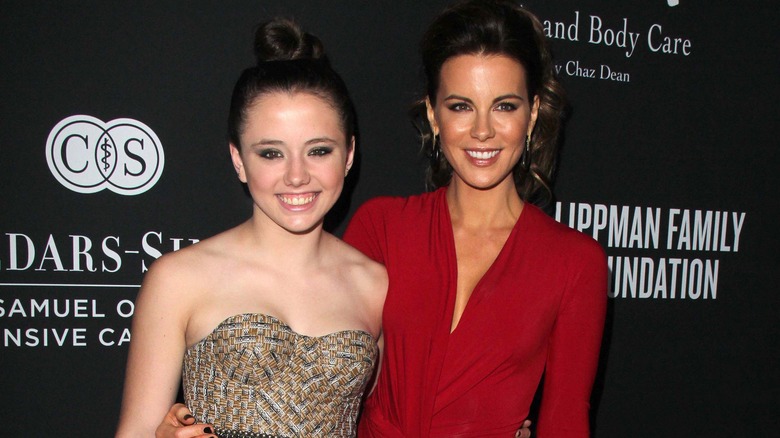 s_bukley/Shutterstock
If "Punk'd" ever returns to television without Ashton Kutcher as host, Kate Beckinsale would make an excellent replacement for the "That '70s Show" star. Her family members seem to be popular targets of her pranks, with her daughter becoming one of her unwitting victims in 2021. On her Instagram page, Beckinsale shared screenshots of a text exchange between herself and Lily Sheen. Beckinsale had sent Sheen a photo of a scantily clad woman's butt and legs sticking out from underneath a bed, and she'd asked her daughter, "Do you think it's too much that I posted this[?]," She also explained why she'd decided to share it, writing, "The thing is my a** looks good." In response, Sheen wrote, "I do think it's a little much but it's also very arty." Unbeknownst to her, Beckinsale had actually snagged the photo from Madonna's Instagram page, and she expressed shock that her daughter hadn't recognized her derrière. "I'm so relieved. I legit sat down to deal w that," Sheen replied.
Beckinsale also played a naughty prank on her mom by hiding a fake penis in her carry-on luggage. Upon learning about her practical joke, Beckinsale's makeup artist urged her to tell her mother what she'd done ASAP. "I had to call and say, 'I'm terribly sorry, Mom. Look in your bag,'" Beckinsale recalled on "Conan" (via Metro). "She responded, 'Oh my god, Kate ... What am I going to do with it?'"