Matt Rife Took His Late Grandpa Steve's Death Especially Hard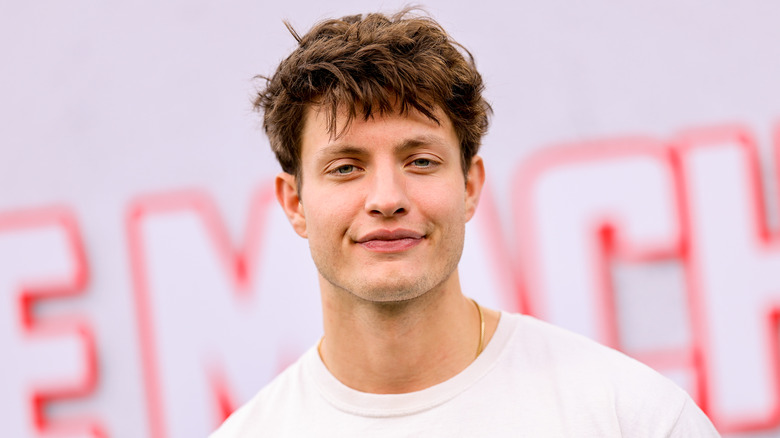 Matt Winkelmeyer/Getty Images
Matt Rife shared a strong bond with his maternal grandfather, and he had a difficult time following his death. Back in November, the comedian penned a touching tribute to his grandpa, Steve Rife, who was his role model growing up. "This morning I lost my best friend in the entire world," Matt captioned an Instagram post. "The greatest man I've ever known. I've never loved someone so much. If I've ever made you laugh — it's because of him," he added. He went on to explain that he didn't have a dad growing up — Matt's biological father died when he was very young, and although his mother eventually remarried, he told Numéro that he never really "had a connection" with his stepfather. 
After his dad's death, Matt and his mom lived with her father until he was 5-years-old. In the years that followed, Matt remained close to his grandfather. "Even through being a teenager. I would go to his house every weekend ... Our big thing was watching movies together every weekend," he told Numéro. While Matt tends to keep his posts light and airy (and funny, of course), there have been times that he's shared memories of his loved ones who are no longer with him. For example, four months after Steve's passing, Matt decided to do something special to pay tribute to Steve, which he shared on social media.
Matt Rife got a tattoo in honor of his grandfather
Back in March, Matt Rife debuted a new tattoo on his arm that he got in honor of his grandpa Steve. The new ink, which is a sketch of John Lennon's face, is located just above Matt's elbow and is about the size of a quarter. "John Lennon was my grandpas favorite artist and we decorated his house with his art all the time, so it [felt okay] to get something to remind me of the constant bond between us and the beautiful musical taste he taught me. I Miss you every day papaw," Rife captioned an Instagram post, debuting his new sentimental art.
Indeed, a quick peek at Steve's Instagram feed, which he didn't use too frequently, fans can see a couple of posts about Lennon. In one photo uploaded to Instagram in August 2020, Steve showed off some Lennon wall art. Another Instagram post on the same day showed a canvas that had the lyrics to the song "Imagine" written on it.
Matt Rife has wonderful memories of his grandfather
After making it big time, Matt Rife relocated to Los Angeles, California. In December 2019, he shared that he bought his grandfather a plane ticket so that they could be together for the holidays. "I flew my Grandpa Steve to LA for Christmas. His first time ever here and first time on a plane in like 40 years. I ask him 'you're in LA... what do you want to eat?' He says 'Olive Garden'........ so we f**ked up some breadsticks," Matt wrote on Facebook. That particular outing was so special to Matt that he captured the moment and later reshared the photo on Instagram when his grandfather died.
Also included in the gallery of photos that Matt shared following Steve's death were some throwbacks. One of the pictures was taken when Steve was in the Navy, and another was of Steve and Matt embracing in a kitchen. In the latter, Matt held up his middle finger as Steve stuck out his tongue — a moment in time that captured the very essence of their relationship. "Thank you so much for being my best friend, my teacher, my father, my grandfather, my inspiration, my soul, my everything. This hurts so f***ing much. I love you papaw," Matt's caption read.