The Story Behind How Jay-Z Got His Stage Name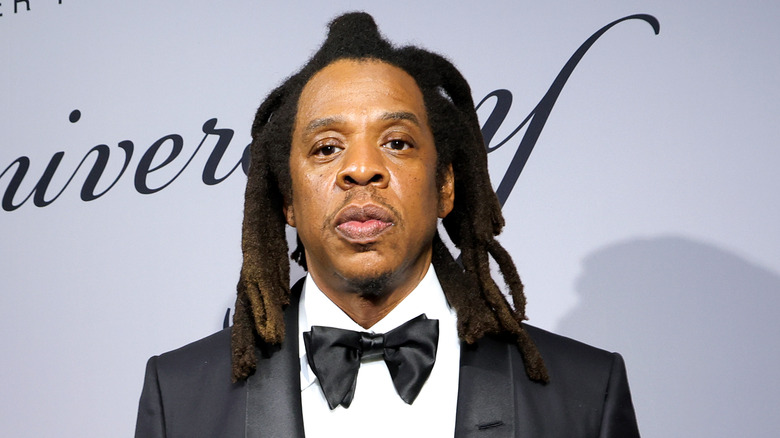 Kevin Mazur/Getty Images
Shawn Corey Carter rules the music world with his wife, Beyoncé Knowles. Still, it hasn't always been that way. It's hard to believe it, but there was life before Jay-Z. In fact, at one time, he was just another up-and-coming rapper, rotating through a host of different stage names before finally settling on Jay-Z and beginning to build his empire.
And what an empire he's built. Per Forbes, the über wealthy singer, producer, designer, and businessman became the first hip-hop billionaire in 2019, and his wealth's doubled since. Jay-Z is now worth a staggering $2.5 billion.
It's far from his childhood when he grew up dirt poor in his beloved Brooklyn. Jay-Z's dad left when he was 11. His brother, who he shot when he was 12, became addicted to crack while Jay-Z hooked up with a gang and began slinging dope on street corners. "There was no one to police us. And we were out of control." Jay-Z told The Guardian about his hustler days. "Even when I was making terrible decisions, I was making them out of desperation rather than ignorance. I felt I was in a survival of the fittest situation." Thankfully, he eventually channeled his energy into music, releasing his first track in 1992. 
Not surprisingly, there are 99 (or so) sketchy stories about Jay-Z floating around. But the story behind how Jay-Z got his stage name isn't one of them.
Brookie and mentor mix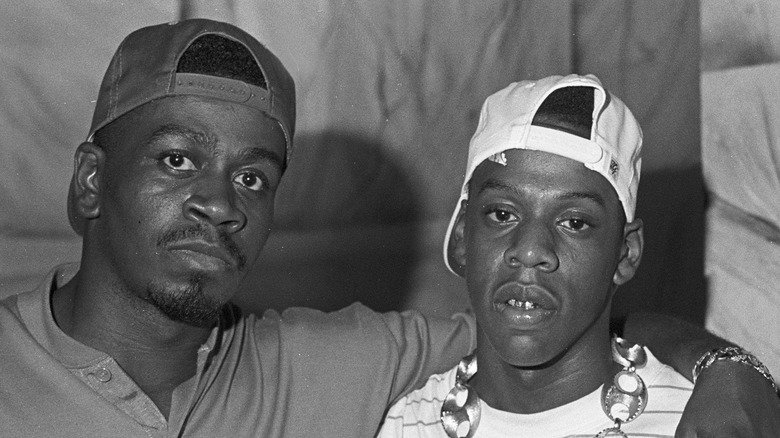 Al Pereira/Getty Images
Jay-Z kicked off his music career under the name "Jazzy." However, as his career and music progressed, he switched to Jay-Z. So, what's the story behind his stage name? Well, basically, it was a mix of paying homage to his mentor and music producer, Jaz-O, and Brooklyn's J/Z subway line.
Jay-Z and Jaz-O were like brothers back in the day. He wrote about the start of their friendship and collaboration in "Decoded," his 2010 autobiography. "I connected with an older kid who had a reputation as the best rapper in Marcy. Jaz was his name—and we started practicing our rhymes into a heavy-ass tape recorder with a makeshift mic attached," Jay-Z shared. "DJs started setting up sound systems in the project courtyards, and me and Jaz and other MCs from around the way would battle one another for hours."
Unfortunately, the brolationship turned to beef in 2001, after Jaz-O turned down Jay-Z's offer to sign with his record label Roc-A-Fella. The heat was turned up when the ex-mentor allegedly collaborated with Jay-Z's former nemesis, Nas, for his diss track "Ether." His ex-mentee clapped back with his own diss tracks, "Get High (Freestyle)" and "What We Talkin' About." A lot of verbal sparring and smack-talking flowed over the next 20 years until the two finally kissed and made up in 2017. They were photographed hanging backstage during the Chicago leg of Jay-Z's 4:44 tour.
Rulin' the world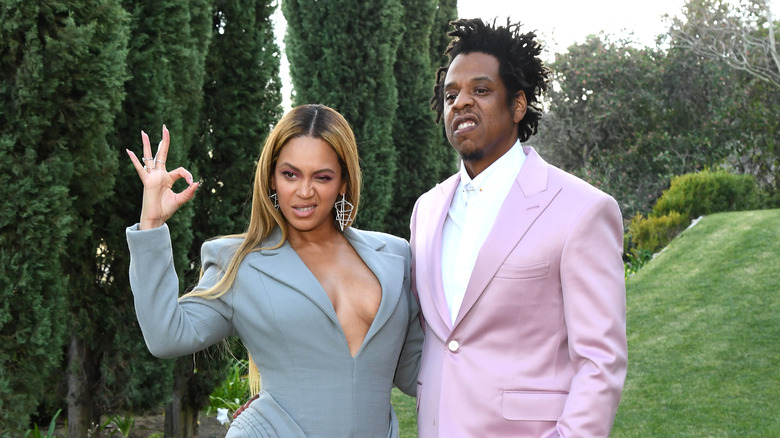 Kevin Mazur/Getty Images
Jay-Z soon found another collaborator and partner to kick it with following the fall-out with his childhood friend, Jaz-O. Jay-Z met Beyoncé Knowles in 2000, but at the time, she was only a teenager. "I was 18 when we first met, 19 when we first started dating," Beyonce told Seventeen magazine (via NBC Washington). "There was no rush—no one expected me to run off and get married."
"We were friends first for a year and a half before we went on any dates," Beyoncé shared with Oprah Winfrey. "And that foundation is so important in a relationship. And just to have someone that you just like." She also credited Jay-Z for all she's achieved. "I would not be the woman I am if I did not go home to that man," Beyoncé said. "It gives me such a foundation."
Beyoncé and Jay-Z's marriage has weathered its share of storms — Becky with the good hair, anyone? — but over its 20-year span, it's mainly been sweet, sweet lemonade. They welcomed a daughter, Blue Ivy Carter, in January 2012 and twins, Rumi and Sir Carter, in June 2017. Jay-Z told Kevin Hart that being a dad has changed his life and career. "You reckless with your time before," he said (via ET). "You just all over the place. Then, you know, what you leaving the house for? Every second that you spend, you spend away from the development of these people that you brought here, that you love."