How Much Money Does Eddie Murphy Pay Mel B In Child Support?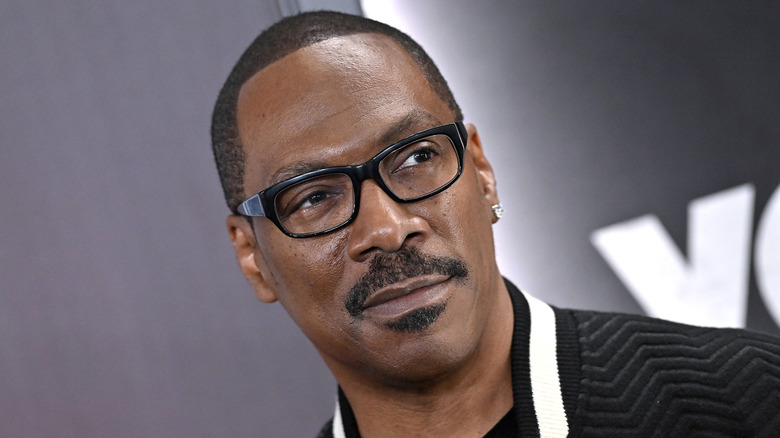 Axelle/bauer-griffin/Getty Images
When it comes to Eddie Murphy's long list of famous exes, Mel B is more than just a former flame; she's one of his many baby mommas too. However, Murphy wasn't exactly jumping with joy when he discovered Scary Spice was expecting. In fact, as Reuters reports, Murphy tried his hardest to deny he was the father. Still, science ultimately proved otherwise, and he was ordered to cough up a whole chunk of child support.
Mel B and Murphy first locked eyes at a party in Beverly Hills. Per the Mirror, it was 2006, and the actor was fresh off his divorce from Nicole Mitchell. The singer shared in her autobiography, "Brutally Honest," that sparks immediately flew. "It was as if a 2,000-volt electric current had passed between us," she wrote. Unsurprisingly, Murphy definitely wanted to be Mel B's lover, and they engaged in a heap load of hot and steamy "poetic sex." He proceeded to lovebomb her, showering Mel B with gifts, asking her to move into his mega-mansion, giving her a credit card with the order to spend, spend, spend, and even, allegedly, proposing.
However, according to the Daily Mail, devotion turned to discord when the singer fell pregnant, and Murphy demanded a DNA test. A bitter court battle ensued over upkeep when the two became three. They finally settled after a grueling 15 months, and the amount of money Eddie Murphy was ordered to pay Mel B in child support is pretty eye-watering.
Show us the money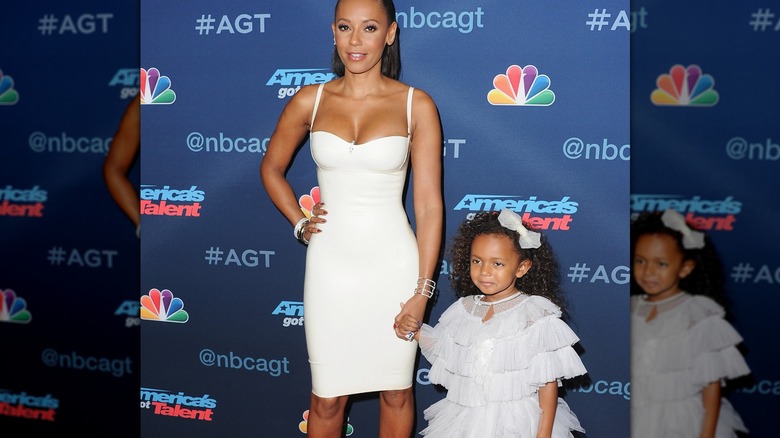 Jon Kopaloff/Getty Images
When Mel B gave birth to her and Eddie Murphy's daughter, Angel Iris Murphy Brown, in 2007, it sparked a fierce fight between the former couple. First, they battled over the paternity of their child. "I don't know whose child that is until it comes out and has a blood test. You shouldn't jump to conclusions, sir," a testy Murphy told a TV reporter (via CBS News). However, when it was determined that Murphy was the father, they fought over how much he should pay Mel B in child support.
The Daily Mail reports that, in 2009, the actor was ordered to shell out a whopping $25,000 a month. But then, in 2020, Mel B filed a request to increase the payments by an additional $10,000 a month. In court documents, she claimed Murphy was an "extraordinarily high earner" while her income had significantly declined. The court ruled in Mel B's favor. "Commencing October 1, 2021, as and for child support for the benefit of Angel, Respondent shall pay to Petitioner the sum of $35,000 per month," they determined. Murphy has to make the payments until Angel turns 18. In addition, he was ordered to pay Mel B's legal fees.
Well, she wasn't exaggerating about her baby daddy's "extraordinarily high" income. Murphy is worth a staggering $200 million, according to Wealthy Gorilla. That said, he's got a lot of kids to support, like, ten kids, per Pop Sugar.
Big daddy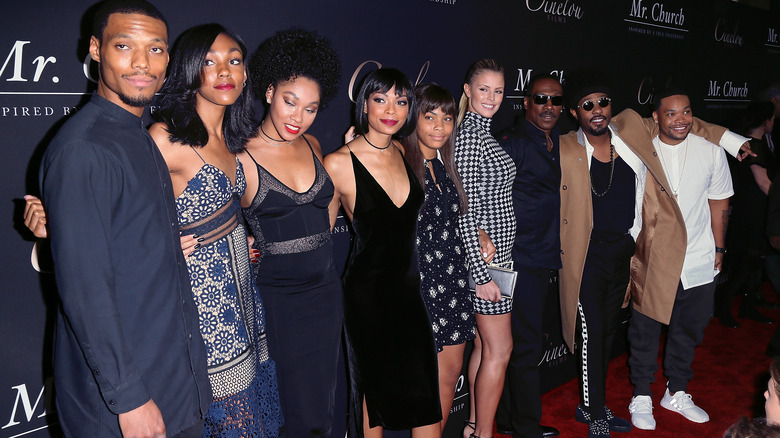 David Livingston/Getty Images
Despite Eddie Murphy being ordered to pay Mel B $25,000 a month in child support in 2009, initially, he didn't want any contact with their daughter. The National Enquirer (via Mail Online) alleged that the actor claimed Mel B had tricked him into getting her pregnant and that they'd only done the deed three times in total. "What was supposed to be a casual relationship ended with her having his baby and taking him to court for millions," a source said. "He says he will have to wait until Angel is older before he can get to know her without any interference from her mother," they continued.
However, People reports that Murphy has a strong bond with the now-teen; he's a loving dad to his entire brood and always ensures that his daughter with Mel B is included in family events. "They all have a very good relationship," a source shared. "[Murphy] always makes sure to get them involved with Angel. She had something at her school recently, and a number of her siblings turned out to support her. She texts Eddie and is on the phone with him all the time. She loves her dad."
The source claimed that Murphy loves to spoil Angel as much as his other kids. "He gives her all the gifts," they said. "At Christmas, there are 150 boxes under the tree ... dresses, shoes, toys, you name it, her birthday, literally every occasion." Well, nothing says love like 150 boxes.