The Untold Truth Of Kate Beckinsale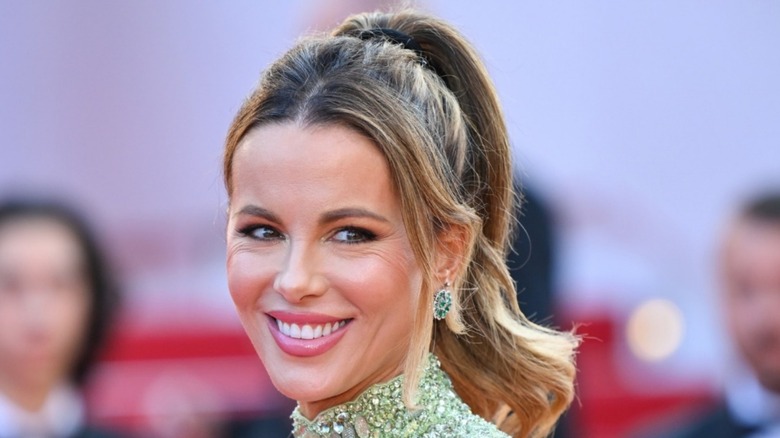 Stephane Cardinale - Corbis/Getty Images
Kate Beckinsale's decades-long acting career has taken her from corseted period dramas to Hollywood action blockbusters and just about everything in between. Coming from a celebrated British showbiz family, Beckinsale's Tinseltown career was never a given. But after she circumstantially arrived in the United States in the late '90s, she quickly rose through the Hollywood ranks to become one of the industry's top female action stars, much to the surprise of Beckinsale herself. Starring in big-budget films like "Pearl Harbor" and the "Underworld" series launched her into global-star status.
But as exciting as her on-screen life has been, her life away from the cameras has been equally dramatic. Her love life has been the subject of tabloid speculation. Her ultra-friendly relationship with her ex Michael Sheen, her marriage to "Underworld" director Len Wiseman, and her dalliances with much younger men have all made for juicy headline fodder. But the gossip hasn't stopped Beckinsale from living life her way — and she'll show it to you on social media. While she might seem like an open book online, there might be details about Beckinsale's life that you don't know about. So let's get to the untold truth of Kate Beckinsale.
Her father was a beloved comedian who met a tragic fate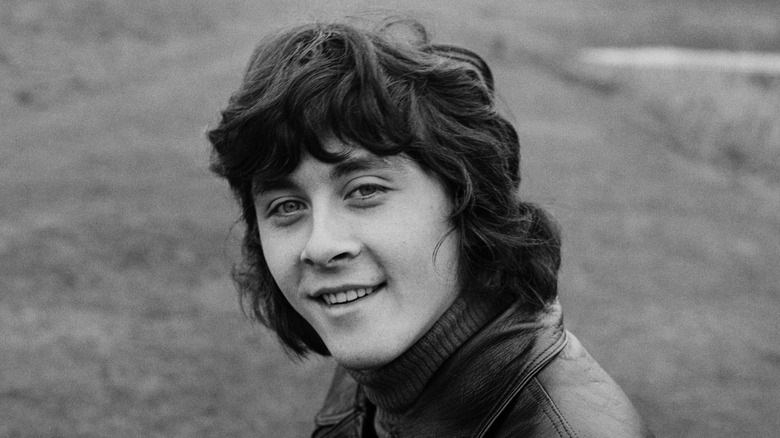 George Wilkes Archive/Getty Images
Kate Beckinsale has known a thing or two about celebrities for most of her life. Both her parents were television actors in the U.K. Her mother, Judy Loe, has been acting in British television since before Beckinsale was born, and her father, Richard Beckinsale, was one of the biggest British sitcom stars of the 1970s. Richard starred in the BBC sitcom "Porridge" while simultaneously acting in the comedy series "Rising Damp" on the rival network ITV. With both parents on television, it will come as no surprise that Beckinsale's first showbiz payday was as a baby, appearing alongside her mother. 
By the late '70s, Richard's career was red hot, but tragedy struck when he died from a heart attack in 1979 at the age of 31. His death shocked Britain, and for five-year-old Kate, it would reverberate throughout her life. On "The Off Camera Show," Beckinsale likened his shocking death to that of John Lennon, with people openly weeping in the streets. Because Richard's shows were so popular, reruns aired throughout Kate's life, helping her feel close to him. Beckinsale told The New York Times in 2001, "My father has been dead for 22 years, and he's still on TV all the time. I'm so used to seeing him. Whenever there's a really significant moment in my life, he's on the TV."
How Beckinsale cultivated her genius-level intellect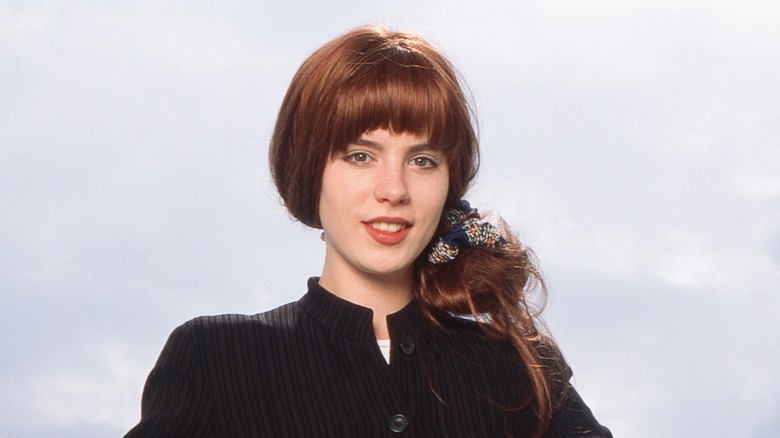 Stephane Cardinale - Corbis/Getty Images
Kate Beckinsale has both brains and beauty, and she even cultivated her genius-level intellect at one of the most prestigious universities in the world. From an early age, Beckinsale's smarts were evident. Her IQ was tested at a young age, and on "The Howard Stern Show," Beckinsale's mother, Judy Loe, revealed it was 152, putting Beckinsale firmly well beyond the genius threshold. Beckinsale put her intelligence to work by attending Oxford University, where she studied French and Russian literature. Beckinsale left Oxford before graduation, in part due to the death of a friend.
She's joked that her high intellect and intense studies haven't exactly helped her advance in Hollywood and thinks it held back her acting career. She told Howard Stern of her high IQ, "It's no good to me, though. It's really not helpful in my career. I just think it might have been a handicap, actually." She even joked to The New York Times, "I dropped out of Oxford, and now I only speak Russian with the woman who gives me a bikini wax. See what Hollywood does to you?" However, Beckinsale doesn't think it's too late to finish her degree. While touring Oxford with her daughter, she realized that she could go back at any time, and when asked by the Daily Mail if she would return to her studies, she said yes.
Her first Cannes Film Festival red carpet was a fashion disaster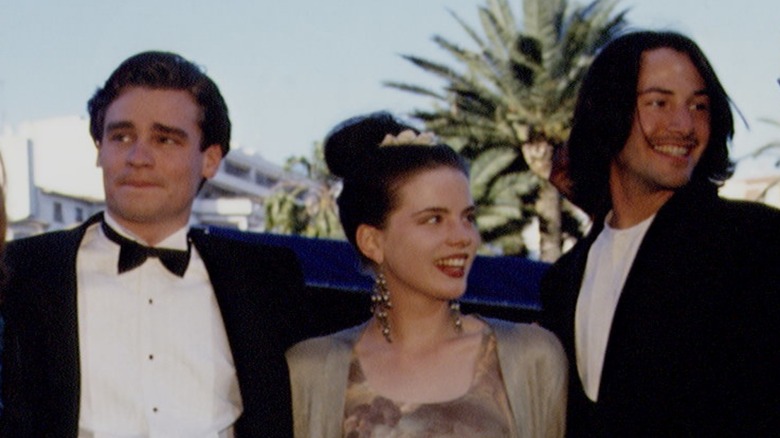 Eric Robert/Getty Images
These days, Kate Beckinsale might be revered for her dramatic red-carpet fashions, but her entry into movie-star glamour didn't exactly prove fortuitous. Beckinsale made her red carpet debut at the Cannes Film Festival in 1993 for her film debut "Much Ado About Nothing." Still a teenager, she leaned into the then-popular grunge trend by wearing Doc Martens boots. She told DuJour Magazine, "I was 18, and I wore my dirty old scuffed steel-toe Doc Martens on the carpet, because I didn't know other shoes existed." 
Not only did Beckinsale wear unorthodox shoes to Cannes, she almost suffered a wicked wardrobe malfunction. Long before the days of power-styling for the red carpet, Beckinsale was left to figure out her Cannes look by herself. According to her post about the incident on Instagram, Beckinsale's airport-purchased bodysuit snapped open, leaving her rather exposed.
She told her co-stars Keanu Reeves and Robert Sean Leonard about her fashion conundrum, and the actors helped Beckinsale secure her bodysuit while posing for cameras. Beckinsale praised Reeves and Leonard in her Instagram post as "Absolute legends who may not even have fully understood the physics of what was happening or even heard the word "gusset" before, but both jumped in to save me no questions asked."
How Beckinsale's youthful tenacity scored her a lead movie role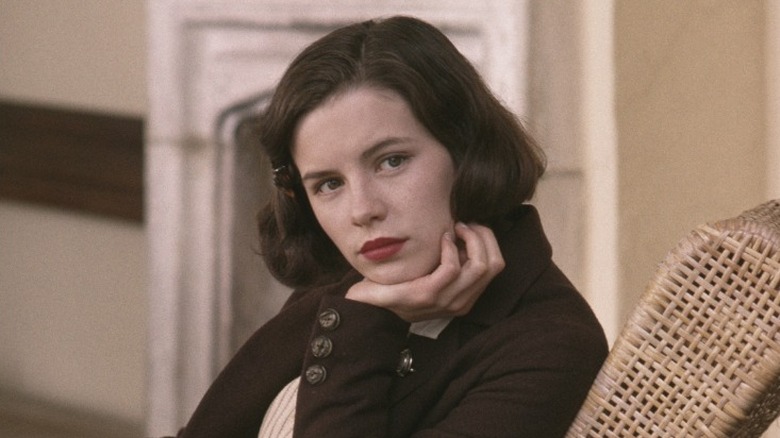 Keith Hamshere/Getty Images
In the '90s, Kate Beckinsale was an acting star on the rise, but that doesn't mean getting roles was easy for her. She scored a starring role in 1995's "Cold Comfort Farm," but she had to fight for it. Based on the 1930s novel of the same name, the movie follows modern Londoner Flora (Beckinsale) while she stays with distant relatives at Cold Comfort Farm. Director John Schlesinger thought Beckinsale was too young to play the urban sophisticate as she was still in her early 20s, but that didn't deter her from pursuing the part.
She told The Sunday Times that she wrote to Schlesinger asking him to reconsider her for the part. Not only that, she tracked down his address and delivered the letter herself. She said, "Luckily he wasn't offended that I found out where he lived and poked it in the door of his flat." Her tenacity paid off. Beckinsale ended up getting the part, and it was apparently a positive experience. She revealed to The Guardian that Schlesinger is among her favorite directors she's worked with.
Being a Hollywood star was not in her plans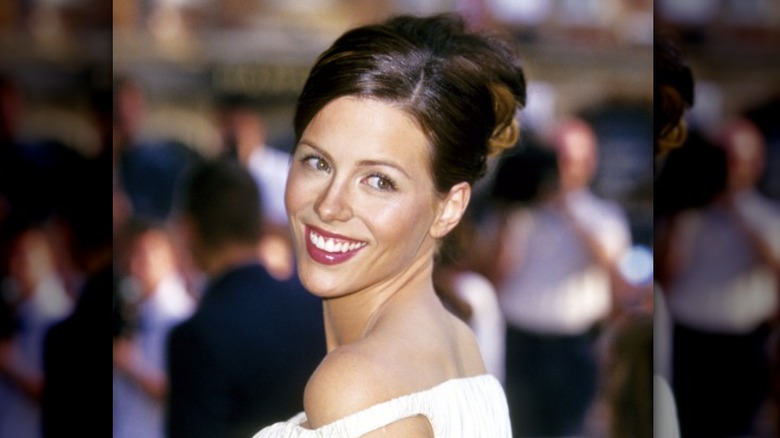 Fred Duval/Getty Images
Although her impressive acting resume includes some major cinematic blockbusters like "Pearl Harbor" and the "Underworld" series, being a Hollywood star was never in Kate Beckinsale's plans. In the '90s, her acting career was firmly rooted in the U.K., starring in TV movies like "Emma" and films like "Shooting Fish." But by the end of the decade, Beckinsale was spending more time in the United States. She moved to New York City when her then-boyfriend Michael Sheen was performing on Broadway. She acknowledged to The Mirror that the life change was "sort of against my wishes because I had just had a baby and was like, 'Do I want to move to New York? I don't know anyone really ... you're going to be by yourself with a baby.'"
Despite any initial reservations, Beckinsale kept working, and she soon found herself in American films like "The Last Days of Disco" and "Brokedown Palace." She said to the BBC, "It wasn't a conscious decision to make American films, it just kind of happened ... my auditions happened to be for American movies, which wasn't deliberate." Her casual attitude toward life informed her career, telling Reuters, "I'm sure that's the big mistake I've made, not having some big campaign or plan. But I like the way my life and my career influence and inform each other. It's like an adventure to see what comes up next."
Her close relationship with ex Michael Sheen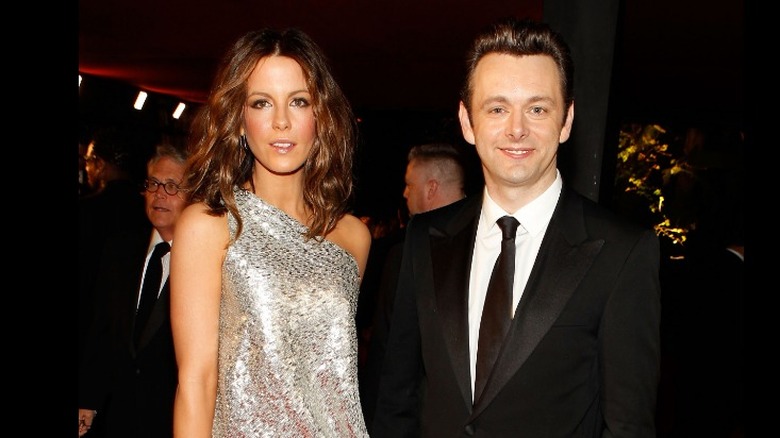 Chris Polk/vf1/Getty Images
Although they broke up in the early '00s, Kate Beckinsale and her ex, actor Michael Sheen, have maintained a very close relationship throughout the years. Beckinsale and Sheen got together in 1994 and welcomed daughter Lily Mo Sheen in 1999. Soon, the couple found themselves working together on the film "Underworld," but in 2003, Beckinsale and Sheen split. Beckinsale swiftly moved on with "Underworld" director Len Wiseman, and they married in 2004. However, Beckinsale adamantly denied to Entertainment Weekly that Wiseman caused her split with Sheen. She said, "The popular notion of how Michael and I broke up — that we were on [the first Underworld] and I ran off with the director [Wiseman] — is just not true."
Beckinsale and Sheen might have gone their separate ways romantically, but they've remained close friends and have maintained a united parenting front for their daughter. In fact, they remained so close that both Beckinsale and Sheen have been buddies with their respective significant others. And while they haven't been together for decades, Sheen has been a regular presence on Beckinsale's Instagram account, where they pose for cheeky photos like recreating daughter Lily's birth photo and share sentimental moments like celebrating their daughter's college acceptance. Of their unorthodox relationship, Beckinsale told ES Magazine, "We split up ages ago. We have been not together far longer than we were ever together. But I really love him and like him and we make each other roar with laughter."
She was unathletic, but became an action star anyway
Kate Beckinsale has made a name for herself as a kick-butt actor, starring as latex-clad vampire assassin Selene in the "Underworld" films series and starring in action movies like "Van Helsing" and "Total Recall." However, her notoriety in the genre wasn't exactly in her life plans. Beckinsale didn't grow up athletic, and she didn't have an aptitude for gym class. She only started working out in her 20s when filming "Pearl Harbor," and she took the role of Selene in the first "Underworld" movie to break out of being typecast as a delicate British actor. Beckinsale told People, "I was not sporty, I had no aspirations of being an action person and I did it as an experiment to see if I could do it."
It turned out that training for "Underworld" was a great experience for Beckinsale. She shared with the BBC, "I found it immensely liberating. I'd never fired a gun, I'd never punched anybody. The fact that I managed to do it at all felt like such a big achievement." Even though Beckinsale is thoroughly an action star now, she confessed to The Sunday Times, "I'm glad I've been trained in it and I can do it, because I've been forced to do it so many times. It never, ever was something I envisaged myself doing, though. It's all a bit ludicrous that that's become one of the things in my quiver."
What Beckinsale would be doing if she wasn't an actor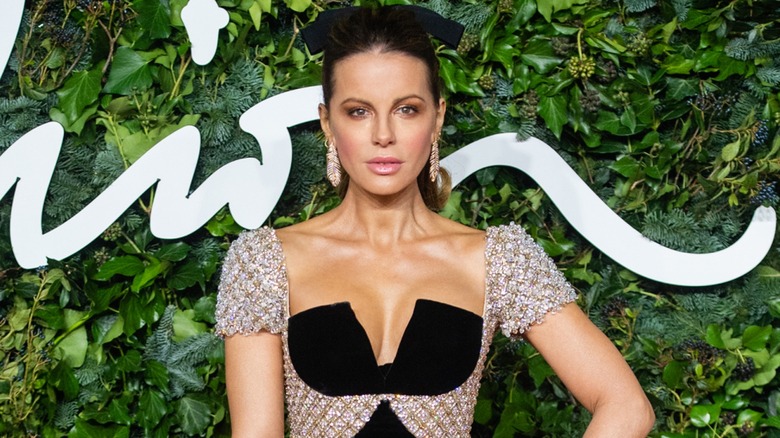 Samir Hussein/Getty Images
It might be hard to imagine Kate Beckinsale doing anything else but acting, but at one point in her career, she thought about leaving it all behind to become a doctor. In the mid-'00s, Beckinsale found herself at a crossroads in her acting career. She shared with Entertainment Weekly that, at the time, she wished she had become a doctor. After some thought, though, she realized the more graphic aspects of being a medical professional were not for her.
Beckinsale stayed in Hollywood, though her knack for the medical profession has remained, and she has become rather popular among her friends for her health advice. She told The Sunday Times, "I can't tell you the amount of times people come to me. I'm obviously not going to perform a digital rectal exam, but I will go through symptoms. So far, touch wood, it has only ever really been chafing. Should you get any chafing, call me."
While Beckinsale's medical skills remain firmly amateur, it hasn't stopped her from suggesting the medical field as a career to her daughter, Lily Mo Sheen. The budding young actor joked with People that her mom "definitely would've preferred I became a surgeon, but I don't think that was on the cards — you wouldn't want me to be doing any surgeries. And I think she knows that!"
She's waiting for the chance to show off her comedy skills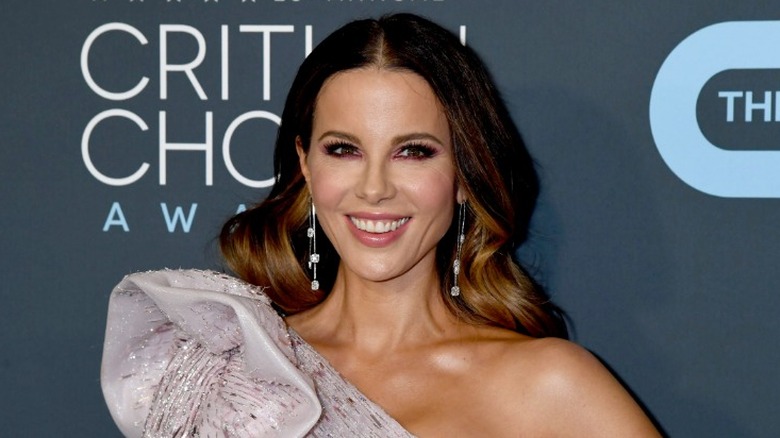 Jeff Kravitz/Getty Images
While Kate Beckinsale has appeared in a few comedy films like "Click," "Love & Friendship," and "Fool's Paradise," her resume is pretty short on humorous projects. While she hasn't flexed her funny bone much professionally, she happens to have big comedic aspirations. Beckinsale has always loved comedy, but she shied away from it early in her career because of the towering reputation of her late father, comedic actor Richard Beckinsale. She told The Sunday Times, "My most favorite thing is comedy. In the very beginning of my career, I was a bit nervous because I didn't want to look like I was trying to come into my dad's patch and all that."
In her decades-long career, Beckinsale's star persona had held many identities. She's been known as a refined British actor, dramatic indie film darling, and an action hero, but Beckinsale's performances haven't allowed her to garner a reputation for laughs. She's ready for her comedy close-up, but Beckinsale is realistic about possible cultural challenges in being perceived as being both beautiful and funny. She sardonically quipped to The Sunday Times, "Maybe once I start getting older and uglier, with bandy legs and arthritis, I might be in with a chance."
Her tabloid-worthy romances with younger men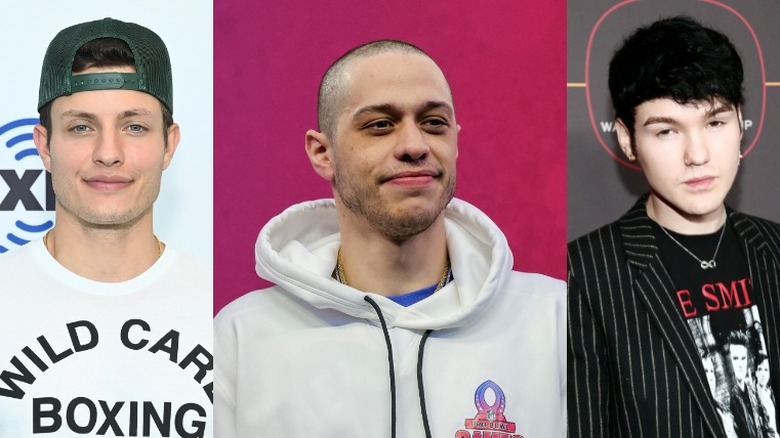 Araya Doheny & Ethan Miller & Tommaso Boddi/Getty Images
Kate Beckinsale had high-profile, long-term relationships with actor Michael Sheen and director Len Wiseman, but her dalliances with younger men have put Beckinsale's love life squarely in the public eye. In 2017, the then-43-year-old was linked to 21-year-old-comedian Matt Rife. At the time, a source told People of their over 20-year age difference, "She really seems to like him. She refers to him as an old soul ... the age difference doesn't matter to her." Beckinsale and Rife dated for a year, but their on-again, off-again romance wasn't meant to be.
In 2018, Beckinsale was spotted smooching then-30-year-old Jack Whitehall on a candlelit date, and the following year, she dated Pete Davidson, who is 20 years her junior. Beckinsale and Davidson's romance quickly became tabloid fodder. Although not specifically naming Davidson, she alluded to their relationship in the Los Angeles Times. She said, "I'm surprised by the interest. I've never been in this position before — never dated anybody who comes with their own bag of mischief. It's all quite shocking and something to get used to."
Beckinsale and Davidson's tryst only lasted a few months, and after they broke up, a source shared with Entertainment Tonight that they remained on "friendly" terms. After Davidson, Beckinsale continued to date younger men. She and then-23-year-old Canadian rapper Goody Grace were together throughout most of 2020, becoming COVID-19 pandemic lockdown companions, before going their separate ways by the end of that year.
She almost landed an iconic superhero role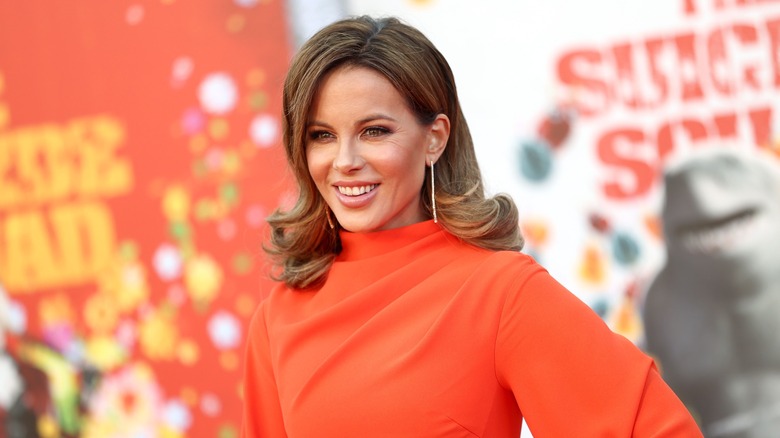 Matt Winkelmeyer/Getty Images
Kate Beckinsale has cultivated quite the action star resume over the years, so it should come as no surprise that at one time, Beckinsale was being considered to play iconic comic book hero Wonder Woman on the big screen. In the mid-'00s, producer Joel Silver was developing a movie adaptation of "Wonder Woman" with writer and director Joss Whedon. Silver told Empire Magazine of the project in 2006, "It's real, but it's not real yet. Joss has done a great job on the draft and now he's tweaking it a little bit so we can give it to the studio in two weeks," adding, "And if they believe in it in the way that we think they will, then we'll be talking about that movie next year."
Whedon's script was never produced, and it was eventually leaked online, where it was met with a very critical reception. It turns out Beckinsale was being considered to star in this version of "Wonder Woman." She confirmed to Variety she was up for the part when Silver was developing the project. It seems likely that Beckinsale read the Whedon-penned script and agreed with almost everyone else that it was a stinker. While she didn't specifically call out Whedon as the writer, when asked by Variety if she regretted not playing Wonder Woman, she said, "No. It would have been a terrible movie based on the script that I read."
Once a reluctant social media user, Instagram is now where she let's it all hang out
Kate Beckinsale seems like a natural on social media. With millions of followers on her Instagram account watching her zany, eclectic posts about everything from red carpet appearances, posing with cute animals, and dressing up in costumes with friends, one might think that Beckinsale readily embraced being extremely online, but she only joined Instagram at the insistence of others. At first, Beckinsale was reluctant to join social media, but she agreed to hop on the social media bandwagon to promote her 2016 independent movie "Love & Friendship."
Intimate, humorous, and delightfully irreverent, Beckinsale said her social media presence is who she really is. She told the Los Angeles Times, "It's actually accurate. I found it incredibly relieving to go, 'Oh, this is what my actual sensibility is like.' And whether people respond positively or negatively to that, that is what it is. And that's been a largely positive experience."
Although Beckinsale tries to focus on the good aspects of social media, it doesn't mean she hasn't had a complicated relationship with it. In 2019, she deleted all the photos from her Instagram account. At the time, it was speculated that she wiped her account clean because of negative feedback about her then-relationship with comedian Pete Davidson. However, her account didn't remain empty for long. She started posting new photos a week after the deletion.
How Beckinsale was bullied by Harvey Weinstein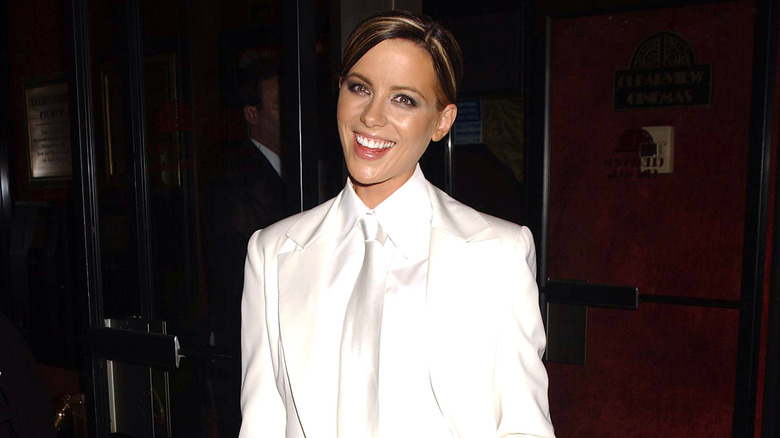 Bill Davila/Getty Images
Like many Hollywood actors, Kate Beckinsale has shared her experiences with disgraced movie producer Harvey Weinstein. In 2017, shortly after the New York Times and The New Yorker published their exposés on Weinstein's history of sexual misconduct, Beckinsale posted details about her encounters with Weinstein on Instagram. She met Weinstein for the first time as a teenager, and she shared how even though she rejected both his sexual advances and professional requests, her career managed to survive.
While Beckinsale was never sexually assaulted by Weinstein, she has been outspoken about being bullied by him. Beckinsale starred in the 2001 romantic comedy "Serendipity," which had the unfortunate timing of being released shortly after the 9/11 terrorist attack. Beckinsale revealed on "The Howard Stern Show" that she and the cast were against doing a red carpet so as to not seem disrespectful given recent tragic events. Weinstein insisted the event move forward and dutifully and Beckinsale worked the carpet, but she did it her way.
As her way of honoring the somber national mood, she decided to wear a beautiful white pantsuit. She looked smart and stylish, but the look wasn't Weinstein-approved, and shortly after the premiere, Beckinsale had a disturbing confrontation about it. Under the guise of a playdate for their children, Beckinsale went to Weinstein's house, where he proceeded to berate her about wearing a suit at the premiere, hurling expletives toward her. Naturally, the meeting left Beckinsale extremely upset and in tears.
She is most definitely a cat person
There is no doubt that Kate Beckinsale is an animal lover and makes a concerted effort to have creatures of all kinds in her life. She confided to The Sunday Times that while filming her television drama series "The Widow" in Africa, she made a concerted effort to meet as many animals as possible. Baby cheetahs, baboons, zebras, meerkats, and elephants — she had encounters with them all.
When she's not filming in locales that offer abundant wildlife encounters, she keeps the animal vibes going at home with her beloved pets. Even though Beckinsale has owned both cats and dogs, she has a special soft spot for felines. Her preference for cats is fairly pragmatic, telling People, "Cats are easier than dogs" because "you don't have to walk around with a bag of poo like you do with a dog, which I hate to walk around with a bag of poo."
Based on Beckinsale's Instagram, she clearly had a special bond with her Persian cat, Clive. With his scowled face and floofy hair, Beckinsale and Clive seemingly did everything together, whether it was dressing in the latest fashions, hanging out in the pool, or grabbing a bite to eat, and they became social media darlings. Sadly, as seen in an Instagram post by the actor, Clive died in June 2023, leaving Beckinsale heartbroken and bereft. But while Clive has crossed the rainbow bridge, Beckinsale still posts photos of herself snuggling with animals, both great and small.