The Real Reason Kate Beckinsale And Michael Sheen Split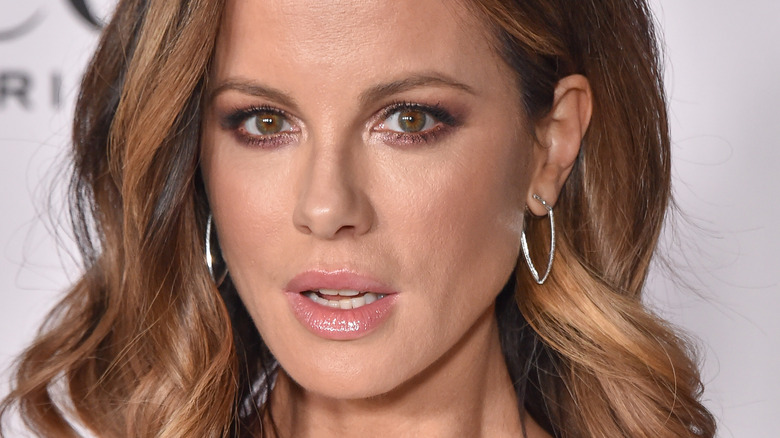 DFree/Shutterstock
Despite Kate Beckinsale being separated from ex Michael Sheen since 2003, she is on famously cozy terms with her ex. Per People, the two dated for eight years after meeting in the mid-'90's, giving birth to daughter Lily Mo Sheen in 1999. Amid her mainstream breakout via 2001's historical epic, "Pearl Harbor," Beckinsale told Cinema.com of Sheen, "We've been together since 1994 and it was only when I met him that my life really fell into place, and then we had Lily, so it's totally changed everything."
Even though she married her and Sheen's "Underworld" director Len Wiseman in 2004 (then divorcing him in 2019), per Page Six, Sheen remained a constant throughout Beckinsale's life and on her Instagram feed. For Christmastime 2018 — one year after she dated ex Matt Rife (per People) — Beckinsale posted a riotous-yet-heartwarming Instagram holiday tiding, sharing a photo of her leaning against Sheen on a sofa with the latter wearing a tight, white onesie. Beckinsale quipped, "Michael turned up in an impenetrable onesie just in case he was ambushed by an excitable relative."
Further, in a 2016 interview with Evening Standard, the "Jolt" star even revealed that she "really loved" Sarah Silverman — Sheen's girlfriend at the time. "We are lucky we both get on, and Lily gets on great with her," she shared.
Given Beckinsale and Sheen's affectionate status as exes, why did they split up in the first place? The reason might be more complicated than what you have heard.
Kate Beckinsale and Michael Sheen did not break up because of Len Wiseman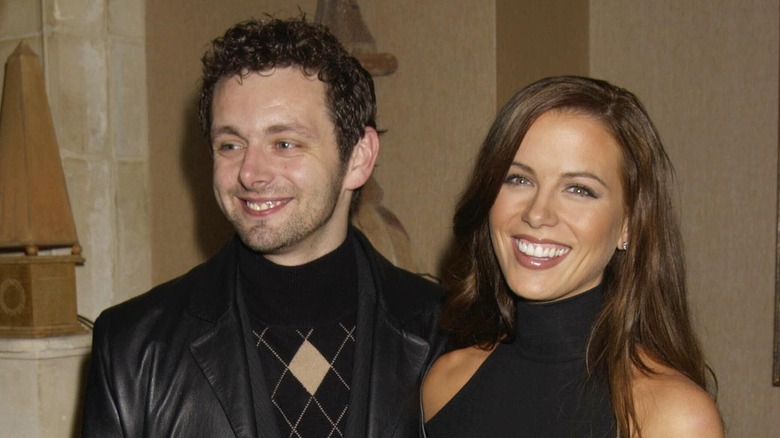 Dave Benett/Getty Images
Kate Beckinsale and Michael Sheen's 2003 separation is often associated with a third party — but Beckinsale insists the truth is nowhere as lascivious. Per Marie Claire, after meeting now-ex-husband Len Wiseman on the set of 2003's "Underworld" (which he directed her and Sheen in), it wasn't long before the news of Beckinsale's split from Sheen broke... and she got hitched to Wiseman in a May 2004 ceremony. However, you know what happens when you assume... "The popular notion of how Michael and I broke up — that we were on [the first 'Underworld'] and I ran off with the director — is just not true," Beckinsale clarified to Entertainment Weekly in 2012. "If that were the case, I think it would be very difficult and peculiar to have an OK situation." 
It wasn't always such easy-going after their split, however. On the Changes With Annie Macmanus podcast, Sheen recalled being concerned about his work and personal life immediately following. Revealing it was a time of great uncertainty, the actor described it (via Daily Mail) as "a relationship breaking down and having a young child, and then because of my daughter and her mum living in another country, having to make a life in a new place." 
All's well that ends well; as Beckinsale said of Sheen in the Evening Standard in 2016, "I really love him and like him and we make each other roar with laughter." 
Michael Sheen's fiercely protective of those he loves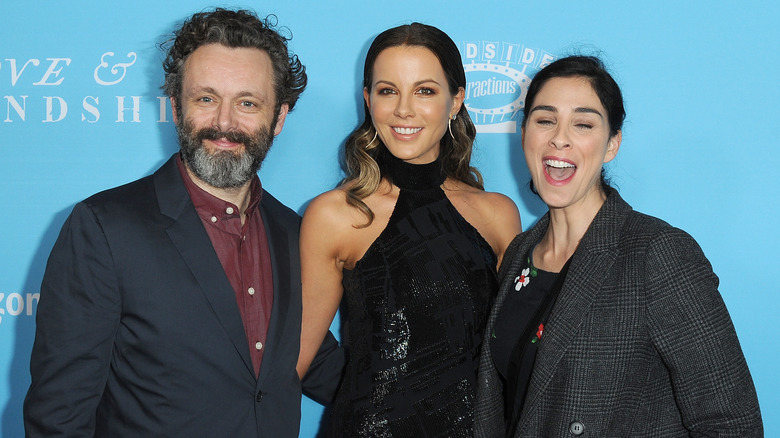 Angela Weiss/Getty Images
Such was Michael Sheen's sense of protectiveness over Kate Beckinsale that he once punched a co-star of hers in her honor. As confirmed by Beckinsale to Cinema.com, Sheen stepped in with his fists when he saw Jeremy Northam, her co-star in 2000's "The Golden Bowl," yelling at her on set. "It was the first week of shooting," Beckinsale explained. "No one was that organized or prepared as we'd all just arrived at the very last minute.... basically Jeremy and I had a disagreement about something." Beckinsale noted that she was also still breastfeeding their daughter Lily Mo Sheen at the time. "Michael came down to the set to pick her up and suddenly sees this man yelling at me," Beckinsale recalled.
Northam would confirm his behavior to the Daily News in 2002 as well, offering the sorry-not-sorry explanation: "At times I do have a rather short fuse, and I find a movie quite a pressured situation. There are so many different perspectives going into it, and sometimes you also have to fight your corner." Things ended up working out between the two actors on the film, however, as the "Underworld" star told Cinema.com that Sheen's fistful explosion actually "really broke the ice and it was all OK after that." 
As for Sheen, he simply told The Guardian of his actions, "It was because I thought he was being disrespectful to someone I loved."