What The Cast Of Lost Is Doing Today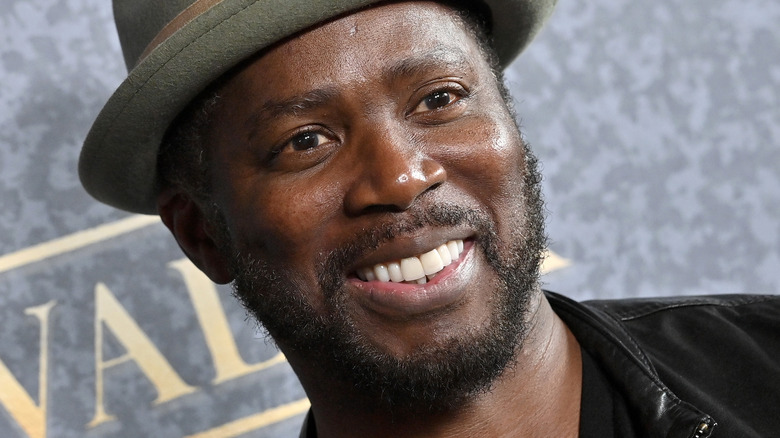 Axelle/bauer-griffin/Getty Images
When "Lost" premiered in 2004, it became a cultural phenomenon. Viewers around the world tuned in to try and understand what unfolded in each episode of the enigmatic series. The mystery of the island and the people stranded there intrigued audiences, and it didn't hurt that the cast was packed with a plethora of talented players, including a future MCU superhero, fantastic character actors, and many more.
Despite its initial success, "Lost" ultimately received criticism for its ending. However, the series concluded in the only way it could, and once the finale wrapped in 2010, many of the cast members moved on to other projects. Some actors retired for a bit, while others parlayed their fame from "Lost" into leading roles in other popular shows. It's a tale as old as ... well, television.
The actors featured here all played significant characters in "Lost" and remained for much of its production. In the decade that followed its conclusion, they went on to all manner of movies, television series, and more. Catch up with the people who brought Jack, Kate, Sawyer, Locke, Linus, and more to life in a series that still divides fans more than 10 years after its final episode hit the airwaves.
Matthew Fox took some time off before returning to acting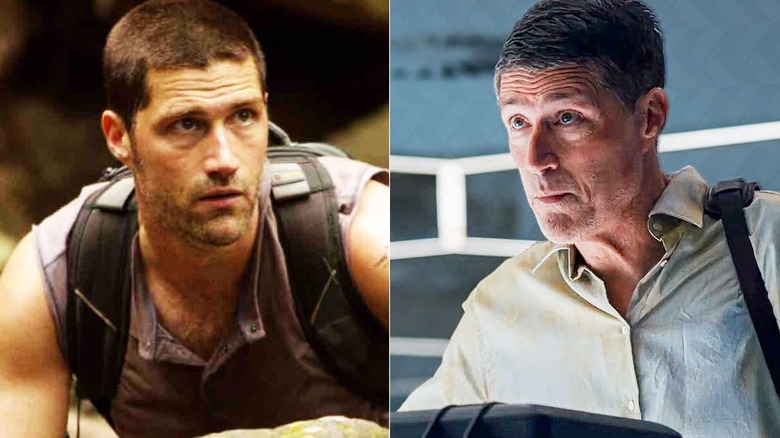 ABC/Peacock
Matthew Fox played Dr. Jack Shephard on "Lost," and despite his character being planned for the pilot only, he remained throughout the entire series run. Initially, Michael Keaton was intended to play Jack and die in the pilot, but the plan clearly changed. As Jack, Fox became one of the primary leading actors in the most popular television show from the early aughts. When the series ended, Fox opted to take a step back from acting.
In an interview with Variety, Fox explained his semi-retirement: "At that time in my life, our kids were at an age where I felt like I needed to really reengage. I had been focused on work for some time, and [my wife] Margherita had been running the family so beautifully, but I felt like it was time to be home, and I really felt like I was retiring from the business, and working on other creative elements that are really personal to me – some music and writing."
Fox spent his time off with his family, and he returned to acting after a seven-year hiatus, appearing as Andy Yeats in "Last Light." He was intrigued by the idea of acting and executive producing, so he leaped at the opportunity. In addition to acting and working as an executive director, Fox also did much of his own stunt work in "Last Light," which was taxing for the actor, having rejoined the acting community in his mid-fifties.
Evangeline Lilly retired from acting and returned to become a superhero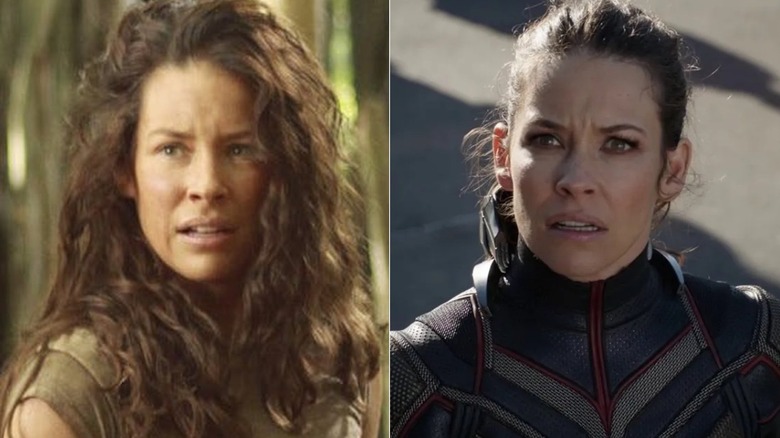 ABC/Walt Disney Studios Motion Pictures
Evangeline Lilly was a relatively unknown actor when she auditioned for the part of Kate Austen in "Lost." Initially, she didn't have high hopes for landing the role, but ended up being cast, making her exceptionally famous in a very short period of time. Kate is one of the primary characters in a rather large ensemble cast, and she stands out due to Lilly's performance.
Despite getting her start in television, most of Lilly's work has been in film, having appeared in numerous high-profile movies, including "The Hurt Locker." However, "Lost" ultimately made Lilly a star, but it upended her life. She had to take a break, as she explained to The Hollywood Reporter: "Basically, by accident, my first speaking role in film or television was 'Lost,' and so I was instantly launched into international stardom, and that was really uncomfortable for me. I instantly balked, didn't know how to deal with it, and felt very uncomfortable after that situation. I ended up deciding to retire after I finished 'Lost.'"
Lilly didn't remain out of action for long and returned to acting in 2013 as Tauriel in "The Hobbit: The Desolation of Smaug" and its sequel after a two-year acting hiatus. With that, her retirement was over, and she went on to play Hope van Dyne, the Wasp, in "Ant-Man," its two sequels, and more. In 2021, Lilly also returned to the small screen, giving voice to the Wasp in Marvel's "What If...?" series.
Terry O'Quinn kept himself busy jumping from one television show to another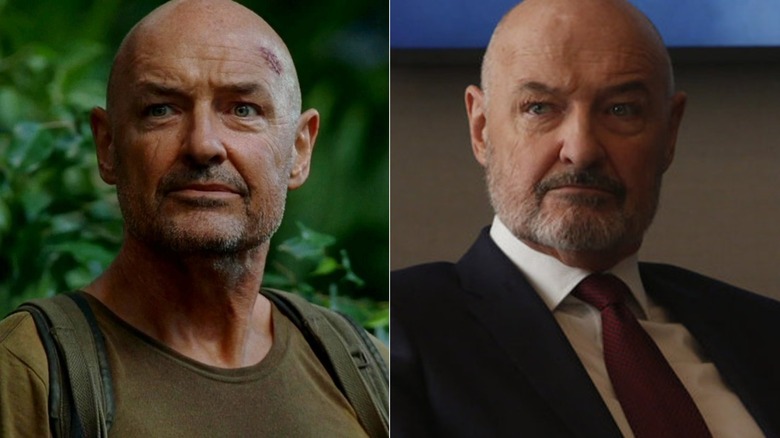 ABC/Hulu
Terry O'Quinn was already a well-established actor before he joined the cast of "Lost" as John Locke. His long list of credits prior to "Lost," including long stints on "Millennium," "Alias," and "The West Wing." On top of that, O'Quinn has been working in film since 1980, appearing in everything from "The Stepfather" and "Young Guns" to "The Rocketeer" and "The X-Files." O'Quinn's work spoke for itself, and he was offered the role of Locke without having to audition.
Locke's portrayal in the series made him an incredibly tantalizing character, as his past was truly fascinating. He eventually transitioned into The Man in Black and remained throughout the series run. His personality changed completely as The Man in Black, giving O'Quinn the rare opportunity to play a character in a completely different manner in the same show.
O'Quinn may have worked for decades prior to "Lost," but he wasn't as well known until the series hit the airwaves. "Lost" changed all that, and since the show concluded in 2010, O'Quinn has continued doing what he does best, appearing in numerous series and a film in 2016. O'Quinn has made his living on the small screen, and after "Lost" ended, he appeared in "Hawaii Five-O," "Falling Skies," "Patriot," "Castle Rock," and much more.
Jorge Garcia went from one island to another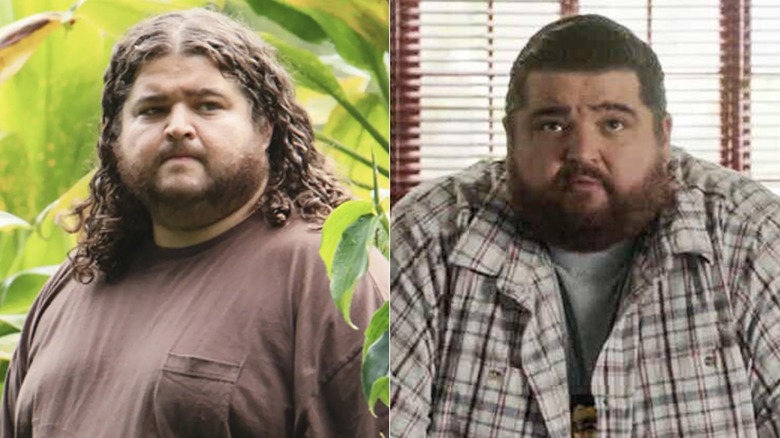 ABC/CBS
Jorge Garcia played a drug dealer in a single episode of "Curb Your Enthusiasm," and it forever changed his life. "J. J. saw 'Curb Your Enthusiasm,' came in the next day and was like, 'We've got to get that guy,'" Garcia told The New York Times. Garcia auditioned and snagged the part of Hugo "Hurley" Reyes, quickly becoming an international star. Although "Lost" took up most of his time, Garcia managed to appear in several feature films during its run.
When "Lost" came to an end, Garcia landed all kinds of roles in popular television series. He played Anton the Giant in "Once Upon a Time" and Steve "The Blitz" in "How I Met Your Mother." Garcia's biggest break since leaving "Lost" made it possible for him to remain in Hawaii, as he was cast to play Jerry Ortega on "Hawaii Five-O." Garcia was one of several actors from "Lost" to join the production of the popular revival series, and he remained a member of the cast from the fifth to tenth seasons. Ultimately, it seems Garcia had to leave the regular cast of "Hawaii Five-O" due to his packed schedule. His workload included multiple feature films and a co-hosting gig on a bi-weekly podcast, so Garcia has been busy since "Lost" left the airwaves.
Josh Holloway kept himself busy working on numerous TV series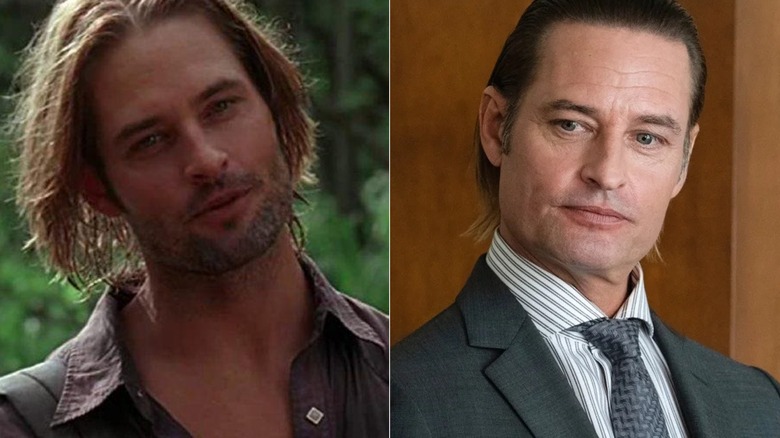 ABC/Paramount Network
Josh Holloway rose to stardom after being cast as James "Sawyer" Ford in "Lost." Prior to his breakthrough role, he had minor walk-on appearances in various television series and a few film credits to his name. However, "Lost" changed the game for Holloway, and his portrayal of Sawyer opened a lot of doors for the actor, whose first professional acting credit on "Angel" in 1999 was as "Good Looking Guy."
Holloway remained with the cast of "Lost" until the very end, and he didn't take any time off after the series wrapped. He landed a part in "Mission: Impossible – Ghost Protocol" and continued working on the small screen. He played a leading role in "Intelligence" and "Colony," the latter of which kept him busy for a few years. In 2020, Holloway joined the cast of "Yellowstone" as Roarke Morris and worked on the series' third season.
Recently, Holloway reunited with J.J. Abrams for "Duster," a crime thriller created for Max. The series focuses on the first Black woman working as an FBI agent in the early 1970s. Holloway plays Jim, one of leads in the show. After filming his work for the pilot, "Duster" was ultimately picked up in early 2023. The show consists of eight episodes and centers on the main characters' clash with a burgeoning crime syndicate.
Yunjin Kim has worked in the American and Korean markets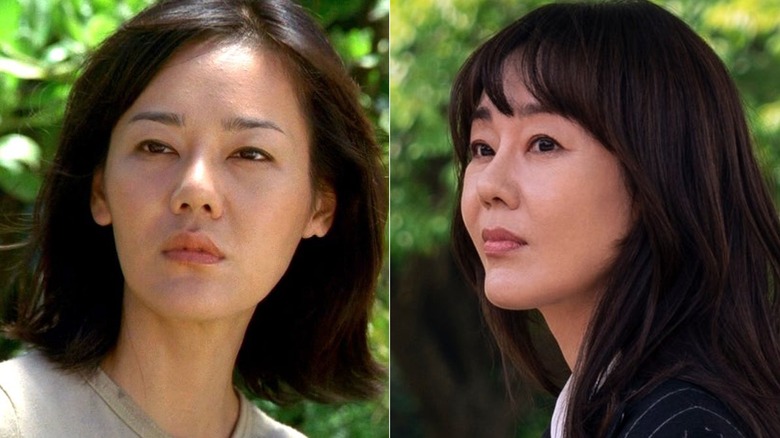 ABC/Netflix
Yunjin Kim began her acting career in the mid-1990s, working on the small screen and in theater. While she spent much of her early career in Korea, her role as Sun-Hwa Kwon on "Lost" in 2004 brought her international recognition. The series dominated much of her time throughout the aughts, though Kim managed to work on several films during her series tenure on "Lost."
Kim's time on the show made her famous, and she had little trouble finding work when the series ended in 2010. She starred as Karen Kim in "Mistresses" from 2013 to 2016, and then joined the cast of "Ms. Ma, Nemesis." Kim continued to appear in Korean television and film for several years, with her most recent work being as Principal Jina Lim in Netflix's "XO, Kitty."
Kim also found roles in several South Korean feature films since "Lost" concluded. Notable projects include "The Neighbors" and "Ode to My Father," which centers on family life and important moments in Korean history. While speaking to The Hollywood Reporter about the latter work, Kim called it "a once-in-a-lifetime opportunity and an experience to truly treasure," reflecting on the similarities between the character she portrayed and her own life. "My parents were deep in my thoughts, as well as my own experience growing up in a foreign country and the loneliness that only immigrants can feel," she explained.
Daniel Dae Kim stayed in Hawaii for another popular series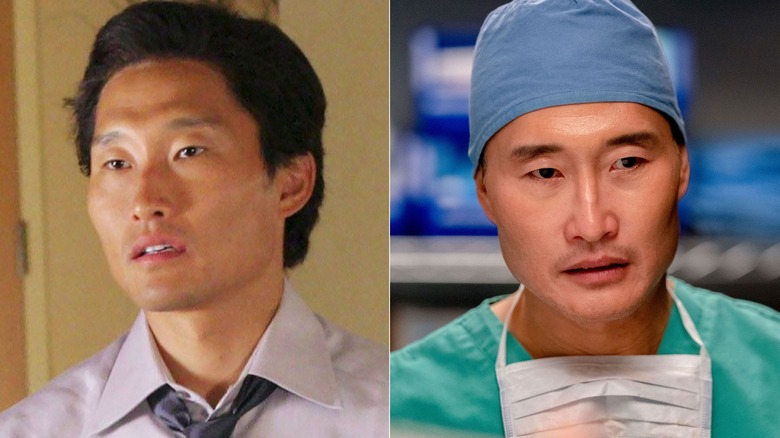 ABC/NBC
Daniel Dae Kim's career began like many actors striving to make a name for themselves in Hollywood. He appeared in a plethora of television series playing one-off characters relegated to the background. He did this in everything from "Unsolved Mysteries" and "Law & Order" to "Seinfeld" and "Star Trek Voyager." Kim put in the work, which paid off in 1999 when he joined the cast of "Crusade" as Lieutenant John Matheson.
Kim followed this with a recurring role in "Angel," and finally, in 2004, he appeared as Jin-Soo Kwon in "Lost." Playing Kwon made Kim an international superstar, and he remained with the production until it concluded. Kim's on-screen romance with Yunjin Kim's character transitioned from troublesome to heartwarming, earning Entertainment Weekly's top spot in its 100 best TV romances of all time.
"Lost" opened many doors for Kim, who continued working in television after the series ended. On top of that, he scored leading roles in several shows, including "Hawaii Five-O" and "New Amsterdam." In addition to acting, Kim founded 3AD, a production company behind ABC's hit series "The Good Doctor," where he plays Dr. Jackson Han. Kim has also branched out into voice acting, lending his voice to characters in "She-Ra and the Princess of Power," "The Legend of Korra," and "Star Wars: Visions," to name a few.
Naveen Andrews never stopped working in television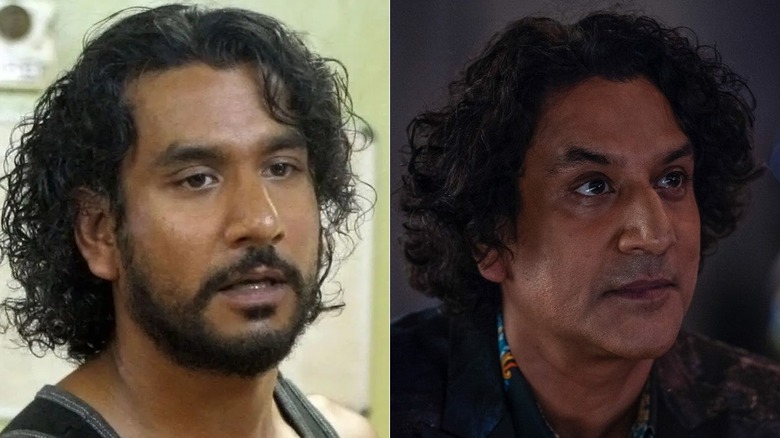 ABC/Fox
Naveen Andrews kicked off his acting career in 1991 with "London Kills Me." He later gained prominence for his breakout roles in "The English Patient" and "Mighty Joe Young" on the silver screen while dipping his toes in television. Although he primarily worked in film early on, his career took a major turn when he joined the cast of "Lost" as Sayid Jarrah in 2004.
Andrews' work on the show earned him a Screen Actors Guild Award, among other accolades. Sayid became popular almost immediately after the plane crash, as the survivors started coming together on the island. Andrews continued with the series to the end, and afterward, he dove headfirst into one leading role after another. Following "Lost," Andrews played Lord Akbari in "Sinbad," Jafar in "Once Upon a Time in Wonderland," Jonas Maliki in "Sense8," and Julian Cousins in "Instinct."
During the COVID-19 pandemic, Andrews did not have many projects, but he resumed work after the chaos subsided. In 2022, he appeared in "The Cleaning Lady" and played Ramesh "Sunny" Balwani in "The Dropout." This miniseries detailed the life of Elizabeth Holmes (Amanda Seyfried), and Andrews' work earned him even more recognition, including nominations for the Gold Derby TV Awards and the Hollywood Critics Association TV Awards.
Emilie de Ravin became a Disney Princess and much more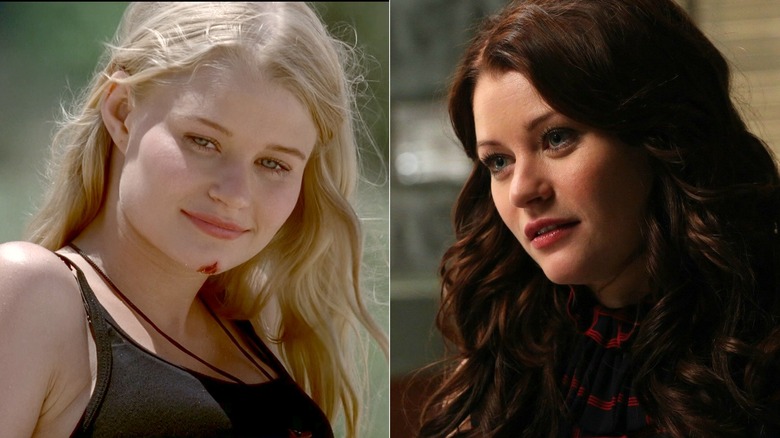 ABC/ABC
Emile de Ravin began her career on the small screen, playing the Demon Curupira on "BeastMaster" in 1999. She continued working from there and appeared as part of the cast of "Lost" as Claire Littleton in 2004. "Lost" brought de Ravin to the world's attention, generating significant buzz for the Australian actor. Much of the early seasons revolved around Claire and her son, Aaron. After some chaos, she walked into the jungle and disappeared for three years.
Claire eventually returned in the final season, ensuring de Ravin remained for the series finale. Not long after it hit the airwaves, de Ravin joined the cast of "Once Upon a Time" as Belle, making her a Disney Princess. She remained with the main cast through the sixth season before departing alongside much of the core original cast at the end of it, appearing only one more time in the seventh and final season.
De Ravin has continued acting in film and television. Her most recent TV work came in Australia's "True Colours" in 2022. She has also appeared in half a dozen feature films since "Lost" ended, including "Operation: Endgame," "Love and Other Troubles," and "Wreckage," to name a few. Outside of her acting career, de Ravin has married and had two children. In April 2023, she announced she was expecting her third child via a post on her Instagram.
Michael Emerson continued appearing in TV series and had a tenured run on Person of Interest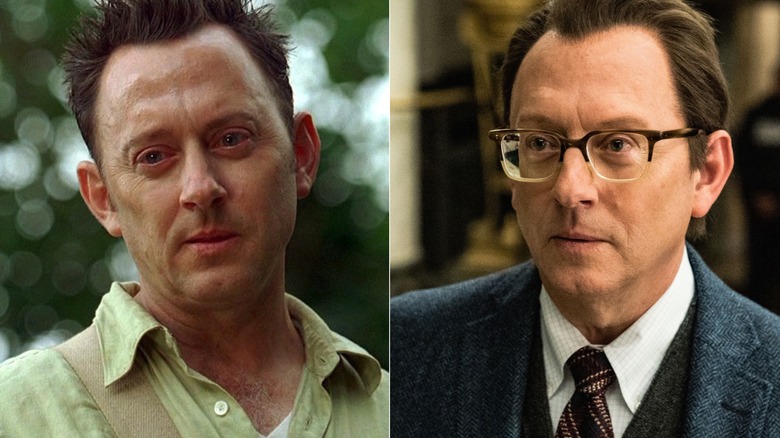 ABC/CBS
Michael Emerson's career began in the early 1990s, but it wasn't until he played serial killer William Hinks on "The Practice" in 2000 that he gained some attention. Emerson has a great deal of talent when it comes to portraying enigmatic evil characters, and that ability served him well in 2006 when he joined the cast of "Lost" as Ben Linus. The role earned him a Primetime Emmy Award for outstanding supporting actor in a drama series, his second Emmy following his work on "The Practice." Ben's introduction establishes much of the island's mystery in "Lost," and the character quickly became popular among fans. As things unravel throughout the latter seasons, you can't help but watch Ben, wondering what he'd do next, making for exceptionally engrossing television. 
When the series ended, Emerson kept himself busy on the small screen, appearing in more than a hundred episodes of "Person of Interest." He followed this with a stint on "Arrow" and found his way back into award recognition after joining the cast of "Evil" as Leland Townsend. Emerson also lends his voice to various animated characters, including Brainiac in the 2023 series "My Adventures with Superman." Prior to that, he voiced the Joker in the two-part animated film "Batman: The Dark Knight Returns." Despite his on-screen gravitas, Emerson appears to be more than happy to remain a dedicated TV actor.
Henry Ian Cusick kept working on the small screen in numerous series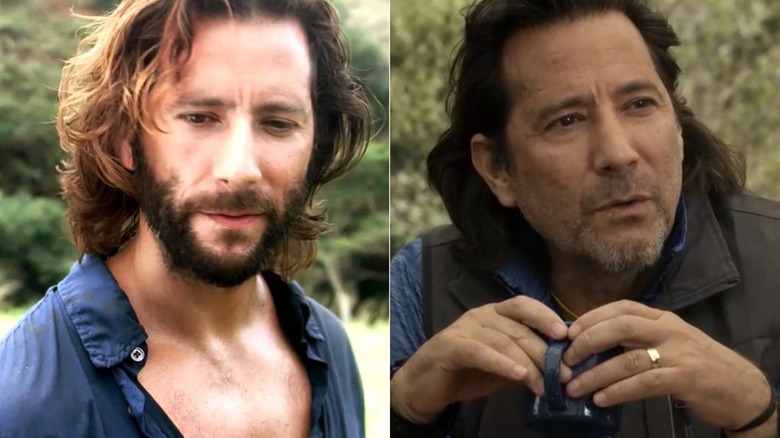 ABC
Henry Ian Cusick's acting career started in the theater, where he played a variety of characters in Shakespearean productions and other popular fare. He began working in television and film in the early 1990s, gaining attention for his performances in "Richard II" and "Casualty." Cusick spent a lot of time appearing in various TV series before joining the cast of "Lost" in the second season.
Cusick played Desmond Hume, a role that earned him numerous accolades, and he remained until the show's conclusion. His work on "Lost" helped his career significantly, as he racked up film and television credits throughout the production and after it ended. Some of his more prominent work following "Lost" includes playing Avery McCallister in "Big Sky," Markus Kane in "The 100," and Russ Taylor in the 2020 "MacGyver" revival series.
Cusick has also dabbled in directing, having helmed the short film "Dress" released in 2013. He also plays Ben Granger in the short and gained positive attention by winning the best short narrative award at the 2014 Peace on Earth Film Festival in Chicago, Illinois. Cusick's feature film work has continued since "Lost" ended, though he hasn't appeared in many high-profile projects. His latest movie, "Jamojaya," scored well with critics following its premiere at the 2023 Sundance Film Festival.
Dominic Monaghan landed numerous high-profile roles in TV and podcasts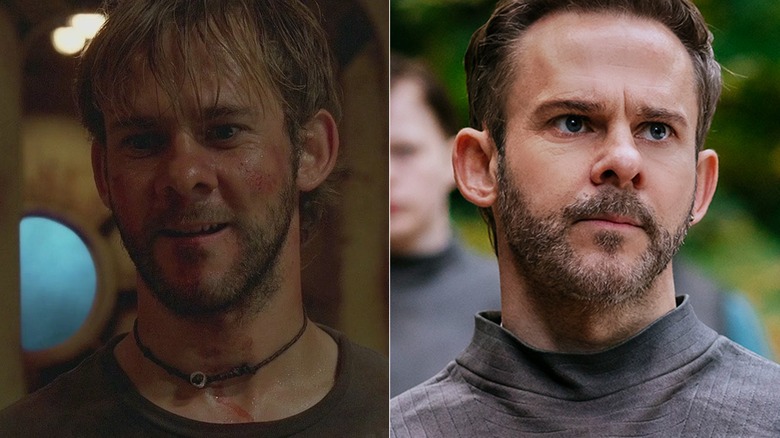 ABC/AMC+
Dominic Monaghan got his start on the small screen, playing Geoffrey Shawcross in "Hetty Wainthropp Investigates." He continued working in TV, but his film work in 2001 made him an international superstar. Monaghan portrayed Meriadoc "Merry" Brandybuck in "The Lord of the Rings: The Fellowship of the Ring" and its two sequels, earning significant attention, various accolades, and positive critical acclaim for his work.
Outside of film, Monaghan scored big when he joined the cast of "Lost" as Charlie Pace. Charlie features at the center of several storylines throughout his appearances and is killed off toward the end. While filming the series, Monaghan met and began a relationship with Evangeline Lilly. They remained together for a few years, reportedly almost getting married, but ultimately called it quits in 2007, though they continued to work together until the series came to an end in 2010.
After "Lost," Monaghan landed several high-profile roles in various franchises. He played Chris Bradley in "X-Men Origins: Wolverine" and Beaumont Kin in "Star Wars: The Rise of Skywalker." On the small screen, Monaghan scored the lead in "Moonhaven" on AMC+. Despite being at the center of numerous franchises, Monaghan rarely watches the media that he appears in. He told People that he never viewed a single episode of "Lost," explaining, "It's just not something I do. I lived those things so completely, I don't need to repeat them to have the experience."
Harold Perrineau has popped up in several film and television projects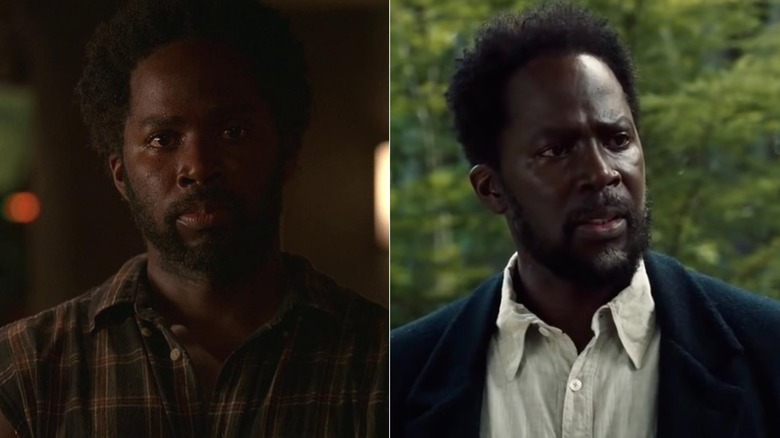 ABC/Epix
Harold Perrineau had plenty of work on his way to portraying Michael Dawson on "Lost," having played significant roles in several television shows. Before "Lost," he's probably best known for his portrayal of Augustus Hill on "Oz," though that's only a single part in a long list of credits garnered by the actor. Perrineau also spent a great deal of time working in films, having brought Mercutio to life in "Romeo + Juliet" in 1996 and Link in the second and third "Matrix" films.
As Michael, Perrineau appeared in the first two seasons of "Lost," playing a prominent role on the island. He and his son departed the series at the end of the second season, but he didn't remain gone for too long. Perrineau returned to the island in the fourth season before departing again, only to come back for a guest appearance in the final season of "Lost." In Maureen Ryan's book "Burn It Down: Power, Complicity, and a Call for Change in Hollywood," Perrineau said he was fired from "Lost," explaining his departure was the result of "asking for equal depth" for his character (via Today).
After his time on "Lost," and during its production, Perrineau kept working in film and TV. He appeared in several movies, including "28 Weeks Later," "Zero Dark Thirty," and "I'm Not Here." On the small screen, Perrineau jumped from one series to another, keeping himself busy with leading roles in "Claws," "Star," "The Rookie," "From," and "The Best Man: The Final Chapters."
Elizabeth Mitchell continues working in TV and film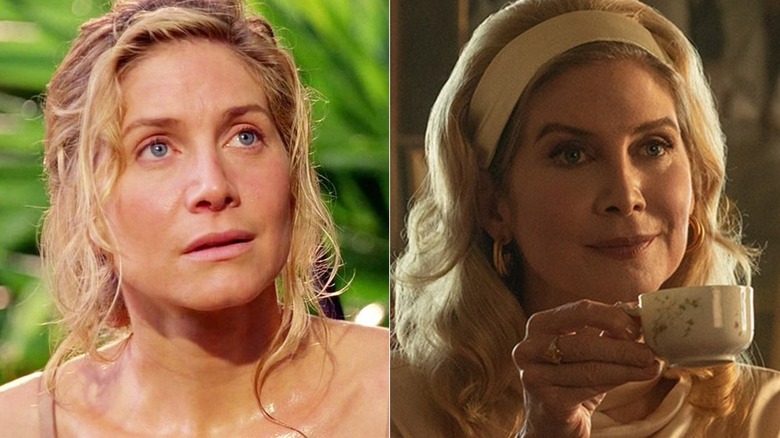 ABC/Netflix
Elizabeth Mitchell started in the theater, but it didn't take long before she moved to the small screen in the early 1990s. Mitchell's early work includes spending some time on the soap opera "Loving," which she followed with similar roles on various series. Before appearing in "Lost," Mitchell's best-known roles came via "ER," "The Beast," and "The Santa Clause 2." In that film, she plays the future Mrs. Claus, a role she returned to in the sequel and the 2022 Disney+ series "The Santa Clauses."
Mitchell's career was already going strong when she joined the cast of "Lost" as Dr. Juliet Burke in 2006, a part that earned her a Primetime Emmy Award nomination. Her character plays a central role in the ever-expanding lore of the island, and she gets close to Jack before switching gears to form a close relationship with Sawyer. Mitchell remained on "Lost" until the end but transitioned to "V" shortly before the finale aired.
Mitchell stayed with "V" until it concluded and continued doing what she does best: television. Her work since leaving "Lost" includes more than a dozen TV series, including "Once Upon a Time," "The Expanse," and "Outer Banks." Mitchell has also kept herself busy on the silver screen, appearing in "The Purge: Election Year," "What We Found," and "When Time Got Louder," to name a few.
Malcolm David Kelley shifted his focus to music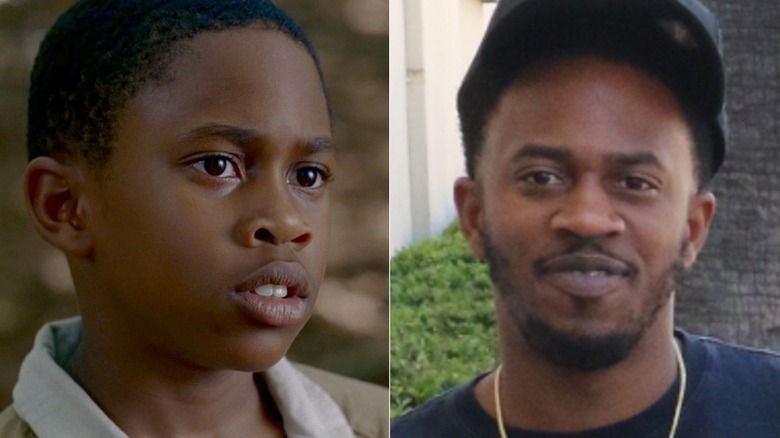 Hollywood To You/star Max/Getty
Malcolm David Kelley was one of few children to appear on "Lost," and despite his young age, it wasn't his first role. Kelley began acting in 1998 when he was five. His first prominent role came when he played the eponymous lead in "Antwone Fisher" in 2002, and he followed this two years later with a part in "You Got Served." Of course, " Lost " gained Kelley the most attention early on in his career. He joined the cast as Walt Lloyd, the son of Michael (Perrineau).
Like his father and the actor who portrayed him, Walt became a central focus of the series early on before Kelley and Perrineau left the main cast at the end of the second season. He was able to return for several episodes over the next few seasons as a guest star, but his story was largely relegated to the background as the mystery of the island expanded. When his work on "Lost" was finished, Kelley continued appearing on the small screen and did some film work.
Kelley continued acting as he matured, but he's primarily moved away from that profession. In 2012, Kelley formed a pop duo, MKTO, alongside Tony Oller, his co-star on "Gigantic." They signed with a major record label and have been performing ever since. Kelley's self-titled debut album, "MKTO," was released in 2014 and included the single "Classic," which hit number 14 on the Billboard Hot 100.
Ian Somerhalder spent nearly a decade in The Vampire Diaries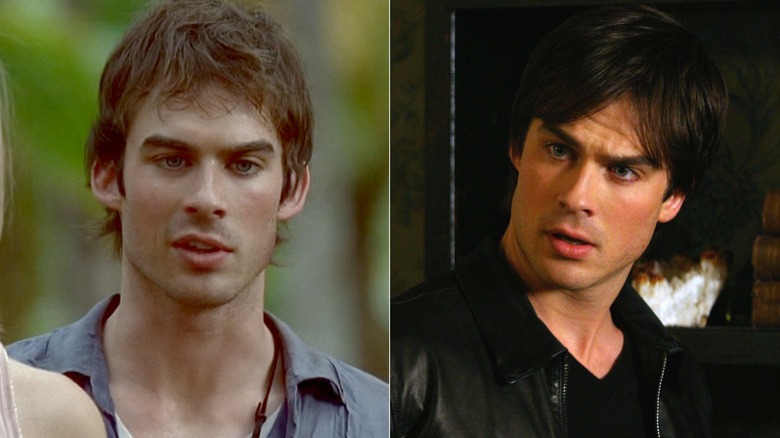 ABC/The CW
Ian Somerhalder spent a few years building a name for himself in Hollywood, and while he appeared in numerous TV series and films, he didn't get his big break until 2004. That's when he joined the cast of "Lost" as Boone Carlyle. Boone was a popular character despite getting killed in the 20th episode of the first season. However, death is little more than an inconvenience within the "Lost" narrative, allowing Boone to return for a handful of episodes.
Somerhalder came back for the series finale, closing out his character's story. Boone may have been the first lead to die on "Lost," but that only afforded Somerhalder the time he needed to prepare for an even more important part. In 2009, he took the lead role of Damon Salvatore in "The Vampire Diaries," which he played for nearly a decade. He also worked on the series as a producer, expanding his resume with more experience.
These days, Somerhalder is probably best known for his work in "The Vampire Diaries" rather than his time on "Lost," and he's parlayed that fame into even more work. After "The Vampire Diaries" ended, he starred in and executive produced "V-Wars." Somerhalder also worked on two documentaries, "Years of Living Dangerously" and "Kiss the Ground," which he executive produced. The COVID-19 pandemic caused Somerhalder to take a pause from acting, affording him more time to spend with his family after they moved from the city to a farm in 2022.
Maggie Grace entered the world of The Walking Dead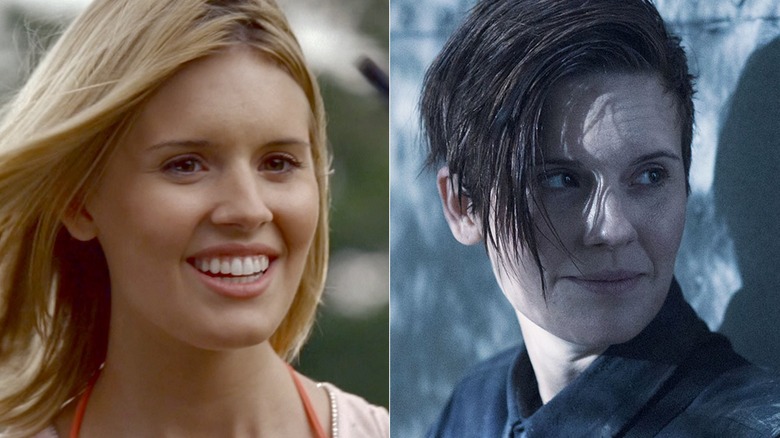 ABC/AMC
Maggie Grace is one of the rare examples of an actor moving to Los Angeles and starting a career almost immediately. By 2001, she'd started working on a web series, which she followed with some time on television. While she was working, it took some time before Grace moved from minor roles on TV series like "CSI: Miami" and "Law & Order: Special Victims Unit" to a recurring role on "Lost." Grace joined the cast in 2004 as Shannon Rutherford and remained for two seasons.
Shannon's story is intertwined with Boone's (Somerhalder), as the two are stepsiblings who are a bit too close for most people's comfort. Regardless, Shannon plays a central role in several early plot threads and dies in the second season. Like her stepbrother, she returns sporadically, appearing in the third and final season, and making a guest appearance in the series finale. "Lost" boosted Grace's career, helping her score several prominent roles in films, including playing Kim Mills in "Taken."
Grace spent much of her career appearing in various high-profile movies and television series. She reprised her role in the two "Taken" sequels and played Irina in "The Twilight Saga: Breaking Dawn – Part 1 and 2." However, she's probably best known for her work in "Fear the Walking Dead," having joined the cast in 2018 as Althea Szewczyk-Przygocki. Grace played Althea for three seasons, returning as a guest star for the series' seventh season.
Michelle Rodriguez returned to the Fast and Furious franchise and much more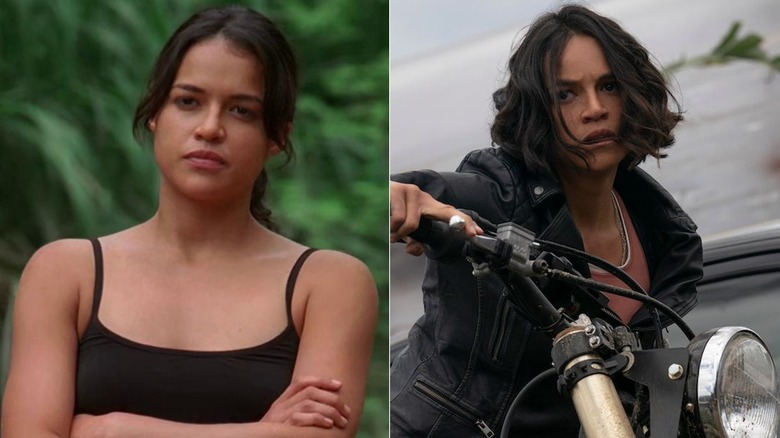 ABC/Universal Pictures
Michelle Rodriguez's career kicked off in 2000 after she answered an open casting call for "Girlfight." She won the role of Diana Guzman, and from that point forward, Rodriguez was a professional actor. While "Girlfight" was her first film, her third made her a star, as she played Letty Ortiz in "The Fast and the Furious." Rodriguez returned to the franchise over the years, appearing in several films, including the tenth, "Fast X," in 2023.
Rodriguez was a high-profile actor when she joined the cast of "Lost" toward the end of the first season. She plays Ana Lucia Cortez, a police officer, and her character remained through the second season, followed by guest appearances in the fifth and sixth seasons. Ana was killed off after Rodriguez was arrested for a DUI, though her death was written into the show before Rodriguez's legal troubles became an issue.
Rodriguez hasn't spent much of her time working in television, only appearing in a variety of series for much of her career. Most of Rodriguez's roles have been in feature films. In addition to her time in the "Fast and Furious" franchise, Rodriguez played a lead in "Dungeons & Dragons: Honor Among Thieves," and has her own production company, Cheshire Kat Productions, which produced the documentary "Stuntwomen: The Untold Hollywood Story" in 2019.