Kate Winslet's Daughter Mia Is Growing Up To Be Her Twin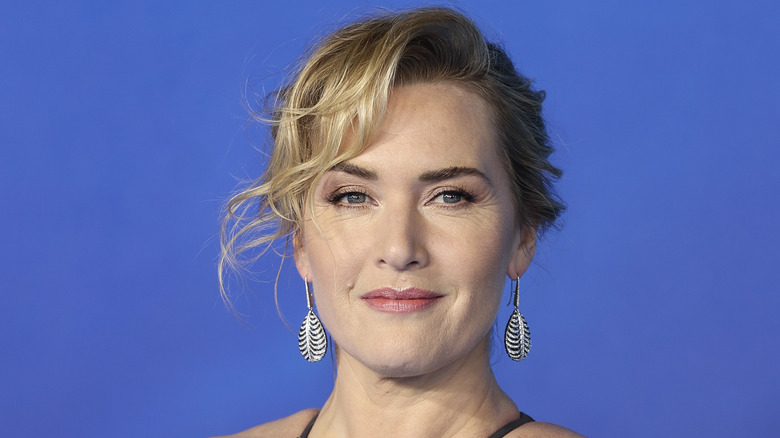 Mike Marsland/Getty Images
Kate Winslet stole everyone's hearts when she starred in the 1997 film "Titanic" and went on to have roles in dozens of hit films such as "Finding Neverland" and "Revolutionary Road." It was on the set of "Hideous Kinky" that she met her first husband, director Jim Threapleton. The two quietly married a year later in 1998 at her school in Reading, England, and welcomed their daughter Mia Threapleton in 2000.
In 2001, Winslet and Jim announced their separation and stated that they would put Mia, who was 11 months old at the time, as their "first priority," via ABC News. Winslet would go on to marry her then-husband Sam Mendes in 2003 and together, they share their son Joe Alfie Mendes. After their divorce, Winslet wed her third husband Edward Abel Smith, and had her second son, Bear Blaze. Besides her career, Winslet's kids are at the forefront of her life and she shared with Deleware Online, "I have been a parent since I was 25. That's a large chunk of my adult life. Mother or father, it transforms you completely." Now, Mia is nearing the age Winslet had her, and like her mom, she's already become a successful actor.
Kate Winslet and her daughter Mia were twinning at the BAFTA Awards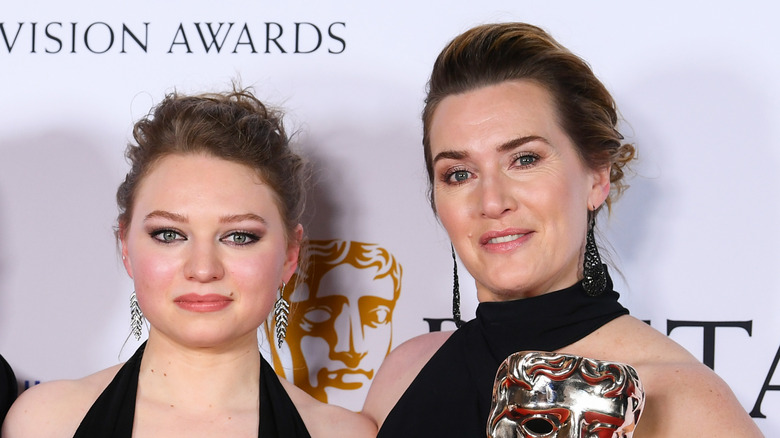 Joe Maher/Getty Images
The apple doesn't fall far from the tree for Kate Winslet's daughter, Mia Threapleton. The mother-daughter duo stepped out on the red carpet together for the 2023 BAFTA TV Awards and looked stunningly alike in similar black dresses. The two celebrated Winslet's win for Leading Actress in the television drama "I Am Ruth," in which Threapleton starred alongside her mother. During Winslet's acceptance speech, she acknowledged her daughter. "We did this together, kiddo. There were days when it was agony for [Mia] to dig as deeply as she did into this frightening, emotional territory," per Deadline.
Winslet opened up about working with Threapleton and stated on "Sunday with Laura Kuenssberg" that she was thoroughly impressed by her daughter's acting chops (via the Daily Mail). "I was just so blown away by her. She didn't need my help at all. Sometimes I could show a technical trick, that I'd picked up on the way. Little things no one teaches you, and she appreciated that stuff, but when it came to the acting she'd go 'I got it, I'm good,'" Winslet shared. The proud mom gushed, "It was really amazing working alongside her and actually being blown away by her courage ... she's very, very powerful." While Threapleton doesn't have that many years of acting under her belt, Winslet's influence undoubtedly gave her the acting bug since she was just a child.
Mia Threapleton got her work ethic from her mother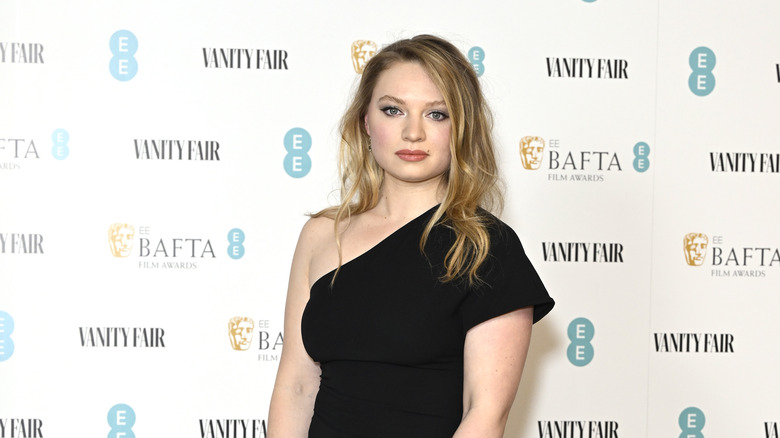 Gareth Cattermole/Getty Images
Mia Threapleton was just 20 years old when she made her acting debut in the 2020 film "Shadows." [It] was the first film I'd received an audition for, and the first script I had ever been given to read. I couldn't believe my luck. I read it and didn't put it down," she told Variety. On not being daunted by the strains of working on set, Threapleton shared, "I never actually spent much time around sets that my mum was working on. It was always a special treat ... I really understand why my mum has always impressed on us how hard the work is. She is right! And I loved every second of it."
Winslet gave Threapleton props for starting her career with not many knowing she was the daughter of a famous actor. "What's great for her is she has a different surname, so she slipped under the radar and the people who cast her didn't know she was my daughter and that was important for her self-esteem, of course," she revealed on "Lorraine." With her career on the rise, it'll be no surprise if Threapleton becomes an award-winning actor, just like her mother.