A Look At Eddie Fisher And Elizabeth Taylor's Tumultuous Marriage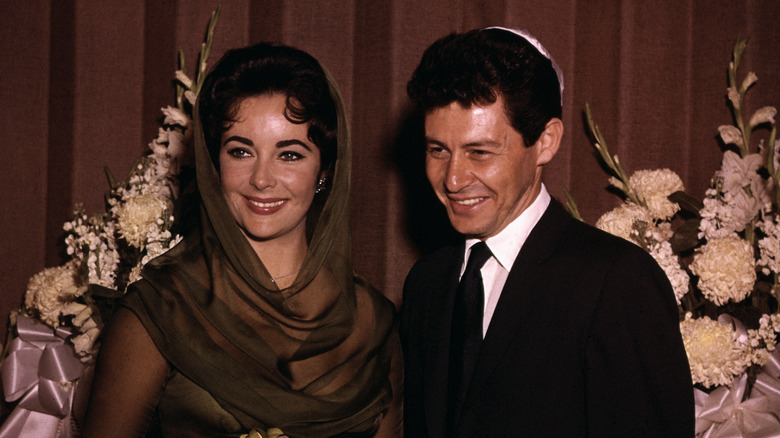 Bettmann/Getty Images
Elizabeth Taylor loved three things in life: diamonds, drama, and wedding dresses. And her tumultuous marriage to Philadelphia-born crooner Eddie Fisher included them all. The list of Taylor's ex-husbands is extensive. Per People, she married eight times and racked up seven spouses. Taylor was 18 when she wed Conrad "Nicky" Hilton in 1950. However, it was a messy and short-lived union, and the couple divorced in 1951. Husband number two was Michael Wilding. They said "I do" in 1952 and welcomed two sons before parting ways in 1957. Next up was Mike Todd; they married in 1957, and it was a loving and stable relationship, resulting in a daughter. However, sadly, he died in a plane crash in 1958.
According to Woman's World, Fisher was number four. They wed in 1959 but split in 1964 after she embarked on an affair with husband number five, Richard Burton. Taylor and Burton were a mix of passion and poison. They married in 1964 and divorced a decade later. In 1975 they gave love a second shot but split after less than a year. Husband number six was John Warner. They wed in 1976 and divorced in 1982. Finally, Taylor married Larry Fortensky in 1991. They parted ways in 1996. 
Of all Taylor's spouses, Burton and Fisher were the standouts in her colorful marital life. Taylor and Burton's relationship was troubled, to say the least. Still, Eddie Fisher and Elizabeth Taylor's tumultuous marriage managed to give their rocky romance a run for its money.
Tragedy and love triangle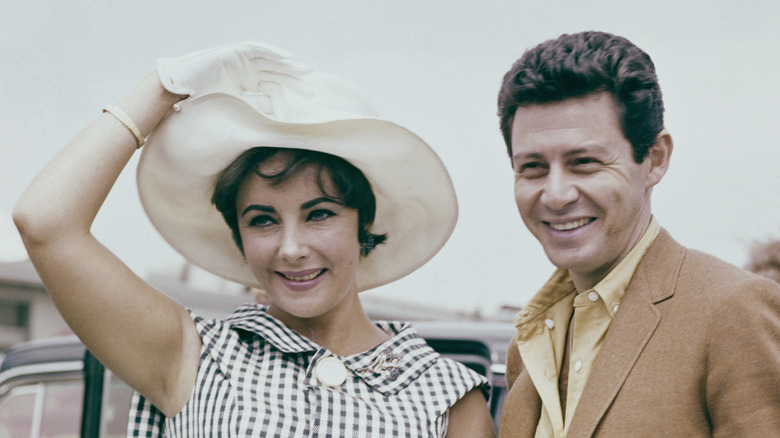 Archive Photos/Getty Images
Elizabeth Taylor loved diamonds so much that she named a perfume after them. She loved husbands so much that she had seven of them. Eddie Fisher was the fourth, and his and Taylor's tumultuous marriage was the stuff of Hollywood legends. Taylor's many health struggles were well-documented. The Telegraph reports that her troubles started when she was a baby. She was born with scoliosis, a curvature of the spine, which caused her excruciating back pain. However, her relationship with Eddie wasn't just agonizing; it nearly led to her untimely demise.
Per Best of Life, Taylor was mourning the tragic death of her third husband when she struck up an affair with Eddie. Meanwhile, he was married to Taylor's friend Debbie Reynolds, with whom he shared two children, Carrie and Todd Fisher, named after Taylor's dead husband. Mike Todd and Eddie had been so close that he'd been his best man when he wed Taylor in 1957. Oh boy. "Mike Todd, unfortunately, had a terrible plane crash," Reynolds told NPR. "And then, when Mike died, [Taylor] left with Eddie. So my husband did console her — very well, I'm sure."
Eddie and Taylor married in a traditional Jewish ceremony in Las Vegas. Unsurprisingly, their marriage was doomed from the start. "There was outrage. My dad had like contracts canceled for morality clauses," Todd told Yahoo. "It literally ruined his career. I mean, it just wiped him out. Liz kind of came out a little better, sort of unscathed."
Near-lethal love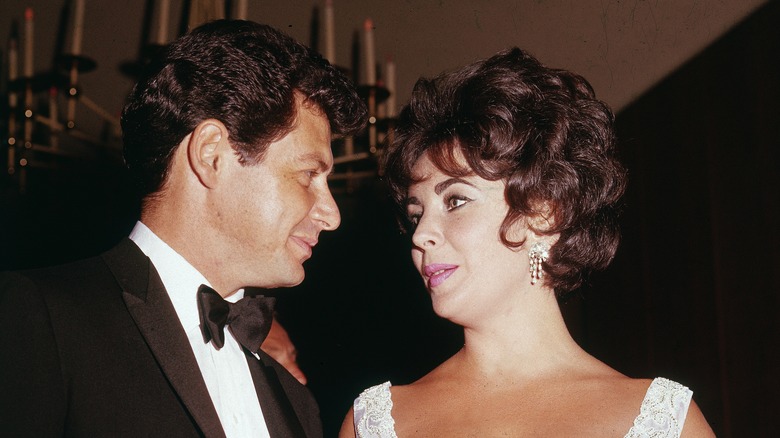 David Sutton/Getty Images
Eddie Fisher and Elizabeth Taylor's tumultuous marriage ended his career. There was outrage that he'd left his wife, Debbie Reyolds, to run off with his dead best friend's widow. So, you can imagine his anger when Taylor cheated on him with Richard Burton.
According to the book, "Furious Love: Elizabeth Taylor, Richard Burton, and the Marriage of the Century" (via Vanity Fair), sparks flew between Taylor and Burton, who was also married at the time, on the set of "Cleopatra" in 1961. They immediately embarked on a hot and steamy love affair and Fisher learned about it in the worst possible way. He called home to speak to Taylor, and Burton answered the phone. "What are you doing in my house?" Fisher demanded. "What do you think I'm doing? I'm f****** your wife." Burton replied. It's safe to say that Fisher blew his top. When Taylor awoke one night, he stood over her, pointing a gun. "Don't worry, Elizabeth," Fisher reportedly said. "I'm not going to kill you. You're too beautiful."
Biographer J. Randy Taraborrelli (via the Daily Mail) claimed that Taylor verbally abused Fisher, berating him for being weak and screaming "wimp" when he refused to fight with her. Meanwhile, Burton openly flaunted his affair with Taylor. "Gentlemen," he announced one day upon arriving on the "Cleopatra" set. "Last night, I s****** Miss Elizabeth Taylor in the back seat of my Cadillac." Taylor filed for divorce from Fisher in January 1964, per the New York Times.