The Two Bold And The Beautiful Leading Women Who Couldn't Get Along Off Screen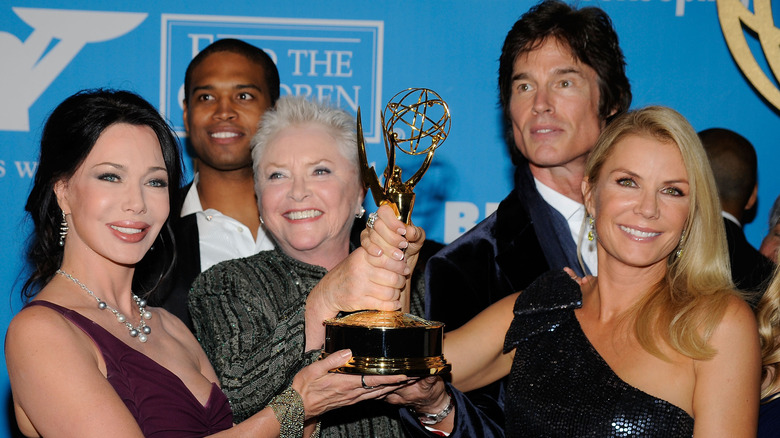 Frazer Harrison/Getty Images
"The Bold and the Beautiful" fans know you are either a Brooke Logan girl or you've got Doc Taylor Hayes' back. You can't root for both, especially in the same scene. Their feud rivals the great showdowns between Carly Corinthos and Nina Reeves on "General Hospital," Sami Brady and Nicole Walker on "Days of Our Lives," and even the smackdowns delivered by "The Young and the Restless" greats Katherine Chancellor and Jill Abbott. 
While many believe that Brooke and Taylor's feuding all comes down to the love of Ridge Forrester, the tailor is only but one aspect of their decades-long fight. After all, they have also fought over bedding rights to Nick Marone, Bill Spencer, and even Ridge's dad, Eric Forrester, over the years. But these days the psychiatrist and the fashion designer also can't stop meddling in their children's lives and regularly face off as a result.
While soap opera writers have come up with some epic storylines, there was a time when the behind-the-scenes gossip was as good as a "B&B" episode. The story goes that Katherine Kelly Lang, who plays Brooke, and Hunter Tylo, who formerly played Taylor, weren't on the friendliest of terms. And the speculation was sparked by a single social media post.
Katherine Kelly Lang and Hunter Tylo had a tweetdown
According to Daytime Confidential, a fan's social media post sparked a brief, but eye-opening, conversation between Tylo and Lang in August 2012. DC's screenshots of the short interaction indicated that the fan tagged Lang and wrote, "HT [Hunter Tylo] fans love 2 spread vicious rumors/gossip about U & she does nothing 2 stop them." Although we're still clueless as to what gossip and rumors were spread, Lang seemingly took the bait and replied, "why would she want to do that? Hunter, why don't u talk to me?" Tylo responded by penning two responses. 
In the first tweet, she said, "Yes — about what." In the second, it seems as if Tylo understood what Lang's questions were about and she then addressed the fan's original tweet. She wrote, "What boldluvr said: not true. Don't get caught up in chaos: we have enuff 2 [sic] deal with right? We are all on the same team." 
Fueling the rumors that Tylo and Lang were feuding, Tylo left the soap opera in 2013, a year after Moss and Flannery's departure. At the time, she had decided not to renew her contract. She wrote on her website (via Soap Central), "I am getting bombarded with questions to quell rumors, and here in my forum, I will clarify that Jackie [MacInnes Wood] and I are (coincidentally) off our contracts." But, Tylo reprised her role on a recurring basis in 2014, where she continued to appear until 2019.
Hunter Tylo explains Twitter exchange
Hunter Tylo addressed the Twitter spat she supposedly had with Katherine Kelly Lang. She told Michael Fairman TV in August 2012 that she and Lang realized how quickly these situations can escalate. "Whenever Katherine and I would banter with each other on Twitter, we did it in character! We found out that was a huge mistake, because it started pitting the fans against each other." 
She then explained that they even had to unfriend and unfollow each other for a while on social media pages. Tylo added, "We had to let the fans know, 'Look. Wait a second. We can't have you bad-mouthing. Now it's going into personal lives... People mistake what someone intended, and then that becomes bad," she said. Tylo and Lang learned that soap opera fans are loyal and are quick to defend their favorite character. 
More than a decade later, Lang again issued a similar warning to Brooke Logan and Taylor Hayes' fans. In June, the actor tweeted, "Even though Brooke &Taylor are at odds, we should all be respectful of actors playing the parts &also the fans. I appreciate all the love but would like to see more positivity instead of people 'fighting.' Everybody is entitled to their opinions but let's keep it classy folks." Whether in real life or in soap operas, some things never change and fans fly into a frenzy when it comes to the show. Luckily, it all adds something to the drama.