Rod Stewart Featured In Rare Photo With Sons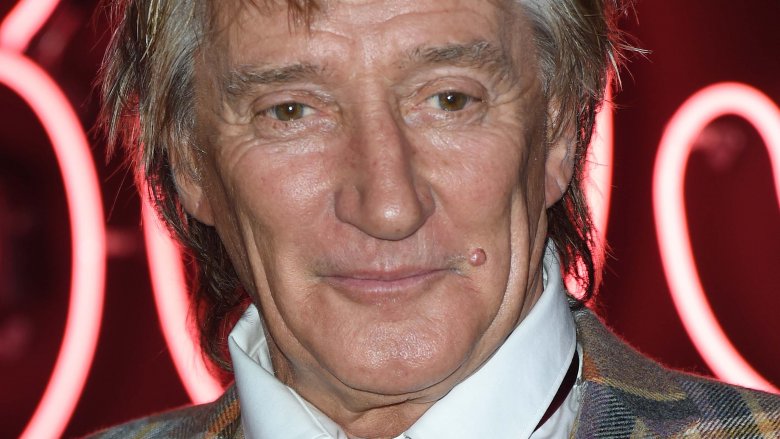 Getty Images
Famed singer Rod Stewart has been making time for his family — and making time to take photos with them!
In late October 2018, Stewart's wife Penny Lancaster shared a photo of herself with loved ones on the beach on Instagram. In the picture, she poses alongside her husband, his sons from previous relationships 38-year-old Sean and 24-year-old Liam, and their sons together, 12-year-old Alastair and 7-year-old Aiden, as noted by AOL. The big group smile as waves crash behind them.
"Family time down in Malibu," Lancaster, 47, wrote in the post's caption.
While it looked like Stewart's sons had all taken a dip in the ocean, the "Da Ya Think I'm Sexy?" singer presumably did not, as the 73-year-old wears a large brace on his right foot in the photo — not his usual fashion. As Stewart explained on The One Show earlier that month, he'd fallen onto a "great big lump of concrete" while playing around with his young children (via the Daily Mail). However, at the time, Stewart said he'd likely be better in just a few days. So, why was he wearing it during his trip to the beach?
Well, it'd seem that Stewart simply needed more time to mend, given as how he was also seen using a knee walker while out with his wife in Los Angeles on Oct. 28 (via the Daily Mail).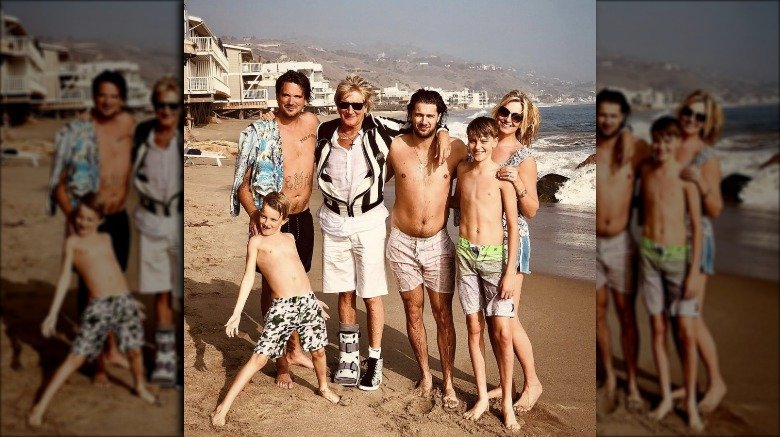 Instagram
As fans could judge by Penny Lancaster's Instagram post, she and Rod Stewart have quite a large family. Stewart is a father to a total of eight children. Besides the children he was pictured with, Stewart also has four daughters: 39-year-old Kimberly, 31-year-old Ruby, and 26-year-old Renée, as well as daughter Sarah Streeter, whom Stewart reconnected with after he placed her up for adoption when he was 18 years old.
Stewart explained his decision when he appeared on The Joy Behar Show in 2010. "I was absolutely stone broke ... and so she was put up for adoption," he stated (via People). But the two had grown closer after Streeter's adoptive parents had passed away.
"Since her mum and dad have died, we've tried to come together and be close together, and it's working out pretty well," Stewart shared. "I never felt like I was her dad, because I didn't take her to school, change her nappies, there was no paternal thing there, but I'm trying."
It's unclear if any of Stewart's daughters were present during the family's fun beach day.
Getty Images
Stewart doesn't often show off his large brood online, clearly preferring to keep his private life, well, private. Although he did share a look into his world in July 2017, when he and wife Penny Lancaster renewed their vows after spending ten years together as husband and wife. While they'd previously gotten married in Italy, the two lovebirds renewed their vows on their property in Essex, with their family present. "Penny is my whole world. What a girl," Stewart told HELLO! magazine, sharing exclusive photos of the event. "Love means many things to many people but to me it's wanting to share everything with the one you love and I love Penny more now than ever, if that is at all possible."
The music icon continued, "It was a beautifully romantic thing to do. We're not proving anything, just sharing our love with our friends and family."
Unlike Stewart, however Lancaster, a former model, shares photos of her family online fairly often. In May 2018, for instance, she shared a peek of her family's visit to the village Saint-Paul-de-Vence in the French Riviera. She also previously posted a photo of another vacation with her and Stewart's sons in April 2018, showing the boys skiing on snowy Grouse Mountain in Vancouver.
Clearly, this is one family that likes making memories together. We imagine that Stewart might be trying to squeeze in as much family time as possible before he continues his Las Vegas residency. As AOL notes, Stewart will resume performing in Rod Stewart: The Hits at The Colosseum at Caesars Palace on Nov. 21, 2018.
Here's hoping that Rod Stewart will share more family time photos with the public in the future. We love seeing the happy crew together!