Law & Order: Are Mariska Hargitay And Kelli Giddish Friends In Real Life?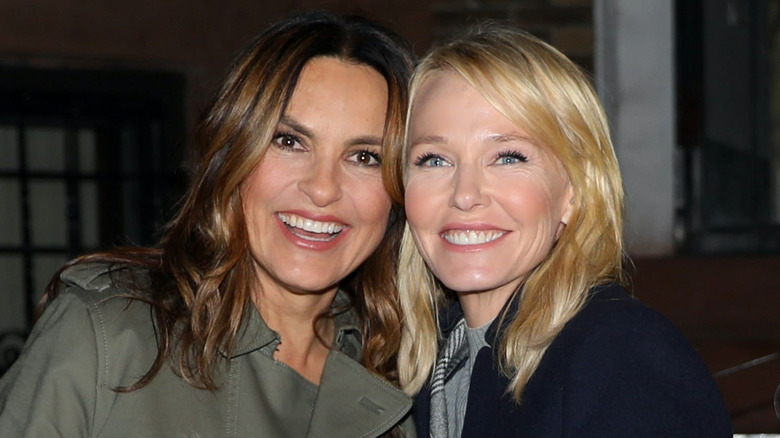 Jose Perez/bauer-griffin/Getty Images
The stories about Hollywood co-stars who don't get along are all too familiar. When watching a film or television series, it's natural to wonder how cast members interact when the cameras aren't rolling. Fans of "Law & Order: Special Victims Unit" witnessed a ton of onscreen moments between Mariska Hargitay's character and Kelli Giddish's character. As viewers know, Hargitay portrays Commanding Officer Olivia Benson, while Giddish played Detective Amanda Rollins in the police procedural drama.
While Benson has been a staple on "Law & Order: SVU" since the show's 1999 premiere, Rollins didn't appear on the series until 2011. Once Rollins joined the New York team in Season 13, the detective tried to get up to speed, taking notes from Benson, per People. As she grew professionally, Rollins formed a close friendship with Benson. But the two weren't besties right off the bat. Giddish told the outlet, "That relationship really developed organically over time into such a strong female relationship. And it wasn't like I came on the show 12 years ago and we were like, 'Hey, I'm going to be your best buddy.'" The bond between Rollins and Benson stood the test of time. But do Hargitay and Giddish have a solid friendship like their "Law & Order" characters?
Mariska Hargitay loved working with Kelli Giddish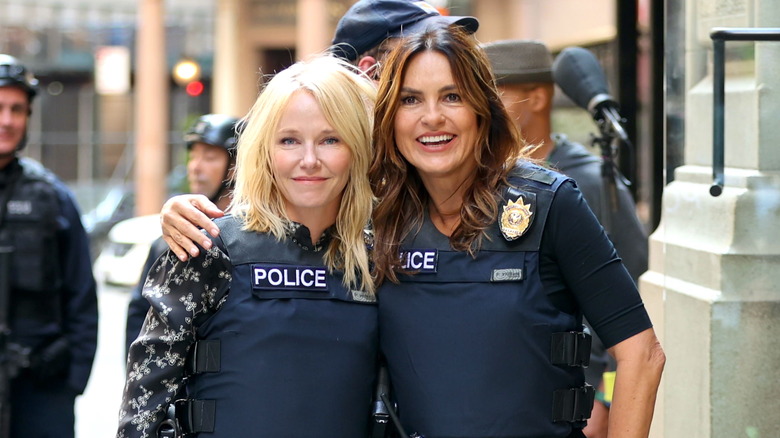 Jose Perez/bauer-griffin/Getty Images
In August 2022, Kelli Giddish announced that she would be departing "Law & Order: SVU." In an Instagram post, she shared her feelings about taking on the role of Amanda Rollins and leaving the beloved character behind. Giddish wrote, "Playing Rollins has been one of the greatest joys and privileges of my life. I've been so fortunate to be a part of the 'Law & Order' family for the last 12 years." Giddish had a special connection to Rollins and felt that the character had a strong arc. She continued, "There is simply no other character on TV like Rollins. She's grown and changed, and I have as well." Noting that she was in her late 20s when she joined the series, Giddish expressed gratitude for getting to play the character for much of her adulthood.
In light of her exit, co-star Mariska Hargitay revealed what it was like working with Giddish. Hargitay raved about her, telling ET Canada, "She is one of my favourite actors that I've ever worked with and we got to build something really beautiful together and really earned together because our characters had quite a journey." It's safe to say that Hargitay and Giddish have a tight bond. The actor added, "I'm gonna miss her a lot, but she's a lifelong friend and I'm just glad that our paths crossed, and I know they'll continue to cross."
Kelli Giddish and Mariska Hargitay shared a tearful moment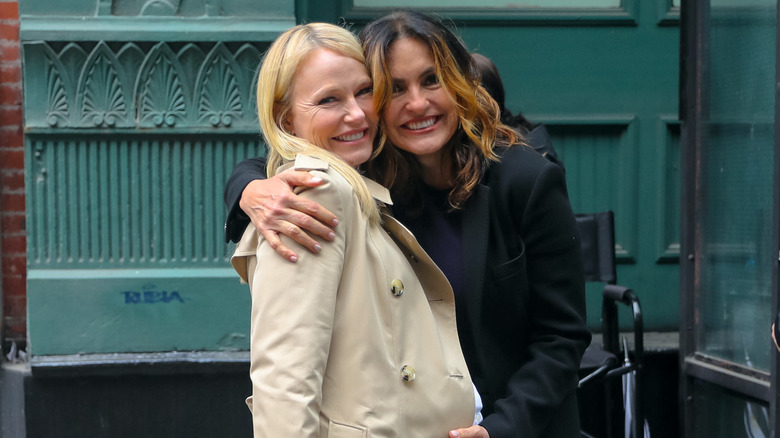 Jose Perez/bauer-griffin/Getty Images
In an instance of art imitating life, Kelli Giddish's farewell to Mariska Hargitay on "Law & Order: SVU" brimmed with bittersweet emotion, as their characters tearfully shared some final words amid Amanda Rollins' exit from the team (via Hello!). Rollins told Olivia Benson, "You're not losing me. We're friends. That's not gonna change. I'm not gonna disappear." Benson responded, "I wouldn't let you if you tried. Don't postpone joy. I love you, Amanda." As it turns out, Giddish and Hargitay weren't putting on an act. Referring to their tears, Giddish told People, "Of course [they were real]." She said, "Now it's over and everyone's seen it. Everyone's gotten to experience it and feel all the feels that I felt, filming that last scene with Mariska."
According to Giddish, the evolution of Rollins' and Benson's friendship wasn't dissimilar to her and Hargitay's real-life dynamic. She explained, "Every step of the way was earned, every hardship and every step back, Rollins had to fight her way back into being trusted again. So it was really fun to play and it kind of mirrors mine and Mariska's relationship in real life."
In December 2022, Hargitay shared a heartfelt note to Giddish on Instagram. Gushing about their bond and Giddish's talent, Hargitay displayed a strong admiration for her co-star. Hargitay wrote, "I've loved watching our friendship deepen and grow and blossom. I've loved every single minute of it, and I will miss you so much."