The One Strict Rule Aaron Spelling Had For Daughter Tori's 90210 Role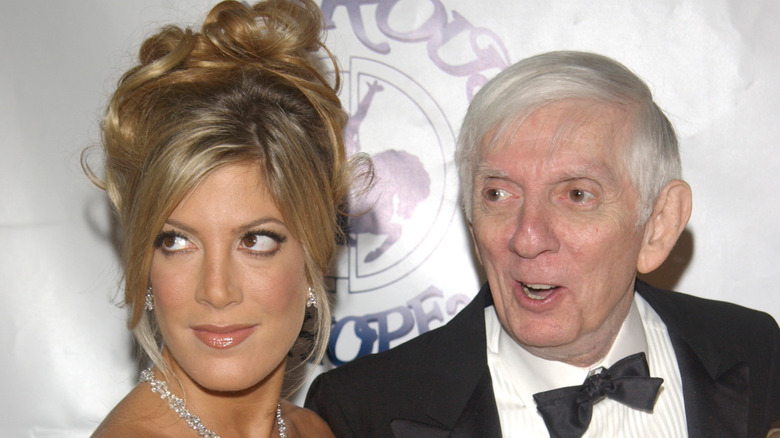 Featureflash Photo Agency/Shutterstock
Aaron Spelling was the king of television producers, with over 200 smash hit shows to his name, including "Starsky and Hutch," "Charlie's Angels," and "Charmed," per IMBD. So, it's only fitting that his daughter, Tori Spelling, grew up like a pampered princess. Tori's relationship with her famous father was close, and he ensured she wanted for nothing during her childhood. Aaron even launched her career thanks to Tori's "Beverly Hills 90210" role.
According to Page Six, the Spelling family lived in a sprawling $150 million mansion in swanky Holmby Hills. They threw lavish parties, hobnobbed with entertainment's elite, and engaged in eye-watering shopping sprees. Still, Tori said that her über-wealthy and successful father had always remained self-effacing and unassuming. "I was born into a Hollywood family, and I think my dad being as huge as he was as a producer — he was so grounded and so humble and so kind," Tori told Fox News. "He was my mentor. He was my dad, but my mentor in life."
She insisted that her career wasn't built on nepotism. "I got an agent and took acting classes and really worked on myself before I even put myself out there," Tori claimed. That said, per TV Guide, she appeared in many of her father's shows when she was a child and shot to fame, playing Donna Martin on "Beverly Hills 90210." The role wasn't without its caveats, though—there was a strict rule that Aaron Spelling had for his daughter Tori's 90210 role.
The V-card caveat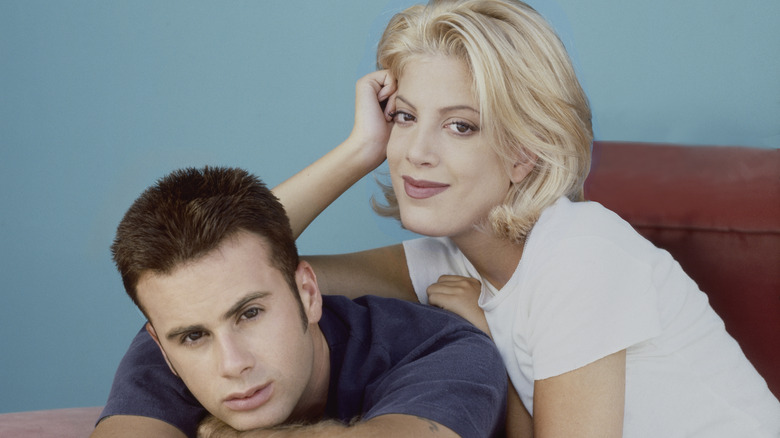 Aaron Rapoport/Getty Images
Tori Spelling's character, Donna Martin, was different from the rest of the cast of "Beverly Hills 90210." She was a late bloomer — thanks to Aaron Spelling laying down a strict rule before he gave the role to his daughter. She had to remain a virgin. Awkward.
Tori never knew why Donna had clung so tightly to her V-card. She discovered the reason during a chat with the show's producer and writer, Charles Rosin, on the "90210 OMG" podcast (via People), which Tori cohosts with Jennie Garth. "I remember very clearly when [Aaron] said to me, you know, that Donna should be a virgin. And it was like, 'Yes, absolutely she should,'" Rosin shared. "[Donna] would be dressed, you know, provocatively, stylishly — but it didn't matter," he continued. "Because certainly, if you were, for whatever reason, a virgin at that point, you could dress like that...You could blend in but not actually be 'doing the deed' as it were." Tori wasn't shocked by the big reveal. She admitted that she'd always figured it was down to her dad.
Per Vulture, Donna eventually managed to get it on in the Season 7 finale, aptly titled "Graduation Day." Well, it only took 206 episodes. "It was scary after so long to think it was finally going to happen," Tori said. "I think she stayed a virgin because once we established that she was a fan-favorite, people really started relating to her," she continued.
Family fortunes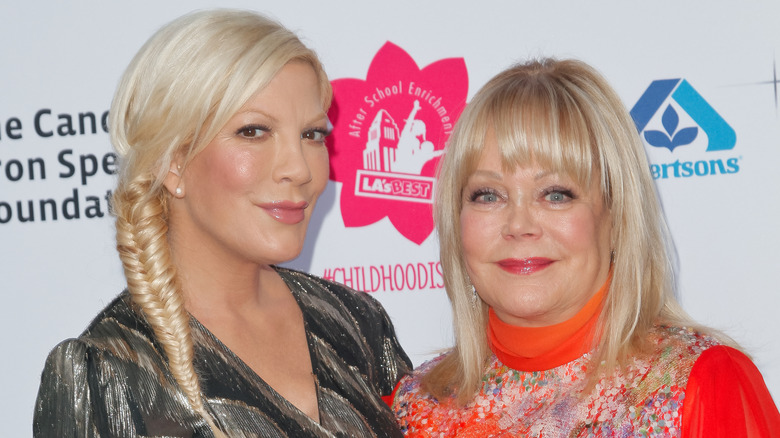 Tibrina Hobson/Getty Images
Thanks to Aaron Spelling's mega-success, Tori Spelling lived a charmed life into her twenties. However, everything changed when Aaron died in 2006, leaving his wife and daughter to duke it out over his money. Tori always had a tense relationship with her mom. Still, it grew even tenser after Aaron left most of the $600 million fortune to Candy Spelling. Tori and her little brother, Randy Spelling, had to make do with $800,000 each, per Page Six.
Tori said she wasn't stunned by the relatively small inheritance as she'd spoken to her dad about his will shortly before he died. "I didn't want him to think that I was asking him for the money or even talking about something so morbid as when he would pass. But it was a conversation I needed to have ... for myself and for my brother," she told Good Morning America. "We had lunch, and he said, 'You're gonna be OK. I made sure. You're getting just under a million.'"
"When she found out about the will, and the terms of the will, she was so upset," Tori's first husband, Charlie Shanian, told the Daily Mail. He said she was especially distressed because it meant Candy would gain more control over Tori's finances. Shanian explained that Aaron had hoped it would force the warring mom and daughter to grow closer. Ultimately, his wish came true, and they did — but like Donna Martin losing her V-card, it took a very long time.