RHONJ: Why Joe Giudice Has No Plans To Marry Again Anytime Soon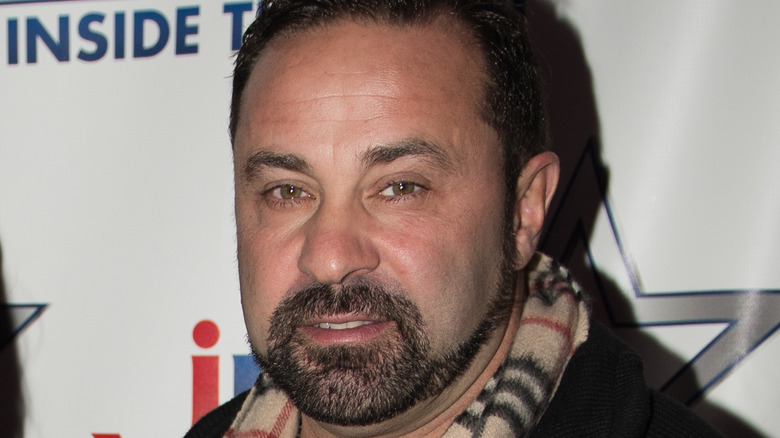 Dave Kotinsky/Getty Images
Joe Giudice may be dating here and there, but he doesn't really have an interest in getting remarried following his split from his first wife, Teresa Giudice. Joe rose to fame on "The Real Housewives of New Jersey" when Teresa was cast on the show. Joe, Teresa, and their four daughters quickly became the faces of the franchise and Bravo cameras caught just about every angle of their family dynamic. As the seasons went on, fans of the show watched Joe and Teresa's marriage start to fall apart ahead of news that the two were under investigation for fraud. A trial ensued and both were sentenced to time behind bars. Soon after, their marriage proved it couldn't stand the test. Following Joe's prison release in March 2019, he was deported to Italy, and Teresa filed for divorce shortly thereafter, according to People magazine.
In the time since, Joe has moved to the Bahamas and started building a new life for himself. Meanwhile, back in New Jersey, Teresa found love again with Luis Ruelas, and the two tied the knot in August 2022. For Joe, however he doesn't think another marriage is in the cards. On the June 12 episode of the "Behind the Velvet Rope" podcast, Joe admitted that he's in no rush to find a forever person. "I was married 20-something years, you know what I mean? It's not like I'm looking to get married again. Why would I?" he said. But it's possible that Joe could change his mind in the future.
Joe Giudice isn't completely closed off to meeting someone
Joe Giudice may not be thinking of getting remarried at this point in his life, but he admits that he doesn't know what the future holds. "More specifically, Joe said, "Do I date? Yes. Do I talk to people? Yes... I mean, I don't know, eventually at one point I'm gonna settle in, I guess," he told David Yontef on the "Behind the Velvet Rope" podcast. "[I'll] take a little break, do what I got to do, then when the right one comes around, we'll talk about it," he added. 
Since his split from Teresa Giudice, Joe hasn't gone public with anyone new. For the time being, he's working in construction. In 2022, Joe appeared on his ex-wife's "Namaste B$tches" podcast to give an update on his life — and his career. "This is what I did in the States," he explained, adding, "It's an easy job. I'm not complaining. I get a salary, and we're partners for other things that I bring in, like stucco."
These days, Joe's primary focus is on his four daughters, Gia, Gabriella, Milania, and Audriana, all of whom frequently travel to the Bahamas to visit their dad. Joe often shares Instagram posts with his girls when they fly down to visit, and has talked about choosing to relocate to the Bahamas because it's much easier for his kids to travel there from New Jersey, which he reiterated on his ex-wife's podcast.
Joe Giudice says he's 'happy'
As Joe Giudice continues to navigate his new life in the Bahamas, his daughters are left doing the same. In an interview on Teresa Giudice's "Namaste B$tches" podcast, the former couple's middle daughter, Milania Giudice, talked about how things have been with her dad living in the Caribbean. "It's like, 'He's living in the Bahamas. That's fun.' We go there and have a good time, so, I mean, it is what it is," she said, admitting that it's not always easy. "Obviously, we want our dad here for us every day. It sucks for the moment, like Gabriella's graduation, Gia's graduation, he's not going to be there for my graduation — just like those things that are annoying," she added.
Meanwhile, Joe doesn't seem too concerned with things that are out of his control. In an interview with People magazine following his ex-wife's wedding in August 2022, Joe expressed being happy for her — and for himself. "Work is good and yes, I'm dating. Very happy," he said, without going into detail. Joe seems to be keeping his personal life off of social media and away from the tabloids, which may be a good thing. Chances are, if he does ever decide to get remarried, he'll share the news himself. Until then? All we can say is salute!