This Is Why Meghan Markle Won't Wear Victoria Beckham's Dresses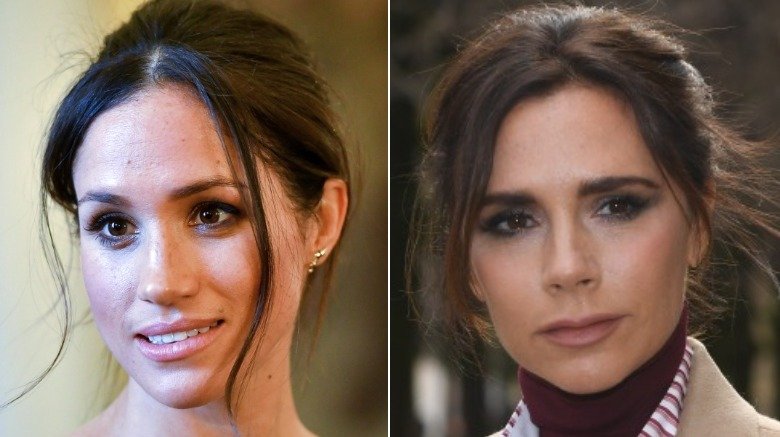 Getty Images
Duchess Meghan Markle's fashion choices have been making headlines since long before she married into the British royal family, but there's one brand this former actress surprisingly rarely dons.
On Wednesday, Nov. 7, 2018, Page Six revealed that Markle has yet to wear a dress designed by one of her most famous friends: fashion designer and former Spice Girl Victoria Beckham. But thankfully, the absence of Beckham's dresses in Markle's closet has nothing to do with bad blood between the two.
As the Duchess of Sussex explained to Glamour UK back in May 2017, her experience on the hit USA series Suits not only made her famous, it also provided her with a crash course in what not to wear. "The fashion on Suits is gorgeous, so it also became my education of designers and really knowing what fits my body well," she said. "What I'm starting to learn is, even though things look amazing on the hanger, it doesn't mean they're going to look amazing on me. For example, I love Victoria Beckham dresses, but I don't have the long torso to support that silhouette."
That said, perhaps Beckham's fashion line will one day design something that better fits Markle's personal style preferences and body type. After all, the former TV star happily rocked a gray blazer designed by her bestie, tennis champion Serena Williams, during a Commonwealth Tour stop in Australia in October. According to Page Six, the royal trendsetter's look led to the item quickly selling out on Williams' website. Meanwhile, her public support of the pro athlete's brand clearly made the GOAT's day.
As Markle went on to tell Glamour UK, she loves a good shift dress "on a normal day," paired with "flats and a little cropped jacket." She added, "As I've gotten older, I like longer dresses, but my legs come up to my ears and I'm not very tall, so when I wear a short skirt I've got to be really conscious."
While we may have to wait to see Meghan Markle wear a VB dress, fans of the British royal family may already be aware that one of her go-to designers in recent months has been Givenchy. After opting for a gorgeous white Givenchy gown during her wedding to husband Prince Harry in May 2018 — which Beckham happened to attend with husband David Beckham — the duchess has donned the brand on multiple occasions. More recently, she stunned in a navy blue Givenchy coat and dress ensemble at Princess Eugenie of York's nuptials to Jack Brooksbank in October.
In related news, royal contributor Omid Scobie recently hinted at how Markle, 37, and Prince Harry, 34, may be looking to break new ground in the royal family's traditional parenting style during an interview with Us Weekly on Wednesday, Nov. 7. Noting that the duchess reportedly aims to "bring up children who know the values of normal things in life," Scobie added, "Meghan will take her kids on a subway. They'll have chores, and jobs one day. They won't be spoiled." As Nicki Swift previously reported, the royal couple officially announced in mid-October that they're expecting their first child together in the spring of 2019.
Meanwhile, Victoria Beckham made headlines earlier this week as the only Spice Girl to opt out of the former British girl group's upcoming reunion tour. In a video shared on Twitter on Monday, Nov. 5, Geri Halliwell (Ginger Spice), Mel B (Scary Spice), Emma Bunton (Baby Spice), and Mel C (Sporty Spice) made every '90s kid's dreams come true when they revealed that they'd be joining forces for a six-show stadium tour across the UK. While it's set to kick off in Manchester, England on June 1, 2019, Beckham (Posh Spice) will be noticeably absent.
"Today marks a special day for the girls as they announce the first tour dates since we performed together in 2012!" Beckham, 44, wrote to her 23.3 million Instagram followers after the news broke, captioning a snapshot of her four former bandmates. "I won't be joining my girls on stage again but being in the Spice Girls was a hugely important part of my life and I wish them so much love and fun as they go back on tour next year."
Beckham, who previously denied reports that the iconic "Wannabe" hitmakers were reuniting, added, "I know they will put on an amazing show and the fantastic fans past and present are going to have a wonderful time! X vb #spicegirls #friendshipneverends."
Luckily, the Spice Girls all seem to be on the same page on this matter. During the current quartet's Wednesday, Nov. 7 appearance on the Heart Breakfast radio show, Mel C admitted, "Yeah, I think it is tough, because obviously, [Beckham's] a huge part of the band" (via E! News). However, she added, "There were times...I wasn't sure, and we really support each other and the decisions that we make and we really support her and she's really supporting us. And I think that's a big part of our ethos."