What Happened To Kya And Alyx After Catfish?
"Catfish" viewers witnessed a rare happy ending in the 2012 episode "Kya and Alyx." The outlook is bleak for most of the couples who meet in real life on the MTV series after falling in love online. Upon learning that they've been deceived by a catfish, most catfishees aren't willing to forgive and forget that the person in front of them looks nothing like their profile pic. As with many reality TV series, there's a degree of fakery involved with "Catfish." For instance, Vulture confirmed that it's usually the catfish who contacts the show first. 
Host Nev Schulman then helps the catfishee learn the shocking truth, which the producers already know. But Kya's case was different. She'd already come clean to "Alyx" about using a fake identity to catfish him after the two met on the super popular Vampire Freaks website. He was unbothered by the confession, and Kya began to wonder whether she was being catfished herself. She ultimately learned that Alyx was actually named Dani, and like most catfish, he wasn't using his own picture when he and Kya first began communicating with each other.
But Kya greeted him with a warm embrace. Dani explained that one reason he wasn't honest with Kya was that he's transgender, and when he's shared this with other people he's cared about, they haven't been okay with it. But Kya assured him, "That doesn't change anything." While Kya and Dani decided to stay together, their story didn't end there.
Kya and Dani broke up after the show
Like many "Catfish" couples, Kya and Dani had something working against them besides the initial dishonesty: distance. While Kya resided in Missouri, Dani lived in California. It's unclear whether this played into their decision to call time on their relationship, but we've got to admit that we were really rooting for these two to go the distance. In a 2013 tweet, Dani responded to a question about Kya by writing, "We're no longer together. S*** happens. People change," (via MTV News). 
He also revealed that he had a new girlfriend at the time, per Starcasm. Host Nev Schulman later shared a message from Dani during a 2019 episode of "Catfish Catch-Up." Dani revealed that he and Kya hadn't spoken to each other since they filmed an update where they made plans to live together. However, Dani didn't regret his "Catfish" experience. "Being on the show definitely helped me be more me. It just helped me accept myself a bit more," he shared. 
Kya also moved on. Per an Instagram post, she got married in 2016 (and she received a pretty sweet "Star Wars" Stormtrooper afghan as a wedding gift). It seems that Kya might be trying to put the show behind her as well, which may explain why Dani was the only one who shared an update on his life for "Catfish Catch-Up." Her Twitter profile notably reads: "Yes I was on the Catfish, but that doesn't define who I am."
How Nev and Mex felt about Kya and Dani's episode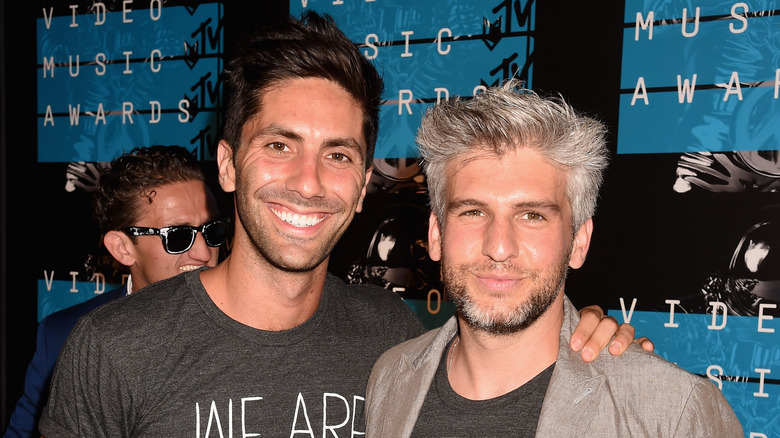 Jeff Kravitz/Getty Images
In addition to coming clean to Kya, Dani was burdened with explaining to "Catfish" viewers what it means to be transgender, and he shared some of his painful experiences of being bullied in the process. To make matters worse, there were some problematic moments during the episode, such as when Nev Schulman and his former co-host Max Joseph kept misgendering Dani. The episode was teetering on a fine line between sensationalizing Dani's trans experience and treating him with dignity and sensitivity. Unfortunately, Schulman also misgendered Dani when he spoke to Entertainment Weekly about the episode in 2017. 
"It was just amazing that these two people had met each other and formed such a bond that it didn't matter that Dani was lying about many of the aspects of [his] life, that they were able to see through it," he said. "It didn't last for very long, but that was shocking in the most pleasant way." During a 2013 Reddit AMA, Joseph shared his thoughts about Dani and Kya's episode too. 
"The most heartwarming time was definitely Kya and Dani," Joseph wrote. "It was our first happy ending on the show and it was an amazing thing to be a part of and to witness." Schulman wore a "Trans Equality Now" shirt on a 2021 episode of "Catfish," and Joseph has shown his support for the trans community on Instagram. So, perhaps their interactions with more people like Dani have helped them evolve into respectful allies.