The Ironic Story Behind Rumer Willis' Daughter Louetta's Name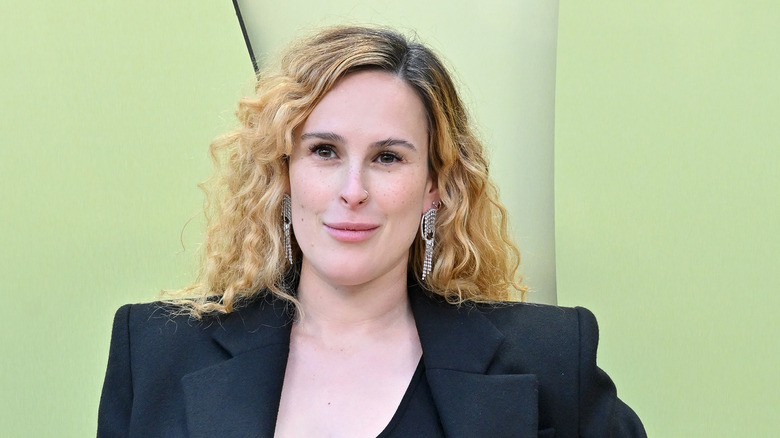 Axelle/bauer-griffin/Getty Images
Rumer Willis and her boyfriend, Derek Richard Thomas, welcomed their baby girl into the world on April 18. "Louetta Isley Thomas Willis. You are pure magic," the new mom captioned an Instagram photo of her newborn. Willis, who calls the baby "Lou" for short, appears to have fully embraced motherhood and has proudly accepted the challenges it brings since announcing her pregnancy in 2022, frequently posting about her journey on social media and how special it has been for her.
Of course, she's also been wearing a new necklace that features her daughter's name, which has its own story. In an interview with People, Willis explained that she and Thomas actually happened upon the baby's name by accident. "We were thinking about the name Loretta, and it was a typo. Her dad and I were texting, and he left the 'R' out of Loretta, and it was just Louetta," she explained. "I was like, 'Oh, I love that!' I feel like it was one of those kind of divine intervention universe moments, and we figured it out actually quite early in my pregnancy," she added. However, Willis admits that while she may have been sold on the name, she was actually quite worried that it wouldn't end up working out.
Rumer Willis wasn't sure if the name Louetta would fit her baby
Like many moms-to-be, Rumer Willis questioned whether or not the name she and Derek Richard Thomas chose would suit their little one. "I'm not finding out if it's a boy or a girl, but the energy of this child is so spicy. So, so spicy," she said on the "Bathroom Chronicles" podcast early on in her pregnancy. Regardless, Willis had strong feelings about the name Louetta and wanted it to be their baby's name. In her interview with People, Willis recalled her worries that her baby wouldn't look like a Louetta. "I fell in love with the name so much, so early on, that I was then worried that it wouldn't work. But then she came out, and I mean, to me, at least right now, I was going to name her Lou, whether she was a boy or a girl," she explained.
In May, Willis penned a lengthy Instagram caption, revealing that she felt as if she had always known baby Lou. "I can't wait to see who you are, although I feel like I have known you my whole life. One of the first things [I] said after you were born was 'oh my girl, I missed you.' I didn't even realize I had said it," she shared. Thankfully, everything worked out. Willis gave birth to a healthy baby via home birth and doesn't seem to have any regrets about the name she and Thomas chose for their daughter. 
Rumer Willis loves the 'versatility' in the name Louetta
One thing that really drew Rumer Willis and Derek Richard Thomas to the name Louetta is the "versatility." The "Sorority Row" star told People that, while she and her beau are calling their daughter "Lou," she could also choose to be called "Etta" or any other iteration of her name when she's older. "She can go change it up throughout her life. Whatever she wants," Willis explained. The daughter of Demi Moore and Bruce Willis also decided to veer from tradition and give her daughter the last name Willis — rather than her boyfriend's last name, Thomas. Over the years, many have assumed that a child would take his or her father's last name, but that seems to be changing as we get deeper into the 21st century, and there are multiple reasons for this. 
"Women who are proud of their last name may want to pass that lineage along to their child. In some cases, the mom's last name just sounds better together with the child's given name," according to Baby Center. Rumer hasn't revealed her reasoning for giving baby Louetta the last name Willis, but given the closeness she shares with her dad and his recent health struggles, we think we can make a pretty good guess.