Rumer Willis Introduces Newborn Daughter With Details About Her Birth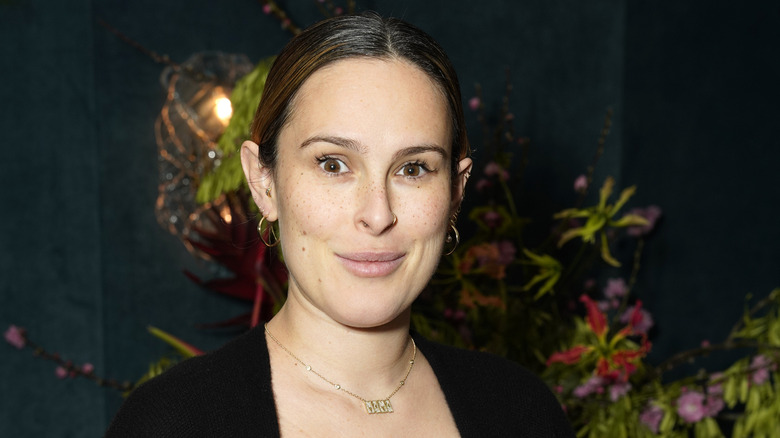 Presley Ann/Getty Images
Rumer Willis is now a proud mother, and she's excited to tell the world about her new bundle of joy.
It seems like it was just yesterday when Willis announced that she and her boyfriend, Derek Richard Thomas, were expecting a baby together. At the time, the couple — as the kids would say – hard-launched the pregnancy on Instagram with a photo of Thomas kissing Willis' very pregnant belly. Comments from their friends and family rushed in, with her mom, Demi Moore, expressing delight over the prospect of being a grandmother. "Entering my hot kooky unhinged grandma era," she noted in her own post.
Willis hasn't shared intimate details about her pregnancy in the months since, but she once dished that her dad, Bruce Willis, wanted her to have a son. "My dad puts pressure on me," she quipped during a guest appearance on "The Talk" in 2020. "Over the quarantine, he was like, 'So I'd like for you to have a son because I need some male energy in this group.' It's a lot of women, obviously." But it looks like he would have to save his wish for his next grandchild, as Willis recently revealed that she gave birth to a beautiful baby girl.
Rumer Willis and Derek Richard Thomas welcome a baby girl
Rumer Willis and Derek Richard Thomas just welcomed their first child together via home birth, according to an announcement Willis made on Instagram.
The "Dancing with the Stars" alum shared a photo of their baby girl, revealing they have decided to name her Louetta Isley Thomas Willis. "You are pure magic," Willis wrote. "Born at home on Tuesday April 18th. You are more than we ever dreamed of." Demi Moore wasted no time gushing over her first grandchild and rushed into the comments section to express her excitement. "Pure love for this little birdie," she said. Emma Heming Willis, Bruce Willis' wife, shared her love, too. "Omg we love her so so much," she wrote.
This may be the first time we've received baby news from Willis but don't expect it to be the last, as she recently revealed to People her ambitions of having a large family. "The more the merrier," she said. "I'm like, 'let's go.' I'm one of five sisters. Even though we're from two separate litters, I can't imagine not having siblings. We are so close. My sisters are my best friends. I can't imagine not giving my kids that." She also said that her entire family supports her decision to start a family of her own. "They're so excited... I'm so grateful that I'm so close with my family that I get to rely on them for support that way."