Are Jason Aldean's Daughters Close With Their Stepmom Brittany Kerr?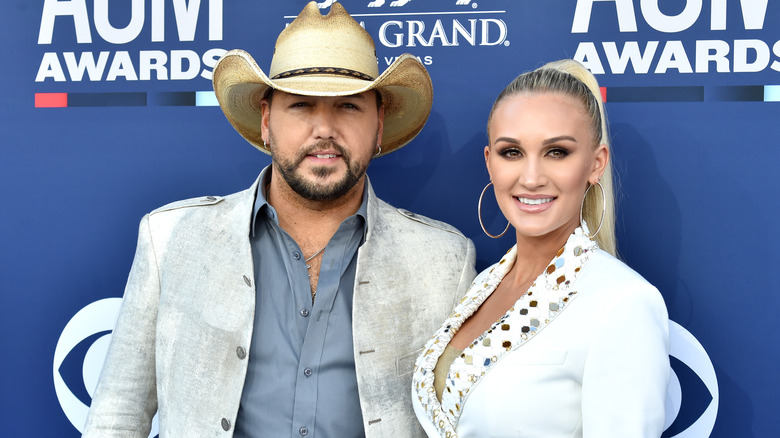 Jeff Kravitz/Getty Images
Country singer Jason Aldean has been married to one-time "American Idol" contestant Brittany Kerr since 2015, and the two seem just as loved-up as ever — even eight years later. Aldean and Kerr — who are no strangers to controversy — often post pictures to social media, commemorating milestone moments in their marriage and professing their love for one another. Also featured on Instagram are their two children, Memphis and Navy Rome, whom they welcomed in 2017 and 2019, respectively, according to People.
Aldean is also a father to two older girls he shares with his ex-wife, Jessica Ussery. Ussery and Aldean were high school sweethearts but separated in 2013, per Us Weekly. Prior to their separation, Aldean was spotted smooching Kerr at a bar, which — unsurprisingly — contributed to his breakup with Ussery. That said, all parties appear to be in a good place at the moment, and Kerr is often spotted out with Aldean's older daughters, Keeley and Kendyl. "Happy birthday to our sweet Keeley," Kerr wrote on Instagram in 2021, alongside a sweet picture of Aldean's entire blended family. "I can't believe you're 18. What a kind, beautiful, caring woman you are growing up to be." She added that she was "proud and blessed" to be Keeley's stepmom. Likewise, in 2023, Aldean wished Kendyl a happy sweet sixteen on Instagram and featured Kerr in the family snapshot. And if you think this appears to be one big blended family — you'd be right.
Brittany Kerr is a devoted stepmom
Being a stepmom is no easy task, but Brittany Kerr takes her responsibilities to Keeley and Kendyl seriously. "Sometimes it's a thankless position but I'm very, very fortunate in the fact that the girls are awesome. They love me, I love them. We get along very well," Kerr dished to Us Weekly in 2020. She went on to add that her relationship with Keeley and Kendyl has morphed into more of a "big sister" role in recent years. "I do love the fact that they're a little bit older because it's so fun. I really am starting to relate to them, especially [Keeley]. She's going through things now that I can really relate to," Kerr said.
According to Us Weekly, Keeley has "the music bug," as Jason Aldean revealed that Keeley "started playing guitar a couple of years ago." A world-renowned singer-songwriter, Aldean is well-equipped to advise his eldest daughter, but Kerr is an "American Idol" alum who also knows a thing or two about navigating the music industry. It's possible that when Kerr spoke about relating to Keeley, she was referencing their shared love of music. Either way, it's clear Kerr takes an interest in both Keeley and Kendyl's interests. "It's tough but you have the opportunity to REALLY impact their lives," the former cheerleader shared with a fan who asked her about being a "bonus mom" (via Country Fancast). Kerr's advice? "ROCK IT and be a strong foundation for them!"
Brittany Kerr celebrated a special milestone with her stepdaughter
While the children that Brittany Kerr shares with Jason Aldean are still very young, Kerr has been able to bond with her two older step-children over their teenage milestones. According to Taste of Country, when Keeley wasn't able to attend her junior prom in 2020 due to COVID-19, Kerr and Aldean brought the prom to her. In an Instagram video documenting the event, Kerr showed off the decor, food, and stand-in date (spoiler: it was Keeley's dad). "Happy prom day! ... We love you and we're sorry you're missing your first prom," Kerr told her stepdaughter. Her efforts to ensure Keeley had a special day touched Aldean, who shared a sweet tribute to her on Instagram. "When u marry somebody and u have kids, u hope that person will love ur kids the way you do. I have been really blessed with someone who is not only beautiful but has truly completed my family," the singer-songwriter gushed.
Judging by the way Kerr has embraced Keeley and Kendyl in addition to her biological children, Memphis and Navy Rome, it seems like she was always cut out to be a mom. In fact, Kerr long envisioned kids in her life. "I would love babies. If God would bless me with some I would totally be happy about it ... I want a boy and a girl," Kerr said in 2017 (via Country Fancast). Co-parenting Keeley and Kendyl is just another blessing.