Sketchy Things Everyone Just Ignores About Jason Aldean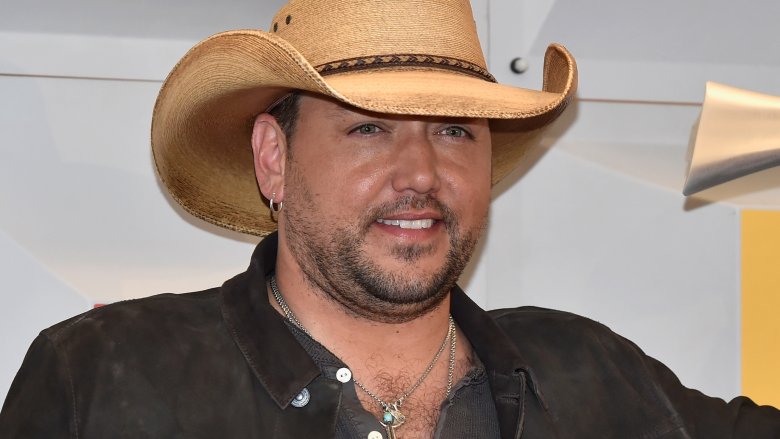 Getty Images
Jason Aldean is a two-time ACM Entertainer of the Year award winner, and one of the highest paid country music stars in the industry. But his rise to becoming a Nashville superstar hasn't been without controversy. While his infamous affair with American Idol contestant Brittany Kerr and unfortunate decision to use blackface for a Lil Wayne Halloween costume have made headlines, Aldean seems to have a pattern of sketchy behavior that's always flown just below the radar.
But when you put those pieces together, it doesn't exactly paint the best picture of the "Hicktown" singer and raises some troubling questions about how he views women, country music fans, and pretty much anyone who isn't Jason Aldean.
He cheated on his wife while claiming to be a family man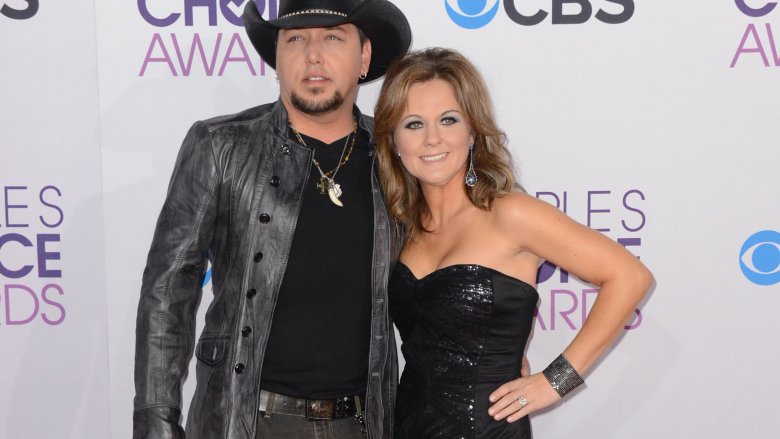 Getty Images
In September 2012, Aldean appeared on the cover of People magazine and presented himself as a devoted husband to wife Jessica Ussery and a doting dad who loved family dinners and tickle fights before bed with his two daughters. "It's my one of my favorite parts of the day," Aldean told the magazine. But barely two months later, the singer was photographed kissing Brittany Kerr at a Hollywood bar, which caused such a huge uproar with country music fans that Kerr was forced to delete her Twitter account.
In an interview with CMT Insider, Aldean took ownership for his actions, but he also tried to spin a narrative that things were working out with Ussery. "The main thing is that me and my family are OK, and everything's good there," he said. "So for everybody that stood by us, I appreciate it." However, Aldean would file for divorce from his wife just a few months later, and fans would soon learn that he'd allegedly been dating Kerr the whole time. The two would eventually get married in 2015 and announce that they're expecting a baby in May 2017. But the whole situation was a bad look for Aldean, who still struggles to shake it off today.
He disrespects female country music stars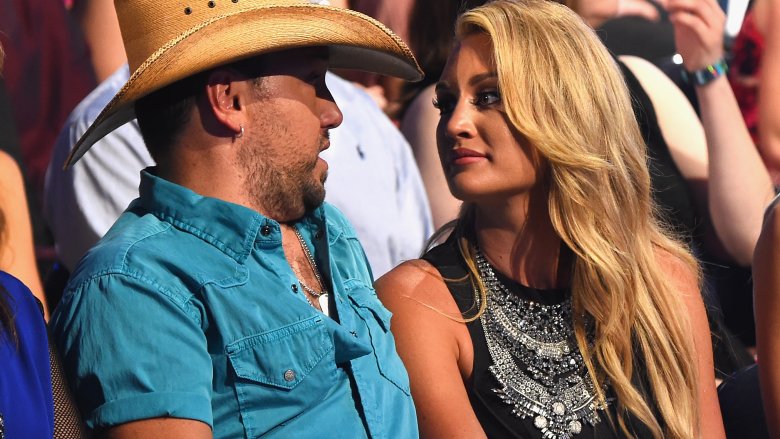 Getty Images
Aldean made things worse for himself when he made the following comments to The Washington Post not long after the scandal with Kerr first broke. "I feel like a lot of times female singers, to me, when they're singing – and I'll probably kick myself for saying this – a lot of times, it just seems like I can't distinguish one from the other sometimes if I just listen to them, you know? A lot of times they just sound really similar to me."
What's ironic about Aldean's unnecessary insult towards his female colleagues is that the entire country music genre has a problem with songs sounding exactly the same. More specifically, Aldean belongs to a sub-genre called "bro-country" that's the worst offender of similar-sounding song thanks to a practice of using the same writers who all employ the same lyrics and themes much to the dismay of country music legends. So Aldean is the last person who should be criticizing other artists let alone making sexist remarks about his colleagues.
He's practically the face of bro-country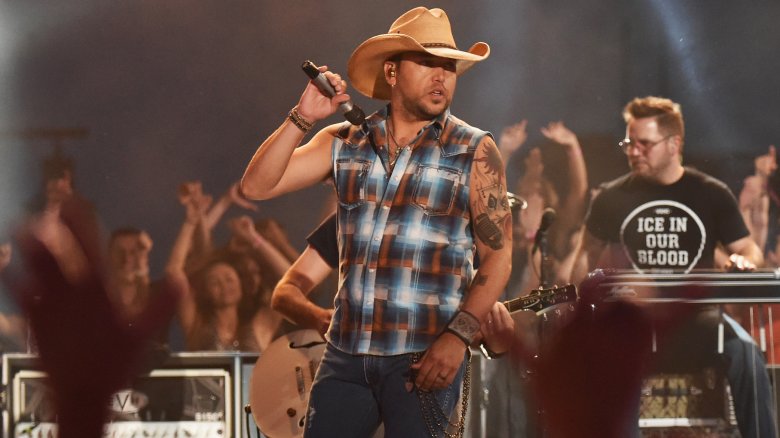 Getty Images
If you're not familiar with "bro-country," here's how Vulture's Jody Rosen coined the phrase by describing the genre that's basically synonymous with Aldean: "Music by and of the tatted, gym-toned, party-hearty young American white dude." And a lot of country artists aren't particularly happy to see the new pop rock-infused trend stomp all over country's more traditional roots while making the industry look bad in the process.
In an interview with the Baltimore Sun, Alan Jackson said, "What makes me sad today is that I think the real country, real roots-y traditional stuff, may be gone. I don't know if it'll ever be back on mainstream radio. You can't get it played anymore." And Kenny Chesney was even more pointed in Billboard. "Over the last several years, it seems like anytime anybody sings about a woman, she's in cutoff jeans, drinking and on a tailgate — they objectify the hell out of them."
Before a concert in Hershey, Pa., Aldean bristled at the "bro-country" label and denied to Penn Live that his songs are all about "trucks and girls and beer," but a look through his lyrics say otherwise.
His song lyrics are not the best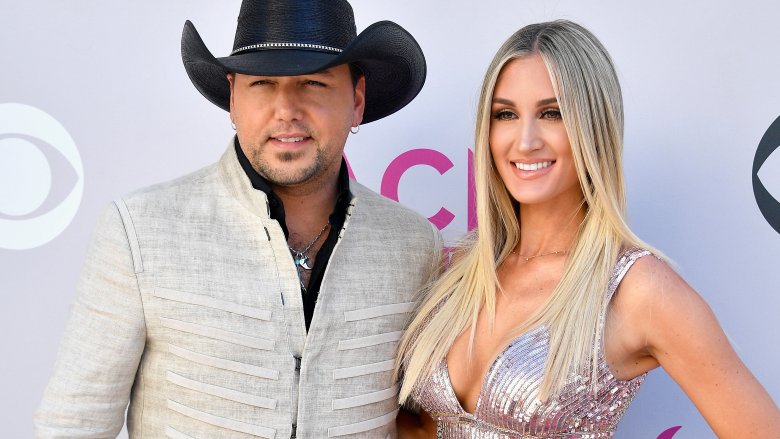 Getty Images
Jason Aldean didn't get slapped with the "bro-country" label by accident. A lot of his hit songs like "Johnny Cash" and "Take A Ride With You" feature lyrics that portray women as simple, doe-eyed girls waiting around on farms for men like Aldean to sweep them away in a pickup truck for, well, you can figure out the rest. And if they're not virginal maidens waiting to be wooed by Aldean, they're hell-raising vixens who live in the woods (don't ask) and evoke Guns N' Roses videos more than country music. And it's landed him in hot water with industry sites that have grown tired of Aldean's exploitation of women.
Here's how Saving Country Music described Aldean's Old Boots, New Dirt album: "Now what do we get from Jason Aldean? A simple enumeration of his sexual conquests one after another, with very little respite." The review continues. "'I knew the minute that I picked you up, it was gonna be a wild ride,'" the very first song '"Just Gettin' Started" starts off. 'You kissed me like you couldn't get enough. Barely made it out of your drive.'"
That was just the first song. And according to Saving Country Music, the second one went down the same path before things got even more provocative with Aldean's hit single "Burnin' It Down." A song about, you guessed it, another conquest.
He doesn't write his own songs because he's a marketing tool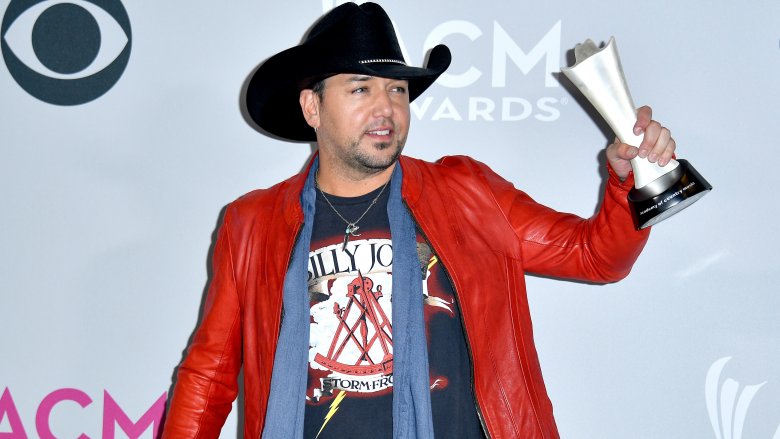 Getty Images
A quick glance through the writing credits for Aldean's albums will show that the bulk of his musical output is built on singing previously recorded songs from other artists or lyrics written by other songwriters. Which explains how Aldean got slapped with the "bro-country" label along with his best friend Luke Bryan. Aldean would soon get in an altercation with Zac Brown after Brown criticized Bryan during an interview with a Vancouver radio station. "You can look and see some of the same songwriters on every one of the songs," Brown said. "There's been like 10 number one songs in the last two or three years that were written by the same people and it's the exact same words, just arranged different ways."
With someone else writing Aldean's music, and not in the most original way, it makes it hard for him to defend that he's singing authentic tunes about growing up country, especially when Aldean admits himself that his label works hard to manufacture hit singles by doing things like having him rap in a country music song. He also inadvertently revealed to Rolling Stone that he's just chasing trends by recording more "traditional" songs now that bro-country is on the way out.
But if there's one glaring example that Aldean is indeed a product, it's The Jason Aldean Unwined Candle. Would Johnny Cash have his own brand of scented candle? Do we even need to ask?
He wore blackface for Halloween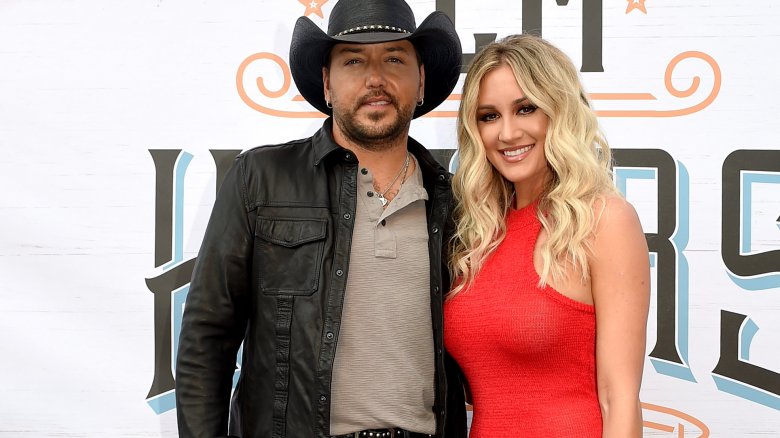 Getty Images
Aldean once again found himself in hot water when he wore blackface to dress up as Lil Wayne for Halloween in 2015. For those of you who don't know, blackface has an extremely racist history, and the best approach for white people is don't do it. Ever.
In a move that didn't help with the unfortunate stereotype that country music has a racism problem, Aldean offered a tone-deaf apology that criticized anyone who was rightfully offended more than it atoned for Aldean's actions. "In this day and age people are so sensitive that no matter what you do, somebody is going to make a big deal out of it," he told Billboard. "Me doing that had zero malicious intent ... I get that race is a touchy subject, but not everybody is that way. Media tends to make a big deal out of things. If that was disrespectful to anyone, I by all means apologize. That was never my intention. It never crossed my mind."
Oy.
He sports the Confederate flag on his clothing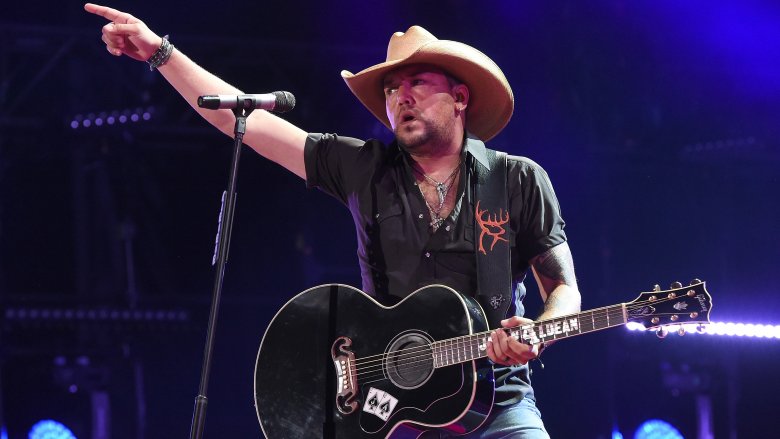 Getty Images
Leading up to the blackface incident, it wasn't uncommon to see a Confederate flag at Aldean's concerts. Either the flag itself was flying – which is not unusual for country music artists – or you could buy it on a T-shirt. Aldean also had no problem wearing the rebel flag while promoting his Buck Commander hunting line. However, in the aftermath of the tragic murders committed by Dylann Roof against African-American churchgoers in Charleston, even country stars like Aldean's closest friend Luke Bryan were open to evolving their views on what many consider a symbol of hate that stands for a dark chapter in American history.
Aldean, on the other hand, has refused to comment on the Confederate flag. In fact, Aldean prefers to steer clear of discussing controversial topics whenever possible. He wouldn't even touch the infamous 2016 election between Hillary Clinton and Donald Trump and simply told Rolling Stone, "Politics is a no-win."
He's in business with the Duck Dynasty family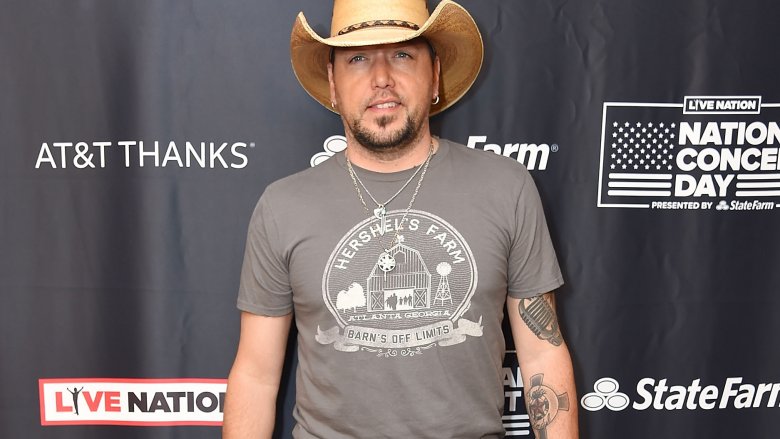 Getty Images
Just when you thought things couldn't get more scandalous for Aldean, he went and started the Buck Commander hunting line with Willie Robertson of Duck Dynasty fame after the show was pulled off the air because of the Robertson family's controversial views on homosexuality. They've even gone so far as to link gay marriage to mass murder, but that didn't stop Aldean from going into business with them. The Robertsons also have a very biblical view on adultery, yet Aldean has seemingly been able to sidestep that particular land mine by playing up his role as a family man while promoting Buck Commander in interviews. Granted, hunting and country music are practically synonymous with each other, but Aldean's relationship with the outspoken Robertson family is still sure to leave a few heads scratching.
He brags about not reading books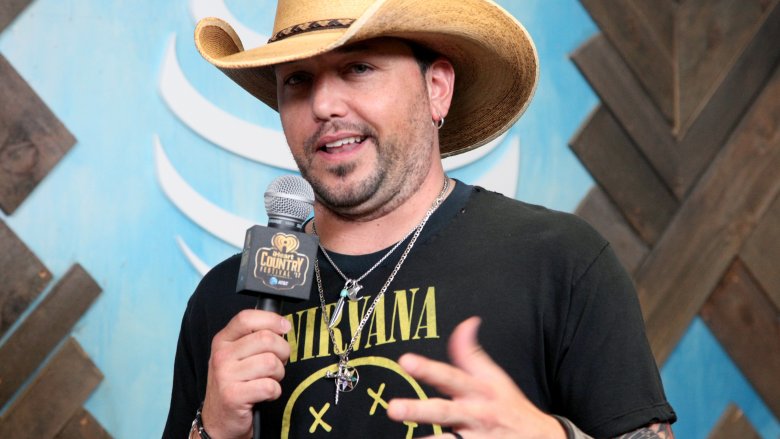 Getty Images
One of the criticisms of Aldean's popularity, and the rise of bro-country in general, is that he's responsible for the "dumbing down of modern country." And while his questionable use of blackface, the Confederate flag, and sexist song lyrics definitely hasn't made things better, Aldean continued to make matters worse by embodying yet another country music stereotype in an interview with People. "I haven't read a book since high school," he said. "I'm a magazine guy. When I'm standing in line at the grocery store, I'm kind of a sucker for buying whatever has a cover I'm interested in. I like reading about actual facts."
We're just going to close our eyes and assume that Aldean subscribes to Monocle, the Economist and the New Yorker.
He criticizes people for running their mouths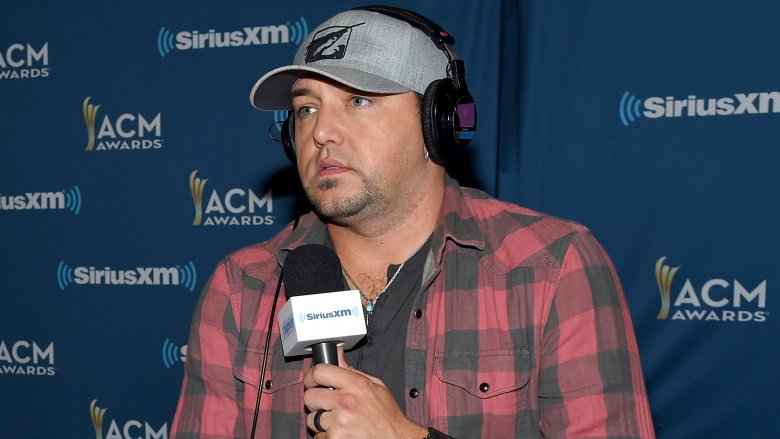 Getty Images
One of Aldean's favorite things to say is that he's tired of everybody "running their mouths." What's strange is this criticism almost always occurs in the context of Aldean running his own mouth on any given subject from whether or not he's "bro-country," when or if Zac Brown is allowed to talk, and when it's okay to care about Aldean's public relationship with Kerr (with whom he publicly had an affair) as the two post a baby announcement on Instagram. Aldean seems to embody the swaggering country dude who talks over everyone and thinks only his opinions are valid, which might explain why he's had trouble skirting controversy during his career. We hope there's a deeper level to Aldean, but so far his words and actions suggest that what you see is what you get.
Jason Aldean inhabits the worst of country music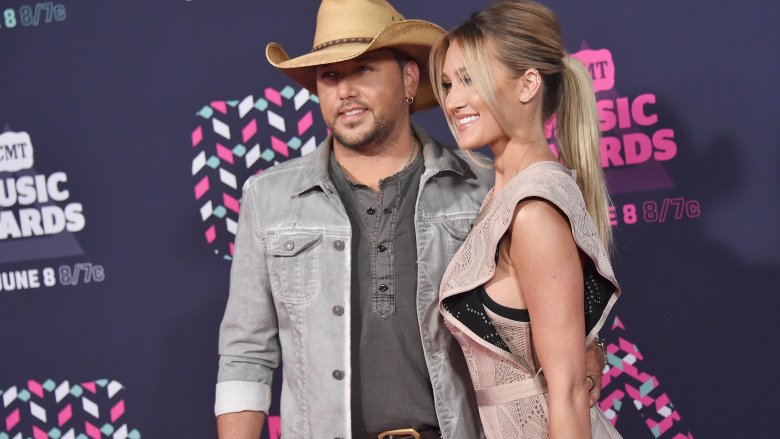 Getty Images
While Aldean may have entertained millions of country music listeners for over a decade, and has a sound that fans can't get enough of, he also exudes some of the industry's worst traits. He's shown a notable disrespect for women either by cheating on them, criticizing their music, or objectifying them in his songs. His views on African-Americans didn't do country music any favors with Aldean's unfortunate use of blackface and wearing the Confederate flag.
Not to mention his business ventures with the Robertson family, which only further paints the country genre as unwelcoming to the gay community and minorities in general. As for proudly boasting that he doesn't read books? Some of America's greatest writers come from the South, and Aldean doesn't do country fans any favors by embracing the illiterate simple folk stereotype. That said, Aldean is no doubt a talented singer with a bright career still ahead of him. We just hope he grows as a person as well as a musician, so fans get less of the shady side of Aldean and more of the country music superstar that knows how to rock an arena.