How Much Money Did Melania And Donald Trump's Wedding Cost?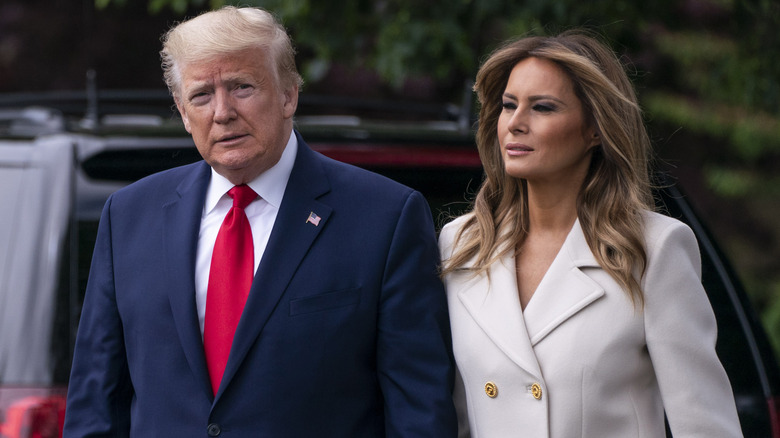 Sarah Silbiger/Getty Images
With the Trump family being one of the most affluent families in the country, if not the world, it doesn't come as a surprise that they also throw the most lavish weddings.
For instance, Tiffany Trump's wedding to Michael Boulos, which was held at Donald Trump's famous Mar-A-Lago estate, reportedly cost a whopping $1.5 million. Ivanka Trump's nuptials to Jared Kushner also came with a hefty price tag, what with her custom Vera Wang gown and jewelry that amounted to more than $250,000. Donald Trump Jr., who is infamous for being a cheapskate, even got down on one knee for his ex-wife Vanessa Haydon with a $100,000 engagement ring, although he apparently got it for free in exchange for promoting the brand, according to the New York Post. Eric Trump's wedding to Lara Yunaska was also held at the Mar-A-Lago estate and was reportedly just as extravagant as his siblings' despite the specific figures being unknown. (Lara wore a gorgeous Vera Wang dress, though.)
As for the Trump patriarch? His three weddings were particularly extravagant, except maybe for his first one to Ivanka Trump, as it was a private ceremony. His wedding to Marla Maples, however, was as glamorous as it gets, with The Washington Post reporting that the reception alone held at the Grand Ballroom of the Plaza Hotel cost $1 million and maybe even more. Meanwhile, his wedding to Melania Trump cost way more.
Melania and Donald Trump's wedding reportedly cost $2.5 million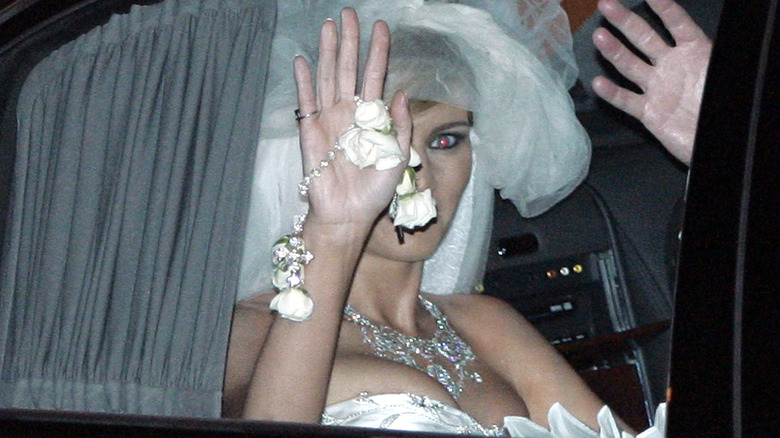 Marc Serota/Getty Images
Melania and Donald Trump tied the knot in January 2005 in front of 350 guests, which included celebrities, politicians, and famous personalities like Heidi Klum, Simon Cowell, Billy Joel, Katie Couric, and former New York mayor Rudy Giuliani. They exchanged vows at the Bethesda-by-the-Sea Episcopal Church in Palm Beach, Florida, and the festivities were held at, of course, the Mar-A-Lago estate. The whole affair, according to Cosmopolitan, cost a casual $2.5 million.
If you do the math, though, this amount pretty much tracks. Melania's custom Dior couture gown alone, which took over 1,000 hours to make, per Vogue, was estimated to have cost between $100,000 to $200,000. The couple's cake, a 200-pound, seven-tier creation infused with Grand Marnier, reportedly cost $50,000. The reception wasn't nothing to scoff at, either. It took place in Mar-a-Lago's ballroom, which was reportedly renovated ahead of the big event. Guests were served Cristal champagne and food prepared by chef Jean-Georges Vongerichten. Everyone nibbled on truffle cakes and beef tenderloin, according to The New York Times.
"It's a royal wedding," boxing promoter Don King told the outlet. "It's something out of the monarchy. It's something like, you know, King Henry or King Edward — they've got so many kings it really doesn't matter — would have."
Inside the controversy surrounding Melania Trump's ring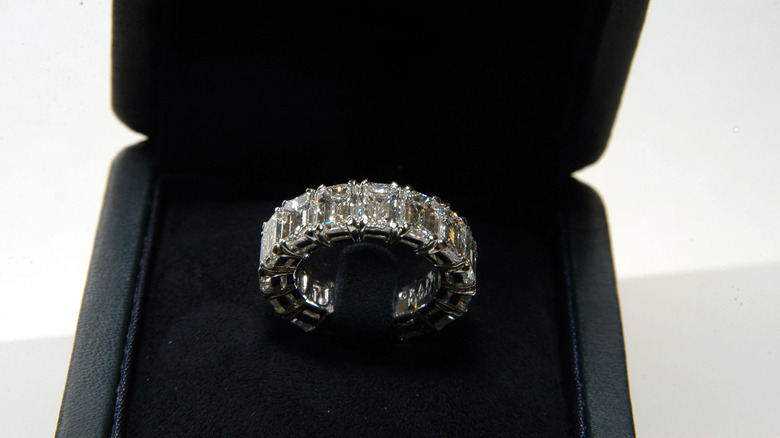 Stephen Lovekin/Getty Images
Melania and Donald Trump's wedding bands were also a topic of interest at the time, with the New York Post reporting that Donald gave his wife a 13-carat wedding band encrusted with emeralds. It supposedly complimented the engagement ring he had given her prior, which he bragged about having gotten at a hefty bargain.
In 2005, the former U.S. President told The New York Times that Graff Diamonds, the company that made Melania's 15-carat engagement ring (worth $1.5 million), sold it to him for half the price. "Only a fool would say, 'No thank you, I want to pay a million dollars more for a diamond,"' Donald said, noting that suppliers had been scrambling to offer their services for free as a form of advertising.
Years later, Donald appeared to have lied. Graff Diamonds chairman Laurence Graff clarified to Forbes that, while the real estate mogul was "a pleasure to do business with," the ring was sold at full price. "We don't sell items for publicity value," Graff CFO Nicholas Paine added. And while Donald is adamant that he loves a discount, he outdid himself and reportedly gave Melania a 25-carat diamond ring for their 10th anniversary — a ring that cost $3 million. NBD.