The One Plastic Surgery Procedure Dwayne Johnson Admits To Getting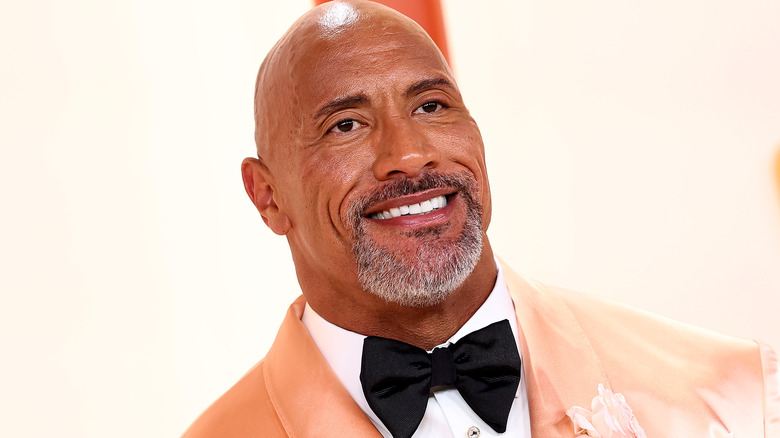 Arturo Holmes/Getty Images
It's not uncommon for celebrities to go under the knife, but we bet you didn't have Dwayne "The Rock" Johnson on the list of people who have gotten plastic surgery. Johnson is undoubtedly known for his physical appearance — from his tan muscles to his rock-hard abs, many would dream of having a body like his. But it hasn't always been easy for the "Baywatch" actor and he has admitted to being insecure about his body.
Although he revealed to Kjersti Flaa that he never compares himself to others, when it comes to looks, he has his own set of insecurities. "I grew up in a world of showing bodies, you know, I grew up in pro wrestling... it's so constant, we always have those insecurities," he shared. Johnson confessed that he and his brothers would constantly criticize their appearance as their involvement in wrestling put a lot of emphasis on how they looked.
Johnson made his WWE debut in 1996 and was heavily involved in that world for a significant period of his life, per Bleacher Report. If you took one look at him, you would never imagine he had any sort of body issues, but deep down, he was struggling to lose fat in one area. Because of this, the actor decided to turn to plastic surgery to help him solve the one problem he had with his body.
Dwayne Johson had male breast reduction surgery
Dwayne "The Rock" Johnson is big on fitness and always has been. The "Black Adam" star revealed to Muscle & Fitness that his love for the gym started at an early age. He said, "Other dads took their kids to the playground. Mine took me to the gym, and the gyms he took me to were very hardcore." Johnson's father prepped him to become a prodigy in the wrestling world, but as the actor worked hard to have a rock-hard body, there was one stubborn area that would not go away, so he turned to plastic surgery.
According to CosmeticTown, in 2005, Johnson admitted to getting gynecomastia reduction, better known as male breast reduction. The former WWE wrestler had gynecomastia, which John Hopkins Medicine reports to be the "overdevelopment or enlargement of the breast tissue in men or boys." Men normally develop this condition during puberty when there are a lot of hormonal changes in the body.
Johnson showcased his body because of the profession he was trying to get into and wanted it to look picture-perfect. He told Parker Center for Plastic Surgery, "It was an aesthetic thing. I went in and showed the doctor, and he said, 'Are you crazy?' I was walking around with my shirt off all the time, so I had it done." Plastic surgery ultimately made Johnson feel better about himself.
Dwayne Johnson works out for his mental health
Dwayne "The Rock" Johnson has been pretty quiet about his time under the knife, but the one thing he isn't hush-hush about is fitness. Sure, he may have gotten some work done, but for the most part, Johnson works hard for his body. However, for the "Black Adam" star, his workouts mean much more than just getting into shape. The actor has been open about how fitness has played an integral role in his mental health.
Johnson told Men's Health, "During those times when I fell into and was challenged by depression, the gym became my best friend — and I know it's like that for a lot of people." And it's not just his depression that he lets go of while getting fit, but also his "anxieties," "fears," and so much more, per Men's Health.
The actor's body is an inspiration to many, but so is his mindset. Johnson constantly shares videos of him working out on social media, along with inspirational words about getting fit. In one post, he wrote, "Always protect the thing that allows you to do what you do. And that 'thing' is our anchor. And that anchor is what gives us the jet fuel and motivation to conquer stuff. A few of my anchors are my training and my land." So, while working out may make Johnson a certified hunk, it means a lot more to him than people think.