Tory Lanez's Beef With Drake Fully Explained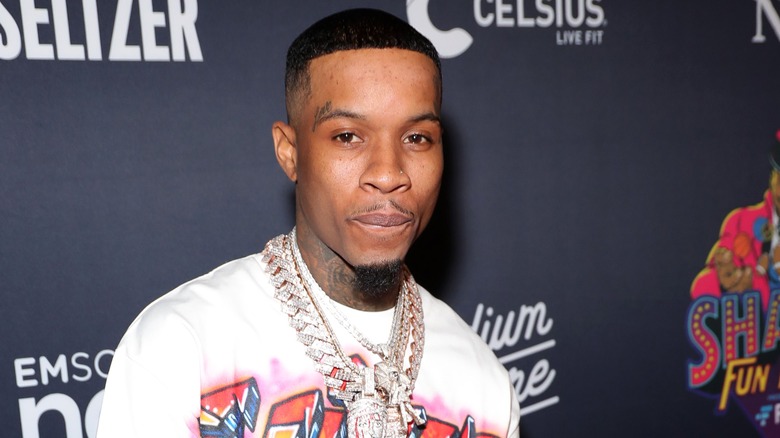 Leon Bennett/Getty Images
In the early days of their careers, Drake and Tory Lanez had beef. Eventually, the Toronto rappers buried the hatchet.
Amid Lanez's court case for shooting Megan Thee Stallion, Drake appeared to defend him on the track "Circo Loco." This caught the attention of Megan. "[D]og pile on a black woman when she say one of y'all homeboys abused her," she tweeted in response to the song. Long before they were "homeboys," Drake and Lanez had thrown verbal jabs at each other. On the heels of Drake's breakout success in 2009 with "Best I Ever Had," Lanez got himself noticed with his "Drake's Lil Brother Tory Lanez Freestyle In The Room" track in 2010. He hoped this would get Drake's attention. "I like your music, but I got 10 G's here that says you will love mine," Lanez said at the time.
By 2015, however, Lanez had drastically changed his tone. "I know these n***as about to act scary / T.O. n***a, only spitting without the Blackberry," he rapped while appearing on "Sway in the Morning." The line was a reference to Drake's Hot 97 freestyle. That year, Lanez appeared to trash the "6 God" in a since-deleted tweet. "[T]his whole calling Toronto the '6' thing ... It's not cool bro," Lanez wrote in a since-deleted tweet (via Complex). By that time, Lanez had Drake's attention, and beef heated up between the two by the following year. 
Tory Lanez and Drake diss each other on tracks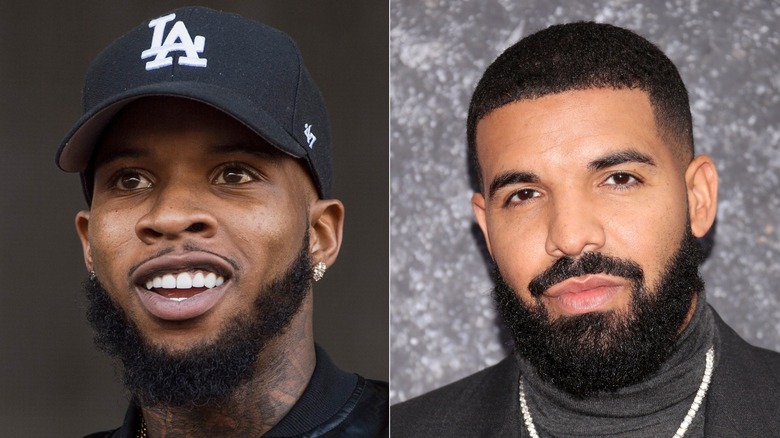 Mike Marsland/Getty & Erika Goldring/Getty Images
Both Drake and Tory Lanez had words for one another on separate songs in 2016. On his track "Summer Sixteen," Drake took aim at his hometown counterpart. "All you boys in the new Toronto want to be me a little," he rapped as a reference to Lanez's "New Toronto" mixtape series. That same year, Lanez responded on his "Uber Everywhere" remix. "You don't know no trap n***as ... / You some actor n***a boy, I used to see you on the screen," he said as an unsubtle reference to Drake's pre-rapper acting career. 
Despite the bad optics, Lanez claimed there was no ill-will at the time. "I'm a f**king Drake fan," the "Broke in a Minute" artist told Revolt in 2016. "Drake could diss me 20,000 time and I would never diss him." Lanez showed how big of a fan he was of Drake that year when he remixed the 6 God's "Controlla" track. Instead of being flattered, Drake used it as an opportunity to throw more shade. "All you boys doing fake 'Controllas' wanna be me a little?" he said to the crowd while performing during his "Summer Sixteen" tour in 2016.
The following year, the feud between the Torontonians finally concluded. To show they had buried the hatchet, Drake and Lanez shared photos they took together on their respective Instagram pages in May 2017. Once the beef ended, a friendship between the two began.
They continued to playfully trash talk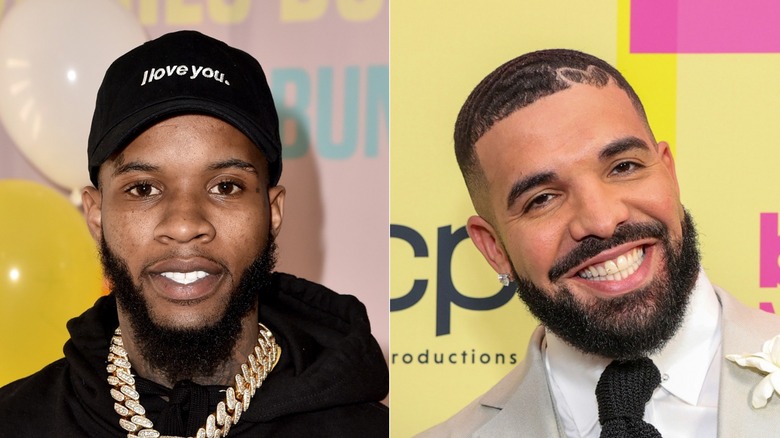 Rich Fury/Getty & Brandon Williams/Getty Images
A couple of months after Drake and Tory Lanez made amends, the two hit the stage together. While performing at his OVO Fest in Toronto in August 2017, Drake brought out Lanez. "This guy right here, we had problems with each other and we hadn't even met," the "Started From the Bottom" rapper told the crowd, according to Pitchfork. "I met the man and he's a great guy," he added. Then, the duo performed Lanez's version of "Controlla" for the audience.
Since connecting at OVO Fest in 2017, the pair have exchanged trash talk on several occasions — albeit in good fun. Lanez playfully mocked Drake on Instagram after the "Take Care" rapper got his ears pierced in 2019. That led to Drake bashing Lanez's choice of silver boots footwear later that year. "Damn you really got on the funky town clunkers ... these Parliament Funk a** shoes," Drake commented. The rappers continued to rib one another in 2021 after footage of the two playing basketball circulated. "[Drake] was not ready for the real 1v1 with the GOAT," Lanez wrote on Instagram at the time.
Once the two became friends, fans were eager to see a collab. One Twitter user asked Lanez in 2022 if he would be working with Drake or The Weeknd anytime soon. "Been sending them songs for years ... but nah not a single one," Lanez replied – adding a cry-laughing emoji to show he was unbothered.