Ella And Leo Gordon: Meet NASCAR Star Jeff Gordon's Kids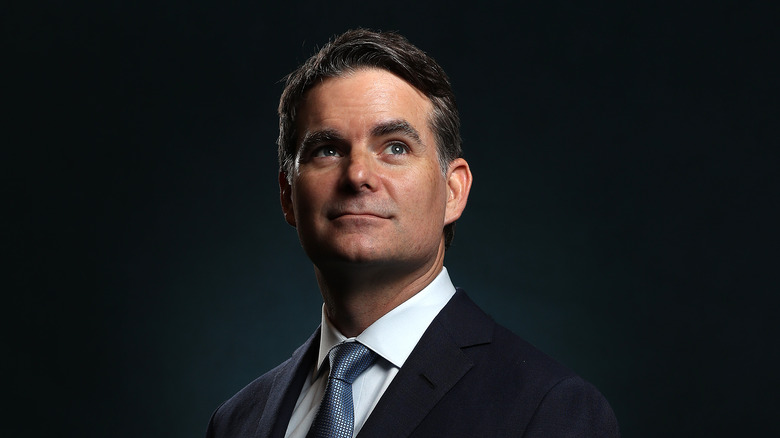 Chris Graythen/Getty Images
Jeff Gordon's life as a married man started out on the complicated side. The NASCAR star began his relationship with his first wife, Brooke Sealey, by keeping it a secret since drivers aren't supposed to date the Winston models. But Sealey concluded her run as Miss Winston a few months later, so they were able to announce their status as a couple in late 1993. Gordon and Sealey tied the knot less than a year later. However, the athlete's marriage ended in a nasty divorce in 2003.
The much-publicized ordeal affected his career after Playboy model Deanna Merryman alleged to have had an affair with Gordon. All of a sudden, instead of discussing his performance, the Hall of Fame inductee was answering questions about his personal life. "It's not even worth commenting on," Gordon told The Associated Press in 2003. "All I want to talk about is being fast here at Bristol. I would rather just stay away from that."
But he found stability shortly after. Gordon started a relationship with Belgian model Ingrid Vandebosch in 2004 and popped the question in mid-2006, even though he had said just two years earlier that he didn't plan to marry again before retiring. "When you meet somebody like I have it obviously changes your opinion about a lot of things, about marriage, about life, about racing," he told NASCAR.com. Even before Gordon wed Vandebosch in late 2006, he talked about becoming a father. And they wasted no time in starting their family.
Ella and Leo Gordon are following in their father's footsteps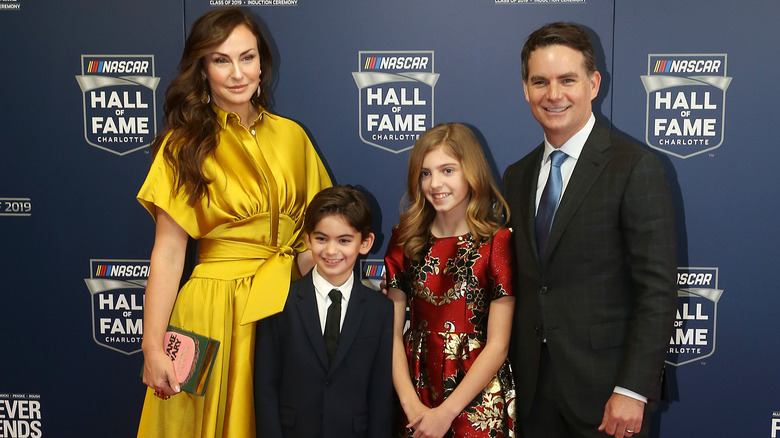 Brian Lawdermilk/Getty Images
Ingrid Vandebosch was already pregnant with their first child when she and Jeff Gordon tied the knot in Mexico on November 7, 2006. He announced the couple was expecting a baby girl just a month later. Gordon and Vandebosch welcomed Ella Sofia in June 2007, seven months after the nuptials. They expanded the brood in August 2010, with the addition of a son, Leo Benjamin. Ella and Leo have proved they fit right into their father's lifestyle from early on. 
In 2015, the young Gordons were selected to be grand marshals at that April's Food City Dirt Race, meaning they were to give the command to drivers to start their engines. "In appreciation for his many contributions to our company and our region ... we couldn't think of more befitting Grand Marshals for our Food City 500 than Jeff's children," President and CEO Steven C. Smith said, according to NBC Sports.
But Ella and Leo don't just enjoy the sport from afar. Ella got behind the wheel for the first when she was just 6 years old. "Ella driving a quarter midget for the first time yesterday. The smile says it all," Gordon captioned an April 2014 Instagram post. Leo didn't stay far behind. Gordon and Vandebosch's youngest completed his first lap when he was 7 in December 2017. Like his sister, he also drove a quarter midget. "He had a lot of fun!" Gordon noted on his website. 
Jeff Gordon believes he's got the best of both worlds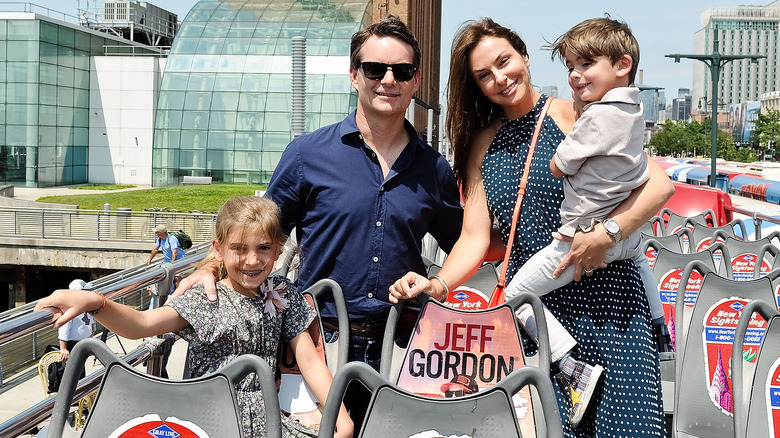 Daniel Zuchnik/Getty Images
There was a lot of talk about the future of Jeff Gordon's competitive career when he announced he would become a father. But Gordon believes he stepped into fatherhood at the perfect time. "I've had a lot of success over the years, and if I had had a child early on, perhaps I would not have accomplished as much," he told WebMD in 2008, when Ella was about to turn 1. Gordon continued to race following both of his children's births, showing he was able to keep those two facets of his life separate.
"When I'm at work, my mind is focused on my job, on driving," he said. Gordon is the first to admit it's easier said than done, but learning to compartmentalize is part of the game. "No matter how good or bad my day was, coming home, it's all put aside," he said. You don't have a choice ... It's tough. So is racing," he said. He wouldn't have it any other way. "I love being a dad. It's the greatest," he told The Oklahoman in 2010, a few months before Leo joined the family earthside. 
Fatherhood gifted Gordon with a different perspective on what he can do and pass on. "It's changed how I go about day to day, and what's important to me," he said. "Every day is, 'How she's doing? What's new? What can I teach her? What am I not teaching her?"'