Race Car Drivers With Incredibly Gorgeous Wives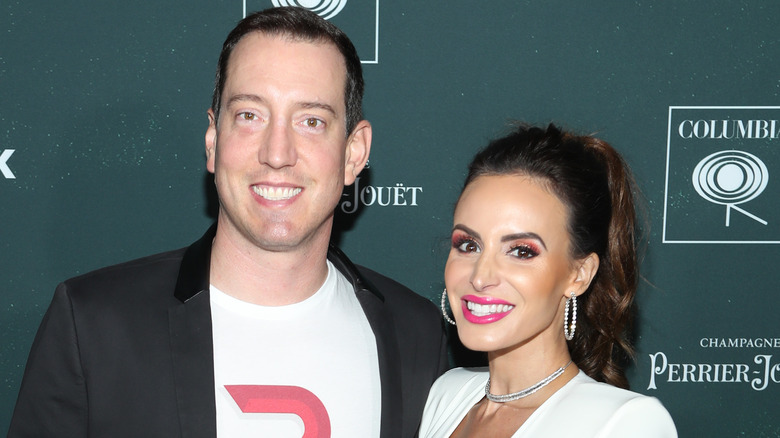 Jerritt Clark/Getty Images
It's no secret that NASCAR drivers live a life full of adrenaline. The road to becoming a professional driver is full of ups and downs, and it requires strict dedication. A career as a race car driver requires hours of driving at high speeds with incredible risks. While some may say these risk-takers are not true athletes, it's far from the truth — indeed, they may not be dribbling basketballs or swinging a bat, but they are using incredible amounts of force to maintain driving a car at peak speed and performance. NASCAR drivers are essentially driving to defy physics and doing so inside a vehicle with between 130 and 160-degree heat levels. Despite the fact that many drivers have tragically lost their lives behind the wheel, the sport continues to be a huge part of American culture.
The stamina and rigorous schedule required of these drivers also have them competing for 10 months out of the year. Like any other professional sport, the wives of these drivers take on a lot of responsibility in order to support the demands of the NASCAR Cup Series. Many of them are mothers to several children, bringing the family along to the 38 races these drivers compete in each season. 
While the success of winning races like the Daytona 500 may put a huge spotlight on these competitors, their spouses are caught in the limelight, as well. And it's no secret that many of the women cheering on their husbands are stunning. We're taking a look at race car drivers with incredibly gorgeous wives.
Ryan Hunter-Reay's marriage to blonde bombshell Beccy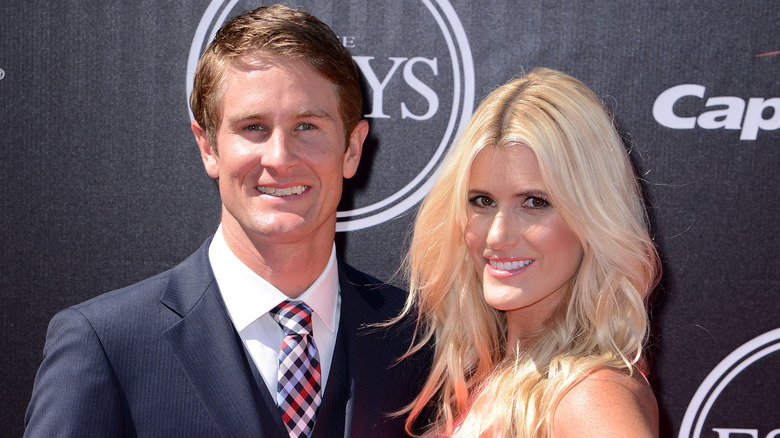 C Flanigan/Getty Images
Ryan Hunter-Reay is best known for winning the Indianapolis 500 in 2014 and the 2012 IndyCar Series Championship. He's had an impressive career, to say the least, and he holds the title for the most race wins out of all active American IndyCar drivers. When he's not driving for his Dreyer & Reinbold team, Ryan enjoys home life in Dallas alongside his gorgeous wife, Beccy Hunter-Reay (née Gordon). Married since 2011, they share three sons. 
The blonde bombshell — a former model and pit reporter with a family history in race car driving — has nothing but love for the life she created alongside Ryan. She frequently posts snaps of their family tagging along to her husband's races. "This is us!" Beccy wrote on Instagram in 2021. "Life is so much better than I could have ever imagined when I walked down the aisle 10 years ago to @ryanhunterreay. Not sure how I got so lucky. Love this man & the life we share more than anything. Happy Anniversary Boo."
While the intense schedule of being an IndyCar driver has Ryan constantly juggling work and being a dad to three young boys, he wouldn't have it any other way. "Oh, it's all about them," the race car driver told IndyCar News in 2019. "They're the priority. It's their world, not ours. I constantly get off red-eyes at 5 or 6 in the morning and I get home and I might shut my eyes for a half hour, but then they're jumping on me the moment they wake up."
Dale Earnhardt Jr.'s wife is a successful interior designer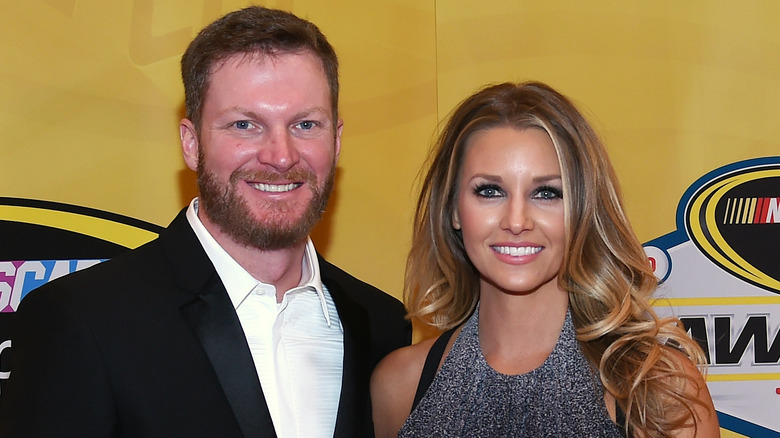 Ethan Miller/Getty Images
Dale Earnhardt Jr. has followed in the footsteps of his late father — NASCAR legend Dale Earnhardt. Dale Jr. was inducted into the NASCAR Hall of Fame in 2022, and his impressive career boasts 26 Cup series victories, including two wins in the Daytona 500 — the same race in which his father tragically lost his life in February 2001. Dale Jr. also shares the spotlight with his wife, interior designer Amy Reimann. The pair met after the race car driver hired Reimann to decorate his North Carolina home in 2010 — and the rest was history. The two stepped out publicly at the NASCAR Spring Cup ceremony in 2012, tied the knot four years later, and have since welcomed two daughters together, Isla and Nicole.
As per her LinkedIn page, Reimann got her bachelor's degree in interior design from the University of Kentucky, where she was also a part of the cheerleading team. She's also the director of Micamy Design Studio, where she offers first-class design and consulting services. The Texas native was married once before to former UK Athletics football player Tommy Cook. 
While Reimann continues to support her husband's racing career (as of this writing, he's set to compete in the 2023 NASCAR Xfinity Series), their relationship goes both ways. Dale Jr. teamed up with his wife to launch DIY Network's miniseries "Renovation Realities: Dale Jr. & Amy Earnhardt" in 2018. They're also business partners, having launched their own High Rock Vodka brand in 2022 in connection with Sugarlands Distilling Co.
Jeff Gordon married Belgian model Ingrid Vandebosch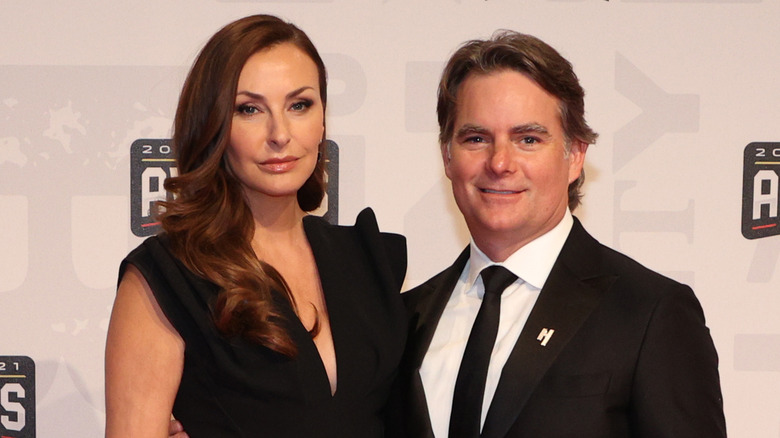 Chris Graythen/Getty Images
Jeff Gordon has made his mark on the NASCAR world in a huge way. The California native holds the third-most career wins of any professional driver, with 93 victories to date. He's the only race car driver to win four Backyard400 races, as well as one of a handful of NASCAR competitors to nab over four victories at the Indianapolis Speedway. By his side through his many career highs has been his stunning wife and former Belgian model, Ingrid Vandebosch.
Vandebosch has had an impressive career herself. The bombshell moved to Paris from Belgium in the late 1980s as her modeling career took off. She's worked for high-fashion icons like Christian Dior, as well as appeared in the likes of Elle, Marie Claire, and Vogue. She first met Gordon in 2002, and the pair went on to tie the knot in 2006 in an intimate ceremony in Mexico after two years of dating. Gordon and Vandebosch have long resided in Charlotte, North Carolina with their two children, daughter Ella and son Leo Benjamin. 
It was love at first sight for Gordon after seeing his wife for the first time on the Fourth of July in the Hamptons. "The only fireworks that were going on was between me and you," the NASCAR driver admitted to his wife with a laugh in an interview for The Insider. The model and her husband even took a joy ride together in a NASCAR Cup Series race car in 2012 to celebrate Vandebosch's birthday at the Charlotte Motor Speedway.
Jimmie Johnson's gorgeous wife is an avid art collector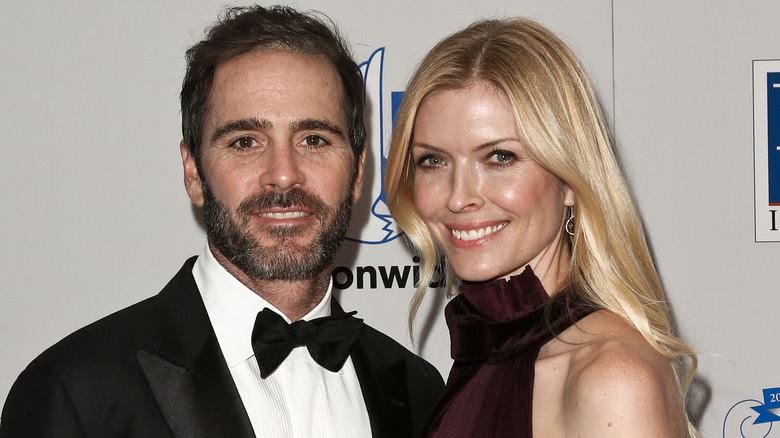 Debby Wong/Shutterstock
Jimmie Johnson is widely recognized for being one of the most successful race car drivers after achieving seven NASCAR Cup Series victories. His career highs include winning five Sprint Cup Championship titles in a row, making him the only driver to win that number of titles back-to-back. While his impressive racing career gets him noticed, so does Johnson's beautiful wife and avid art collector, Chandra Janway.
Don't let her good looks fool you — Janway also knows a thing or two when it comes to business. The University of Oklahoma alum got her degree in business communications before moving to New York City to pursue modeling. The Oklahoma native was introduced to Johnson in 2002 by fellow NASCAR driver and friend Jeff Gordon. The two went on to get married in 2004 in St. Barts and have two daughters together, Genevieve and Lydia.
When she's not supporting her husband's career on the motorway, Janway is busy collecting art. Her passion is supporting contemporary artists, telling Art Suite, "Artists who constantly push their work in a new direction inspire me the most. I am always in awe of creative humans who have the ability to reinvent their process and mindset." She went on to add, "Art has a story and is something that took time and human hands to create. There is so much beauty in artistic expression, and I love surrounding myself with it in our home." Janway also runs the Jimmie Johnson Foundation alongside her husband, an organization dedicated to funding K-12 public education.
Carl Edwards tied the knot with a woman who saves lives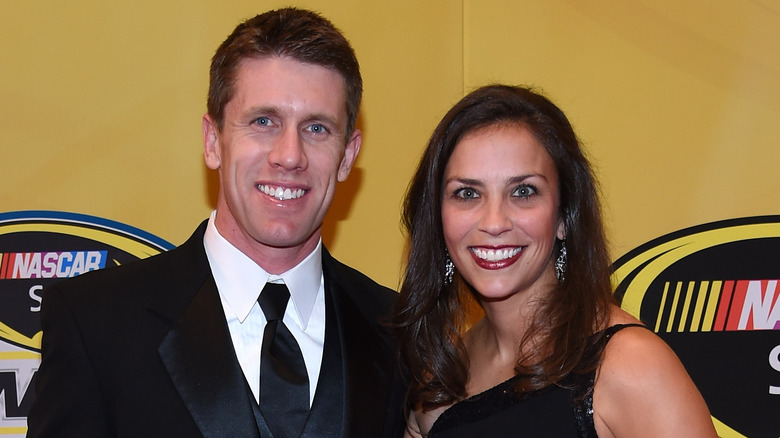 Ethan Miller/Getty Images
In April 2023, Carl Edwards was included on NASCAR's 75 Greatest Drivers List for his many victories over the years, including 28 NASCAR Cup Series wins. However, the race car driver's not the only one in his household to have an impressive career. Carl's wife, Dr. Kate Edwards (née Downey), got her medical degree from the University of Missouri-Kansas City in 2004. Three years later, she finished her training as a chief resident at the University of Missouri-Columbia in the field of physical medicine and rehabilitation.
After Carl split from former Olympic swimmer Amanda Beard in 2006, he went on to meet Kate in Columbia, Missouri, where they're both from. The pair began dating that year and tied the knot in 2009. Kate and Carl share two children together, Annie and Michael. At the time of this writing, the Edwards' tend to keep a low profile and don't have public social media accounts. However, following the birth of their second child in May 2011, Carl made a rare public comment about his gorgeous wife: Calling Kate "an amazing woman" (via SBNation), the race car driver said, "She's a great mom and I hope she enjoys this Mother's Day."
Kyle Busch met his entrepreneur wife at a NASCAR event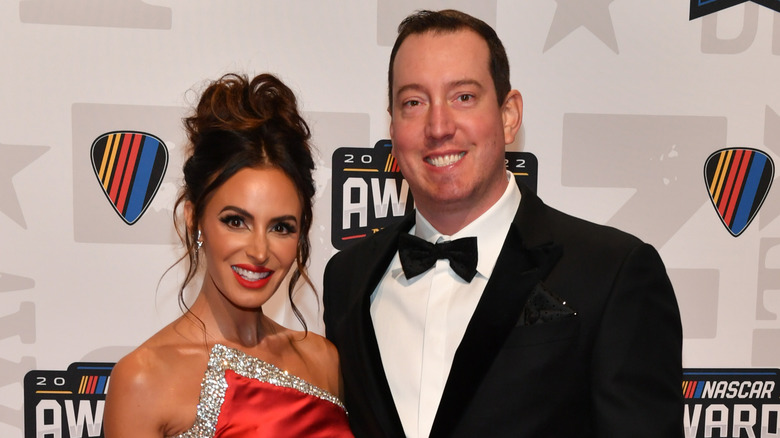 Jason Davis/Getty Images
Kyle Busch is without a doubt one of the most successful active NASCAR drivers to date. The Las Vegas native had an impressive career record of 62 wins in the NASCAR Camping World Truck Series going into the 2023 season. The only thing that turns heads more than these stats is Kyle's beautiful wife, Samantha Busch. Hailing from Indiana, she met Kyle in 2007 while working part-time at the Indianapolis Speedway as she attended Purdue University — during which time Samantha was invited to go on a joy ride around the track with none other than her future husband. Marrying in 2010, the Busches share daughter Lennix and son Brexton.
Besides being a proud mom and a huge supporter of her husband, Samantha keeps herself busy as an entrepreneur. She owns her own clothing brand Shop Samantha Busch and also co-founded the married pair's Bundle of Joy Fund, an organization that supports couples who are having trouble conceiving. The mother-of-two wrote the 2021 book "Fighting Infertility: Finding My Inner Warrior Through Trying to Conceive, IVF, and Miscarriage" about her own struggles to have children and her experience undergoing IVF.
Meanwhile, Samantha got her own share of the spotlight in 2019 when she debuted on CMT's docuseries "Racing Wives." The reality show gave an inside look into the lives of NASCAR wives as they juggle life on and off the track. While Kyle looks to secure more race car victories, Samantha runs her own lifestyle blog and lives in North Carolina with her family. 
Clint Bowyer married an accountant who turns heads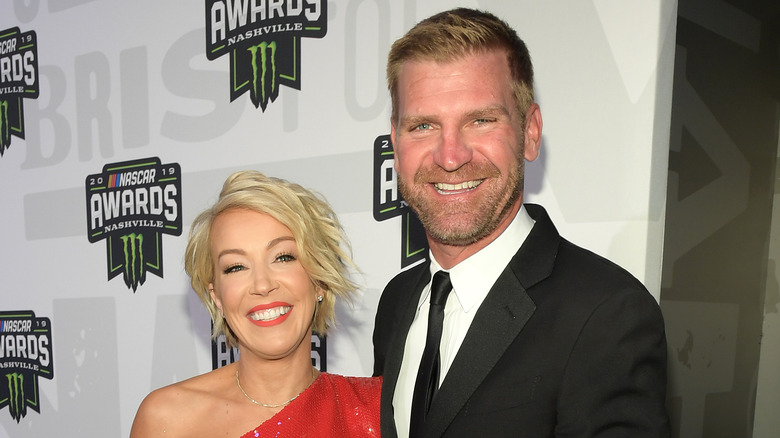 Jason Kempin/Getty Images
Former NASCAR driver Clint Bowyer has become a successful broadcaster for Fox Sports since he retired from racing in 2020. Bowyer works for the network analyzing race car drivers and their performances, and it's only fitting after having an impressive racing career of his own for several years. Bowyer nabbed 10 NASCAR Cup Series wins during his time behind the wheel, while supported by his beautiful wife, Lorra Podsiadlo. 
Podsiadlo is a New York native, and she graduated from Nazareth University in 2003. While studying for her bachelor's degree in accounting, Podsiadlo was also an avid lacrosse player, earning bragging rights as the college's 8th all-time scorer. In late 2013, Podsiadlo and the sports analyst got engaged, before tying the knot the following spring in an intimate Bahamas ceremony. The pair share two children together, Cash and Presley, and reside in North Carolina.
Though Bowyer has transitioned out of racing, Podsiadlo gushed about NASCAR on Instagram in late 2020, writing, "So grateful for everything NASCAR has done for our family! Blessed!" As per her LinkedIn page, Podsiadlo has worked as the national account manager for Travel Team USA since 2013.
Chase and Marissa Briscoe are open about their fertility struggles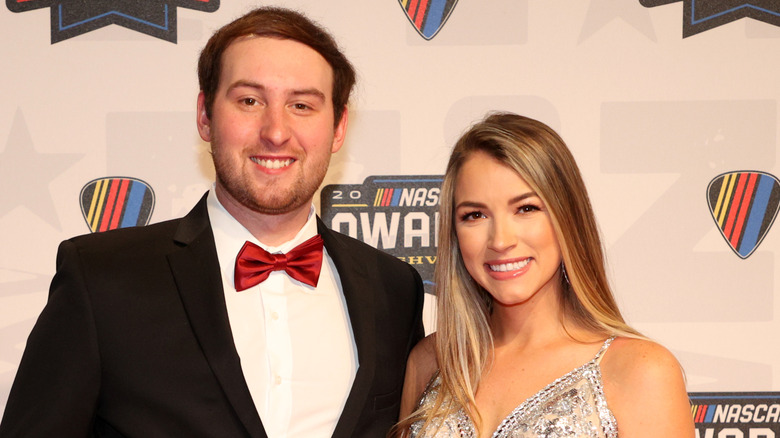 Chris Graythen/Getty Images
NASCAR rookie Chase Briscoe made headlines as the 200th Cup Series winner at the Phoenix Raceway in 2022. The race car driver would go on to compete in the 2023 season cheered on by his number one fan — wife Marissa Briscoe. Unlike some couples on this list, this Briscoes have been open about their relationship, especially when it comes to their fertility struggles. 
In 2021, Chase took to Twitter to share the news of the birth of their first child, a son named Brooks. Their journey was far from easy, however, as Marissa previously suffered a miscarriage in 2020. Per NASCAR on FOX, the couple lost a baby at 12 weeks after a routine doctor's appointment revealed their unborn child didn't have a heartbeat. Marissa later told FanSided that being a part of the NASCAR family had allowed her to shed light on the couple's story. "It's given me a platform to speak openly about my struggles with our past, with miscarriages and infertility issues," she revealed. "Not only to tell my story but to tell how I will overcome them one day. We've given back by kind of being an outlet to people on social media." 
Through all the ups and downs, Marissa stated that her faith has kept her grounded, saying, "When I feel like I'm going through struggles — I mean everybody goes through struggles in everyday life — I just turn to Him and my faith just keeps on growing."