Celebrities You Forgot Were Once Hallmark Stars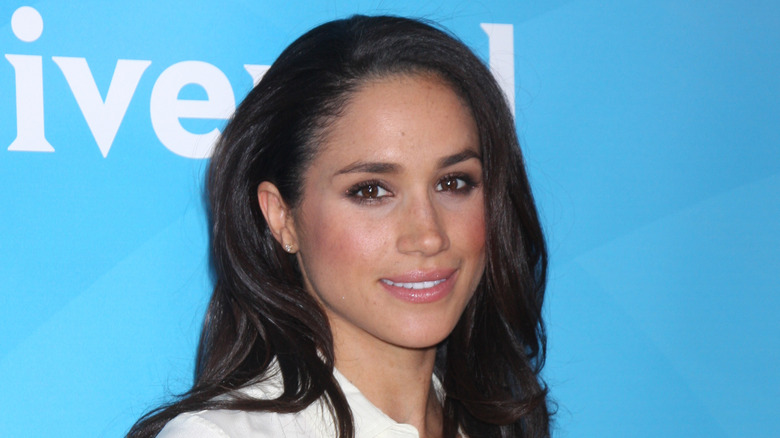 Kathy Hutchins/Shutterstock
Over the years, many familiar faces have starred in our favorite feel-good Hallmark Channel films. Lacey Chabert, Andrew Walker, Alexa PenaVega, and Cameron Mathison are among the actors who have quickly become reigning stars of the iconic network. However, there are many other celebrities who have made their mark on the Hallmark Channel at least once or twice that you may have forgotten about.
In fact, real-life royalty has even stepped foot on the set of a Hallmark TV movie. "I think Hallmark is such an amazing network to work for," Meghan Markle, Duchess of Sussex, shared in a behind-the-scenes interview with the network after starring in a second Hallmark Channel film in 2016. In a world with such cluttered content, she believes that being a part of such innocent and uplifting storytelling is something special. "It's just really heartwarming and affirming and validating," she added. 
Join us as we dive deeper into not only Markle's history with the beloved network but also several other celebrities you totally forgot once had a starring role on the Hallmark Channel.
Sarah Paulson has starred in two Hallmark Channel movies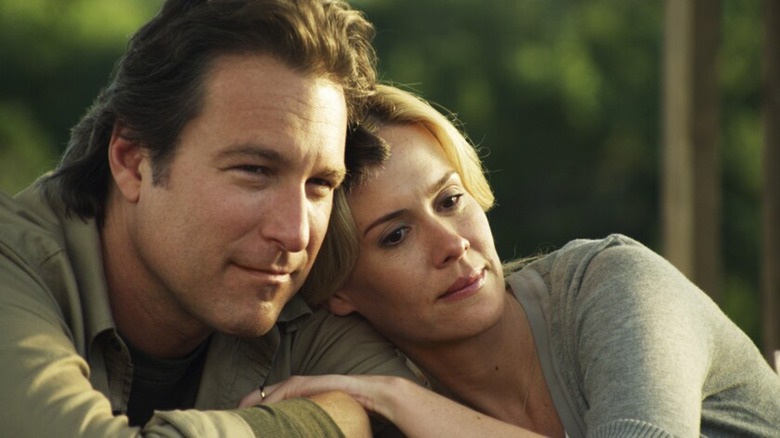 Hallmark
Though actor Sarah Paulson has become known for tackling a range of horrific roles on the set of "American Horror Story," it was actually the Hallmark Channel that gave her a role in one of her very first films. In 1995, she starred in the made-for-TV movie called "Friends At Last" about a divorced man and woman whose paths cross again years into the future.
While the synopsis may sound similar to other dramas that Paulson has been a part of over the years, the time she spent on the Hallmark set was something she'll truly never forget — especially after being able to learn so much from her co-star at the time, award-winning actor Kathleen Turner. "Getting to work with her was mind-blowing to me," Paulson gushed to Variety.
This special experience even had Paulson returning to the Hallmark Channel for a second time nearly 15 years later. In 2010, she starred alongside "Sex and the City" star John Corbett in a TV drama titled "November Christmas." In it, they play the parents of a young girl whose illness is expected to keep her from celebrating Christmas. It's then that the two decide to celebrate the holiday earlier to give the small girl a season she'll never forget — and to give audiences a Hallmark film that we will never be able to forget now, either.
Drew Scott has always had a soft spot for Hallmark holiday movies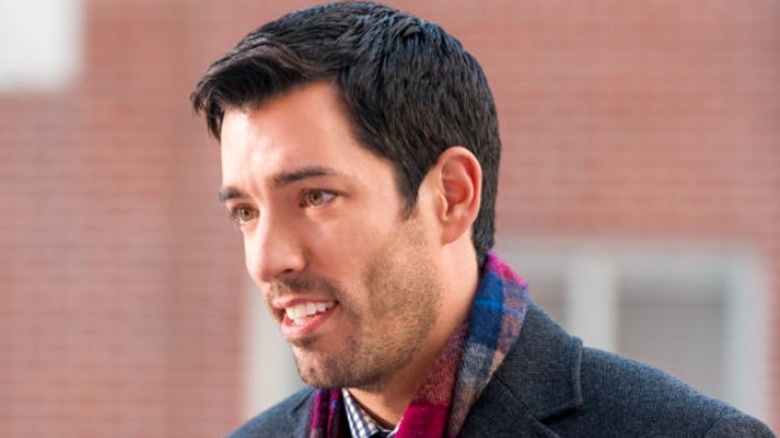 Hallmark
Many know Drew Scott as an HGTV star and half of the famous "Property Brothers" duo. However, he also once starred alongside AnnaLynne McCord in the Hallmark Channel holiday movie "The Christmas Parade."
The 2014 movie follows an entertainment reporter who is publicly embarrassed by her cheating fiancé, played by Scott. With not an ounce of Christmas spirit in her soul, she sets off toward a small town and ends up destroying the local judge's holiday display. The incident requires her to commit to community service, where she finds herself working on a Christmas parade to help spread holiday cheer throughout the town.
While Scott has always been all about adding curb appeal to city streets across the country, the holiday season may be a close second when it comes to what's near and dear to his heart. "Christmas is the biggest time of the year for our family," the HGTV star told Parade — and it all begins once they get together to watch some of their favorite holiday movies each and every year. "So what we end up doing for the holiday is we'll sit down, we'll watch a Christmas movie. And so it'll probably be 'The Christmas Parade' or one of the other Hallmark Christmas movies," he explained. "And then we'll have our big Christmas Eve feast. And then we'll sit down and watch another Christmas movie."
Meghan Markle gained some solid dating advice from her Hallmark roles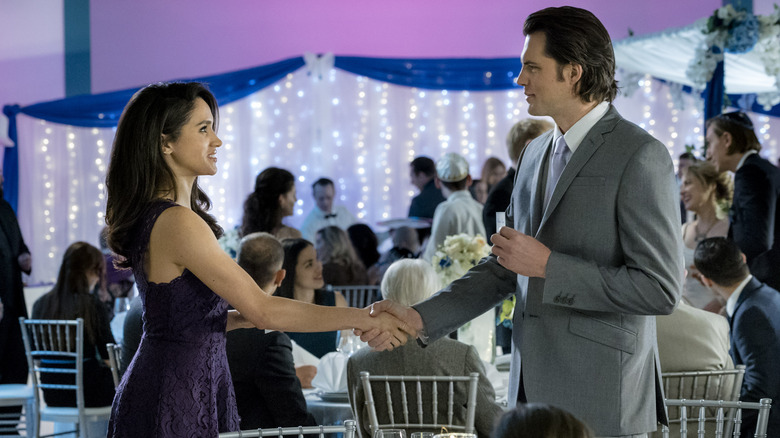 Hallmark
Meghan Markle may be known for her connection to the royal family, but before she fell for Prince Harry, she portrayed characters who were head over heels in love on the Hallmark Channel. It was during her success on the series "Suits" that she starred in two television movies for the network.
Her first Hallmark film in 2014 was called "When Sparks Fly," where she plays a big-city journalist who becomes tired of the hustle and bustle. It's then that she heads back to her hometown, and old feelings start to fly once she runs into her ex-boyfriend. "I wanted to do a romantic comedy. When the script came in, it was exactly the kind of project I wanted to be part of," Markle told TV Goodness. "It was light and easy and it was a departure from Rachel [on 'Suits'], who is so refined and polished."
In 2016, Markle made her second debut on the Hallmark Channel with the rom-com "Dater's Handbook." In it, she plays a woman desperate to find the man of her dreams with no success. After multiple failed attempts, she begins to follow a dating expert's book about meeting your match — and, as fate would have it, Markle also began dating her now-husband Prince Harry, the same year that movie was released.
Bradley Cooper made his mark on Hallmark Channel (and the Wild West)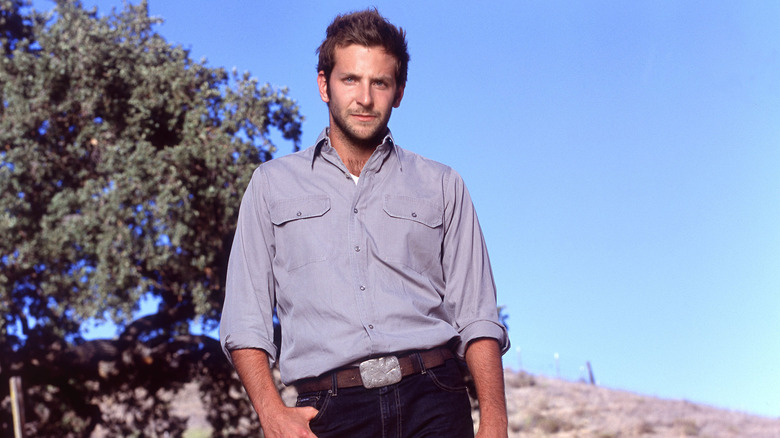 Hallmark
Long before he was an Academy Award-nominated actor, Bradley Cooper had his hand in the Hallmark Channel. Not long after being seen in the famous film "Wet Hot American Summer," Cooper moved himself from summer camp to the Wild West for the Hallmark Channel movie "The Last Cowboy." Alongside actor Jennie Garth, the two portray a father-daughter duo who are dedicated to keeping their family's cattle ranch away from tax collectors.
Though Cooper hasn't been seen on the set of another Western film since, he has played a limitless number of characters around the globe. Some of his most notable roles have been stepping into the shoes of a Marvel comic book hero in "Guardians of the Galaxy," a member of the infamous Wolfpack in "The Hangover," and a newspaper-reporter-turned-research-analyst for the CIA in "Alias."
Mandy Moore couldn't help but cry during her Hallmark Channel debut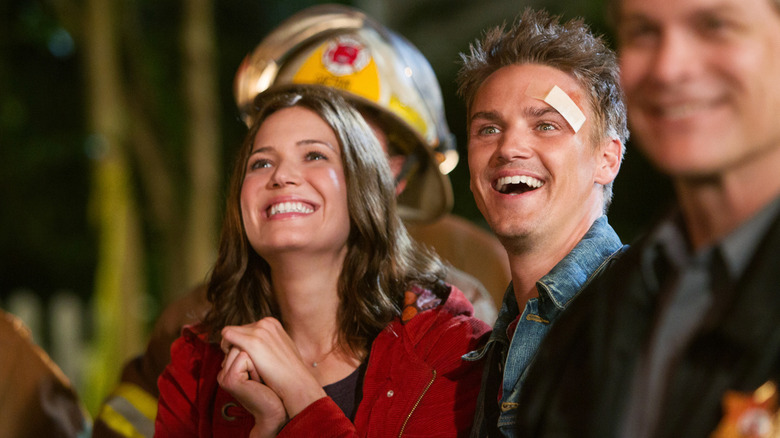 Hallmark
"This Is Us" star Mandy Moore always seems to be searching for a script that will move her, and her time on the Hallmark Channel was no different. In 2013, she starred in the TV movie "Christmas in Conway," about a man who is set and determined to make his ailing wife's last Christmas extra special.
In the film, Moore plays the wife's in-house nurse. It's a role that required the actor to not cry on command — as she does in her successful series "This Is Us" — but to instead stop herself from crying during multiple scenes in the Hallmark movie.
"It's hard because I'm such a romantic, and I'm such a sap, and I'm so sensitive, and I will cry at the drop of a hat," she said during a behind-the-scenes clip shared to YouTube by Hallmark Hall of Fame. "And having to play the role of a nurse, obviously, it's part of her job to keep it together ... I've had to sort of think about it and go 'don't cry, don't cry, hold it together, Mandy."
Carrie Fisher was seen in this classic Christmas spin-off for Hallmark Channel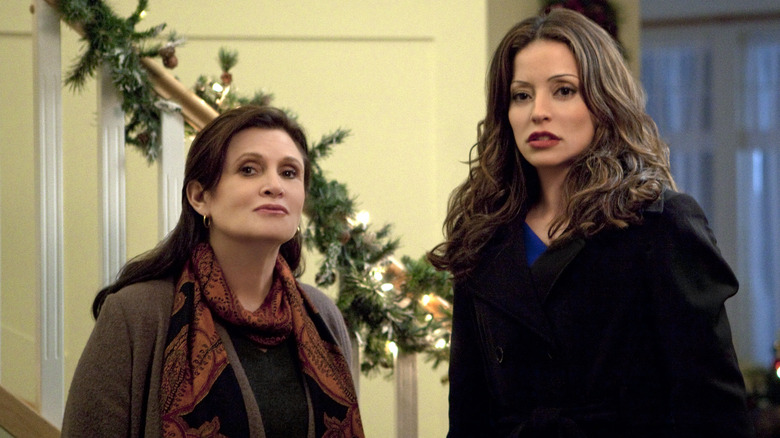 Hallmark
The holiday season certainly wouldn't be the same without a modern-day spin on "A Christmas Carol," and the Hallmark Channel delivered just that in 2012 when they cast iconic actor Carrie Fisher. The TV movie "It's Christmas, Carol!" had her portraying a ghost who is dead-set on teaching the woman who has now taken over her company a life lesson — about the past, present, and future, of course. "This is a fun character to play because she's dead," the late actor said in a behind-the-scenes video on the Hallmark Channel. "And death is the ultimate perspective."
In fact, the same type of message resonated with the "Star Wars" star after first seeing the classic film "It's a Wonderful Life." "I watch that every year," she told Naples Daily News in a 2012 interview, and it was pivotal when it came to helping her perfect her haunting character for the Hallmark Channel.
Ashley Greene can cross starring in a Hallmark Christmas movie off her bucket list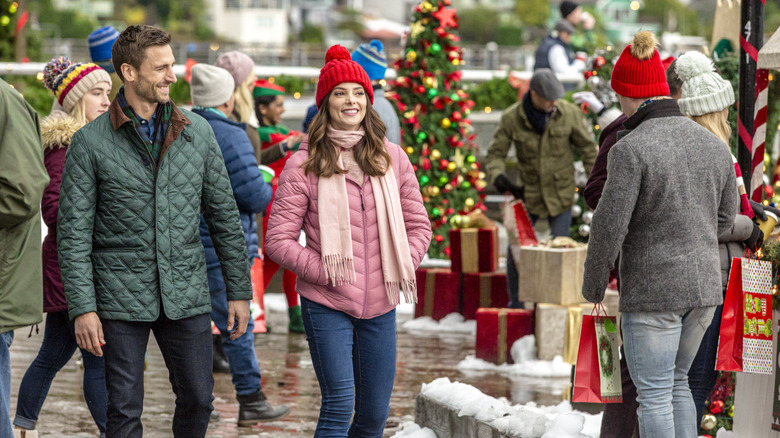 Hallmark
Actor Andrew Walker has become practically synonymous with feel-good Hallmark movies over the years, but many fans may have forgotten that he once starred alongside "Twilight" saga star Ashley Greene in one of them.
In the 2019 TV movie "Christmas On My Mind," the two play ex-fiancés who find themselves intertwined once again when Greene's character hits her head and forgets the last two years of her life. Instead of understanding that she is now single, she seeks out her old fiancé in hopes of discussing wedding plans — only to discover that the two split up years prior.
Working on a Christmas movie was something that Greene had always dreamed about for her acting career. "My family and I always have Christmas movies playing in the background all throughout December. We're one of those families," she shared during an interview with KTLA 5. "And so now I get to force them to watch my Christmas movie."
Tori Spelling tackled the role of a TV host in this Hallmark Channel movie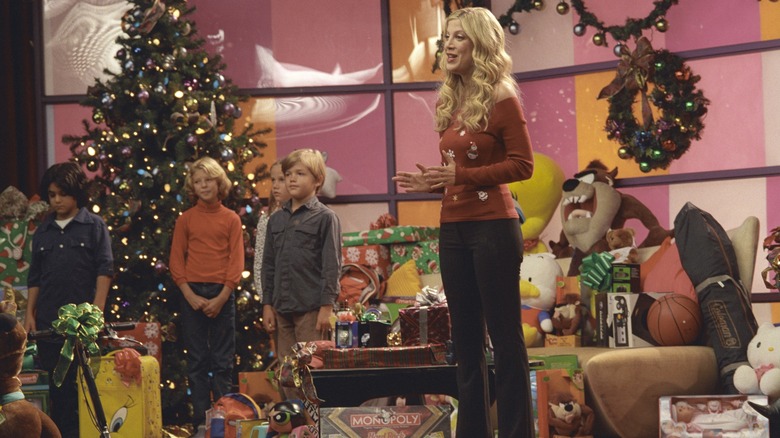 Hallmark
If there's one thing that the holiday season instills in us all, it's about cherishing the time we have with the people in our lives who are the most important to us. However, when it comes to the main character in the Hallmark Channel movie "A Carol Christmas," her values couldn't be any further from that.
The 2003 TV movie stars Tori Spelling, who portrays an arrogant talk show host bound and determined to dampen the Christmas spirit, regardless of whatever her festive co-workers say. Throughout the film, she is visited by three Christmas spirits — from the past, the present, and the future — whose combined goal is to change her feelings toward the holiday season altogether.
Just off-screen, Spelling herself had always had a unique outlook when it came to spending Christmas time in California. As a young girl, her father would pay each and every year to give his children a white Christmas just outside their front door. "It was, you know, probably 80 degrees out in L.A., and my dad took me outside and there was snow," the "Beverly Hills, 90210" star told ABC News. "At the time, I thought, 'Every kid doesn't have snow in their backyard on Christmas?'" Honestly, her childhood sounds like the perfect premise for a Hallmark Channel movie.
Zachary Levi loved the 'unique challenge' his Hallmark Channel role came with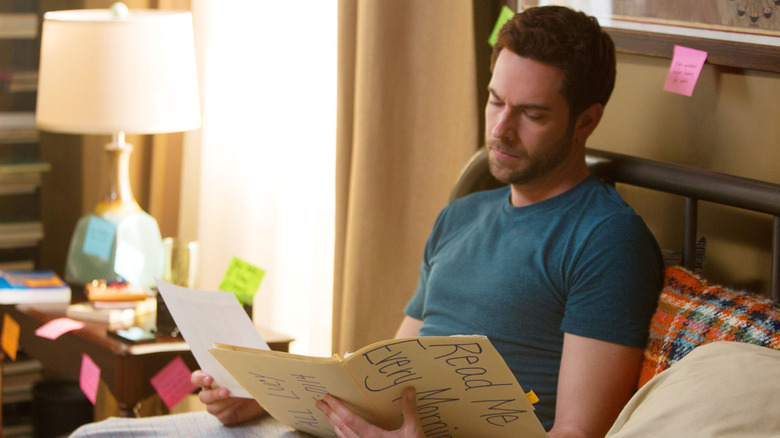 Hallmark
Shortly after the successful NBC television series "Chuck" wrapped up its time on air, star Zachary Levi could be seen appearing on another major network: The Hallmark Channel. In 2013, he had a starring role alongside Alexis Bledel in a love story called "Remember Sunday."
In it, the two find themselves falling for each other again and again. The only problem is that Levi's character can never remember anything about their romance due to his short-term memory loss. "I loved this, kind of, unique challenge of playing someone with short-term memory loss and how that affects your everyday life and, you know, the gravity of that situation," the actor explained at the time during an interview with Mingle Media TV's Red Carpet Report. "It just really spoke to me."
The emotional film marked his first and only appearance on the Hallmark Channel before heading into the Marvel Universe and even stepping into the shoes of Shazam!
Mae Whitman was still in elementary school when she starred on Hallmark Channel
Back in 1999, "Good Girls" star Mae Whitman was a busy pre-teen with multiple film and television projects in the works. One of these happened to be a starring role in the Hallmark Channel movie "A Season for Miracles." In the TV movie, she plays a young girl who has just been taken in by her aunt after her mother's drug overdose.
In the dramatic film, an 11-year-old Whitman also stars alongside the likes of Carla Gugino, Laura Dern, and Kathy Baker — and the list of Hollywood names she's co-starred alongside didn't stop there. Years prior, before she had even turned double digits, she had stood alongside George Clooney and Sandra Bullock on other film sets.
As for future characters that Whitman would like to portray one day, she would love to snag a starring role in an action film. "If there's another 'Fast & Furious' coming up, I think it'd be funny to see someone so small driving so fast," she told Entertainment Tonight in early 2023. "I'm just putting that out there." Maybe Hallmark Channel could create a similar storyline for one of their future holiday films? Just putting that out there.
Ben Savage can be seen in this 'special' Hallmark Hanukkah movie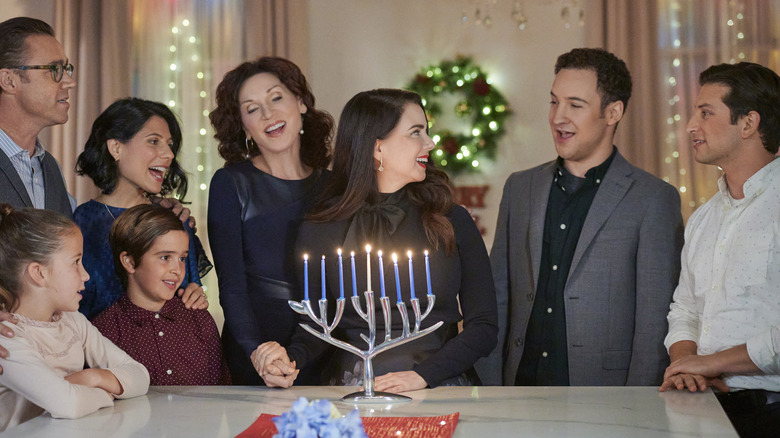 Hallmark
Hallmark Channel has always been known for its Christmas movies. However, they have made some Hanukkah movies for those who celebrate, and "Boy Meets World" star Ben Savage was even the star of one of them.
In 2020, he could be seen starring in the holiday film "Love, Lights, Hanukkah!" about a woman who, after years of solely celebrating Christmas, realizes that she's actually Jewish after taking a DNA test. Throughout the course of the film, it is Savage's character who, among others, helps her uncover her long-lost family and teaches her about Hanukkah's origins and everything it entails. "For me, this was such a special script," Savage shared during an interview on Home & Family. "It was a really lovely story about a family coming together and reuniting."
Whether Hallmark Channel releases a new Christmas movie or one about what happens throughout the eight days of Hanukkah, Savage knows that every holiday that the network showcases on screen is bound to be a special one. "There's many, many shared and similar traditions between many faiths," Savage said. "But in the end, it really is about coming together, about families, about spending time together, and about shared traditions, so I think the story is kind of universal."
LeeAnn Rimes starred in and wrote a song for this Hallmark Channel movie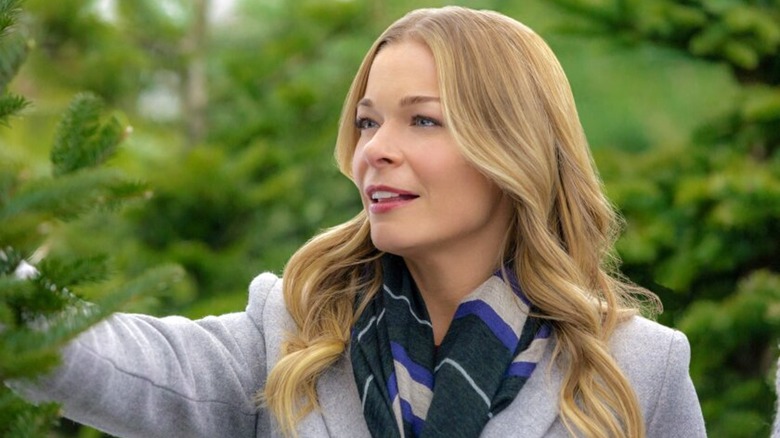 Hallmark
Singer LeeAnn Rimes has always been a fan of holiday movies on the Hallmark Channel, but she never imagined she would ever end up in one. "I was joking, actually, about a year ago, like, 'Let's just do a Christmas movie,'" she explained in 2018 during a behind-the-scenes clip on Hallmark of her network movie "It's Christmas, Eve."
The film follows a superintendent, played by Rimes, who is required to return to her hometown and find a way to cut costs for the school district. Her first order of business is to wave goodbye to the struggling music program, but begins to have second thoughts about her decision after meeting the dreamy guy in charge of the department — and also after being seen singing in the story herself.
In fact, Rimes was even able to incorporate an original song of hers into the TV movie called "You and Me and Christmas."
Adrian Grenier received the role of a lifetime from Hallmark Channel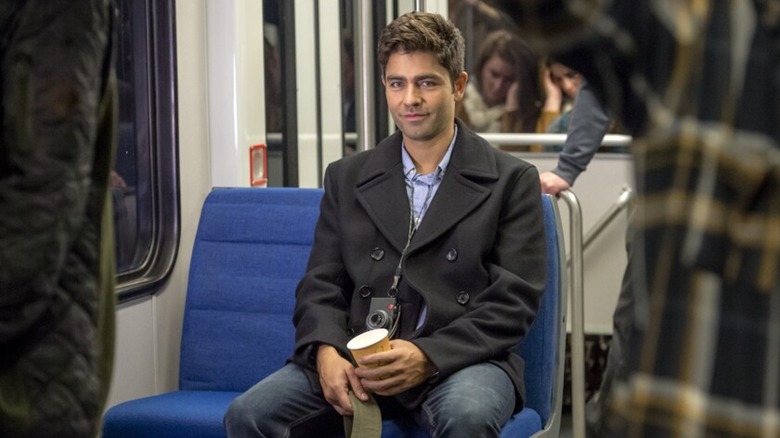 Hallmark
In 2017, Adrian Grenier took a drastic step away from the character audiences know him from on "Entourage" and joined an entirely new entourage on the Hallmark Channel. That year, he starred alongside Amy Smart in a TV movie called "Love at First Glance." In it, Grenier plays a man who has misplaced his phone on the subway. When a broken-hearted woman finds it, she makes it her mission to search for the stranger. In true Hallmark fashion, there may be some sparks that fly along the way — and they're not just coming from the railway tracks.
Two years later, Hallmark offered Grenier a role in a second film that many performers will only ever dream of. "Just when you think you've seen it all. Just when you think you've done it all, to get to do a scene at Graceland with Priscilla [Presley]," he shared of his new movie in a behind-the-scenes video on Hallmark. "It was a once-in-a-lifetime experience."
The special scene was for the holiday film "Christmas at Graceland: Home for the Holidays," working alongside Kaitlin Doubleday and Priscilla Presley. In it, Grenier plays a high-strung single father who likes to resort to a rigid schedule when it comes to his kids. However, when a nanny comes in to help him out with his life, he learns to slowly let go of structure and enjoy the holiday season with his family in Memphis.
Billy Ray Cyrus used his voice in a new way on the Hallmark Channel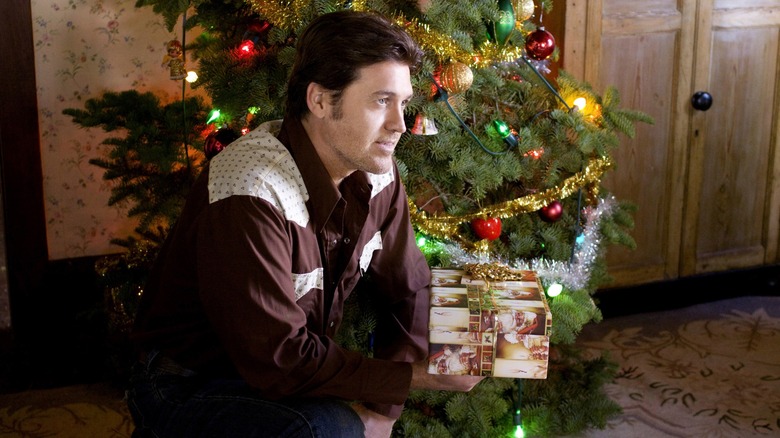 Hallmark
Billy Ray Cyrus has always been singing about Christmas, but his achy breaky heart seemed to yearn for something more in 2009. That year, the singer took on a starring role in the Hallmark Channel movie "Christmas in Canaan."
The TV movie follows his character, a struggling farmer, as he tries to get by financially. In the midst of the Civil Rights movement, he's also struggling to manage the comments coming from his racist son. In order to change his son's perspective completely, he encourages him to befriend a Black classmate to learn the true meaning of friendship.
"I love finding a script that gives me a chance to give a voice to something that can become real," Cyrus said in a behind-the-scenes video shared on the Hallmark Channel's YouTube page. In 2011, Cyrus even returned for the sequel "Christmas Comes Home to Canaan," which continues to showcase his son and new friend's life-changing relationship.