What We Know About Kane Brown's Estranged Relationship With His Dad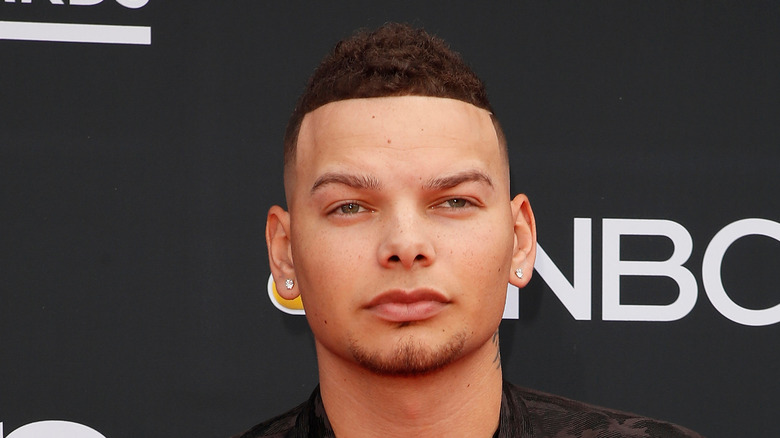 Kathy Hutchins/Shutterstock
Kane Brown isn't your typical country music singer. The Tennessee native rose to fame with his R&B and pop-influenced songs, and his eponymous 2016 album hit #1 on the Top Country Albums chart. Much of his music is influenced by his tumultuous past, such as "Learning," in which he sings about his abusive stepfather. "Had to grow up a lot faster than a normal person ... Just, you know, moving around a lot. And then no father figure. Child abuse," Brown shared with CBS about his "crazy childhood." He continued, "One of my stepdads for my punishment shaved my head bald and put aftershave on me. Made me, like, physically eat half a bar of soap, not just bite into it."
Growing up without a dad, Brown credits his mom and grandmother for his upbringing. "I was raised with strong women around me. My mom worked multiple jobs and my Nana truly was a sheriff in my town. To be able to honor them is incredible because no matter how much we struggled, my mom and Nana never let me see it," the "Good as You" singer told CMT. While Brown doesn't talk too much about his absent father, he once revealed that the reason for their estrangement was due to his dad being locked up.
Kane Brown's dad is serving time in prison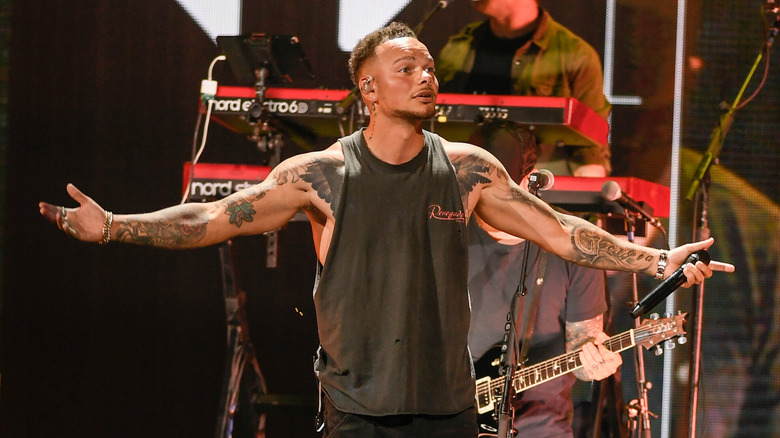 Mindy Small/Getty Images
While Kane Brown has been open about being raised by his mother and grandmother, he made a shocking revelation during a 2018 party about his father. As reported by Country 102.5, Brown told those in attendance that his biological dad had been in prison since 1996. Although the singer-songwriter has been quiet about why his father is incarcerated, it turns out they both share the music gene. "He's a drummer, which I didn't even know. He brags about me and talks about how good he is on the drums. I always joke with him and say that I'm going to hire him when he gets out," Brown told Billboard (via Pop Culture).
Brown didn't grow up completely without a strong male presence in his life. His song "Pop's Last Name" is a tribute to his grandfather, who was there for him when he needed it. "He was my only father figure because my dad's been in prison since I was a child. He was the guy that came and taught me baseball, you know, took me on drives," Brown revealed on "Today's Country Radio With Kelleigh Bannen" (via ABC Audio). Growing up without a father isn't keeping Brown from being the best dad he can be. In 2019, he welcomed his first daughter Kingsley with his wife Katelyn Brown, and was inspired to write a song just for her.
Kane Brown is a doting father to two daughters
After his daughter Kingsley was born, Kane Brown wrote "For My Daughter" in honor of her. "That song came from the heart. We were writing it ... we didn't have a title [and] I said, 'You know what, I grew up without a dad and I just want to be the best one I can be,' and that's just kind of the way we wrote that song," he shared with Entertainment Tonight. Kane officially became a dad of two when his second daughter, Kodi Jane, was born in December 2021. "New family member. welcome to the family Kodi Jane. secrets finally out," he shared on Instagram, posing next to his newborn and his wife, Katelyn Brown.
Kane's past continues to inspire him to be there for his daughters. "[I] always knew that I was gonna try to be there. I just always wanted to give them the life that I never had," he told Gayle King on "CBS Mornings" (via People). The "Thank God" singer called being a father "amazing," per ET Canada. He gushed, "My one-year-old has a crazy personality now, smiling all the time saying daddy. My three-year-old tells me she loves me if I get her juice. 'I love you, Dad' is like the best feeling in the world and just playing and running around the house. Her scream is so loud. It hurts your ears, but it's just fun."