DJ Khaled's Son Asahd Lives An Extremely Lavish Life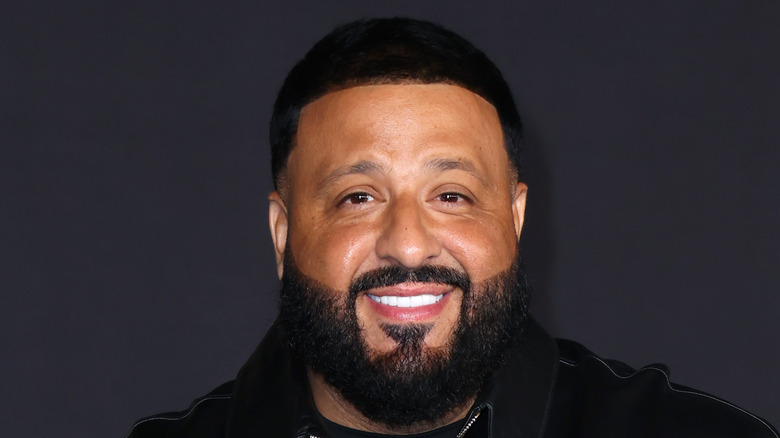 Maury Phillips/Getty Images
DJ Khaled's son, Asahd, can sing "All I Do Is Win" at the top of his lungs because it's the truth. Ever since he was born, Asahd has lived a life man can only dream of.
DJ Khaled and his wife, Nicole Tuck, welcomed their first child, Asahd, in October 2016, per E! News. The famous producer documented the entire birth on Snapchat and even made sure to play some of his most famous songs as his wife gave birth to their son. Even before Asahd was born, DJ Khaled was living the most lavish life with private jets, extreme bling, and attending some of Hollywood's hottest events. While some celebrities choose to keep their childrens' lives private, DJ Khaled knew even before the birth that he wanted to show off his first kid.
According to People, just months before Asahd was born, the "Wild Thoughts" producer shared his plan to spoil his first kid. He said, "I want to spoil our kids and give them everything. There's no limit to the spoiling that I'm going to do. I'm going to spoil them to the minute they in my hands. I'm going all out." DJ Khaled wasn't lying about giving Asahd everything he could wish for. From the moment he was born, the budget to spoil the young icon was unlimited as he has been dripped out in the fanciest clothes and lived an extremely lavish life.
Asahd's birthday celebrations have been a kid's dream come true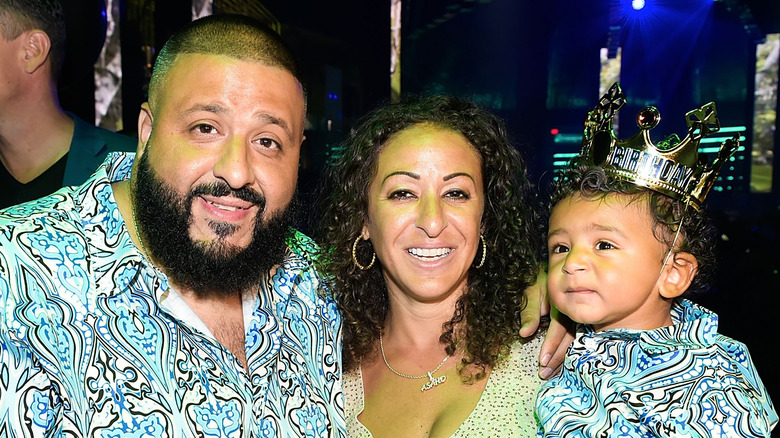 Romain Maurice/Getty Images
Asahd Khaled is only six years old but has had enough birthday celebrations to last a lifetime. Each year, the young icon's birthdays seem to get bigger and bigger. For his first birthday, his parents, DJ Khaled and Nicole Tuck, threw the young child a jungle-themed birthday party, per Billboard. This doesn't seem too unusual of a birthday, but what makes Asahd's different is all the added experiences. For one, it was thrown in a nightclub, there were mini cars for the kids to drive around in, and DJ Khaled couldn't have a jungle theme party without bringing in real-life tigers. As if all this wasn't enough, Asahd got a $100,000 gift from his parents after they gave him an 11.5-carat Frank Muller diamond watch, per Billboard.
Asahd's first birthday was just a taste of what the young child could expect in the years to come. Each year, Asahd's birthday celebrations seemed to get more extravagant. For his second birthday, DJ Khaled had rented out an entire baseball stadium to throw a carnival-themed birthday, in addition to introducing the Khaled family's new charity, per People. He shared, "My son is the greatest gift of life, our children are the world's biggest blessing, so I am so grateful to be able to celebrate his life with a carnival..." As Ashad gets older, we can only imagine the extravagant birthday celebrations that are to come.
Asahd has made some high-end business deals
Major key alert! Asahd hasn't even reached double digits yet, but he is already making money moves. At just 11 months old, Asahd was the executive producer on his father's album "Grateful," per XXL magazine. Asahd continued to build up his resume because at two years old, he executive produced his second album with his father called "Father of Asahd," per CBS Mornings. Now, the young child wasn't going to the studio and controlling the mixing board, so it may seem strange that he is listed as an executive producer, but DJ Khaled has his reasons why. He shared, "As a parent, you're supposed to set up your son, your daughter, and give them security. You have to raise them with love but as my duty, I need to set up his future." Although it seems unlikely that Asahd will ever struggle with making money, DJ Khaled wants to ensure that he never has to worry about finances.
It's not just music that Asahd has business ventures in, but also company collaborations. At just a year old, Asahd became the youngest collaboration with the iconic brand, Jordan, per HypeBeast. DJ Khaled shared, "Today, we are blessed to see my son lock in his big deal. He is officially locked in a deal with Jordan ... Asahd got his own Jordan deal." From clothing and accessories to sneakers, Ashad was in his bag and even had another collaboration with the brand in 2022.