The Truth About DJ Khaled's Wife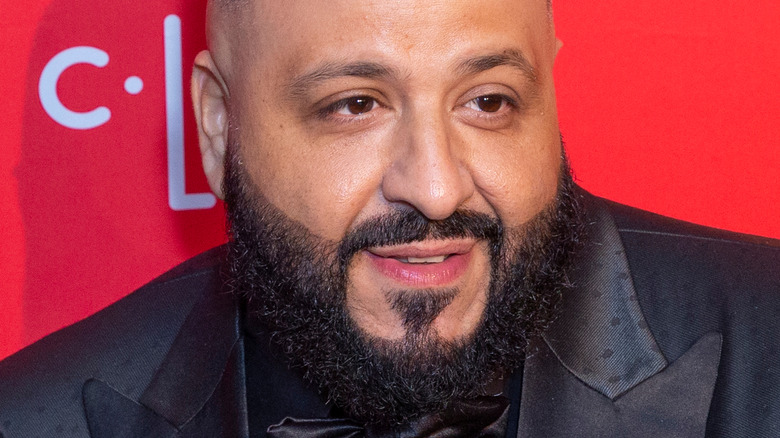 Lev Radin/Shutterstock
For over a decade, DJ Khaled has played an important part in shaping modern hip-hop culture. With a boisterously delivered "WE THE BEST!" pervading his music, the DJ-slash-record producer has not only made a name for himself, but he has also established a unique sound that is undisputed amongst contemporary hip-hop heads. With frequent collaborations alongside high-profile artists such as Lil Wayne, Rick Ross, and Drake, Khaled's undeniable work ethic and synergetic persona have established him as a top veteran of the industry.
And whenever Khaled isn't preaching about "major keys," who "they" are, or how he and whichever featured artists on his tracks are "the best," the entrepreneur is busy being a multi-platinum recording artist and most importantly, a loving partner and father to sons Asahd and Aalam. Although Khaled (alongside Asahd) has lived under the spotlight for quite some time now, the rest of the record producer's family falls back into the shadows for the most part — perhaps preferably at the artist's behest.
They say behind every great man is a great woman, and such is the case with Khaled and partner Nicole Tuck. Tuck, who remains relatively private, has stuck alongside Khaled since the 1990s and has seen her partner rise to superstardom before her very eyes. And though she maintains her privacy as opposed to her husband, we've got you with the inside scoop. So who exactly is Nicole Tuck? Read on to learn more!
Nicole Tuck is a businesswoman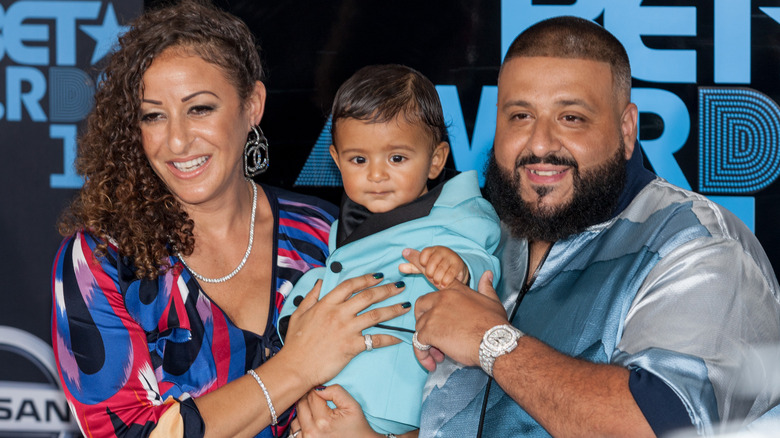 Jamie Lamor Thompson/Shutterstock
While DJ Khaled is busy making music, writing books, and ravaging social media (he was even making online content during son Asahd's birth!), wife Nicole Tuck is not slouching around. According to her LinkedIn profile (as confirmed by Heavy), Tuck plays no games when it comes to her business and educational endeavors.
A New York native (hailing from New Rochelle to be exact), her LinkedIn profile indicates that she attained her bachelor's degree in fine arts from Marymount Manhattan College in 2003, while also earning her master's in education from Fordham University in 2005. She has gone on to start her own fashion brand, ABU Apparel, which stands for "Always Be U." In regards to the name, her profile reveals that she picked the three-letter title from the Arabic word meaning father.
However, judging by ABU Apparel's Twitter profile, the company is no longer active, as they have not tweeted since 2013. Having hubby DJ Khaled as her brand ambassador didn't prove to be a boon either, if Instagram is any indication.
Nicole Tuck was dealt a family tragedy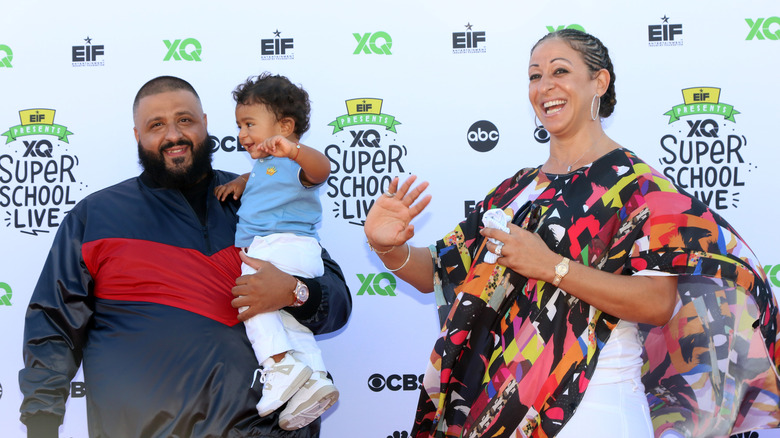 Kathy Hutchins/Shutterstock
On her LinkedIn profile, Nicole Tuck further opened up about her "bi-racial" background and how her father inspired her clothing brand. "When I learned that Abu meant father in Arabic, my inspiration grew! My father has an amazing drive and [hard] work ethic, while always having high spirits and never forgetting to wear great clothes, no matter what occasion," she wrote in her profile description. "He also taught me how important it was to be true to myself, hence always be you!" she continued.
On a tragic note, Tuck's brother, Jonathan, was fatally shot in 2018 after attempting to purchase a small amount of marijuana. According to Page Six, the incident occurred when, upon arrival at the dealer's Bronx abode, killer Richard Jimenez ran into the apartment in an attempt to rob the marijuana dealer. Aiming to pistol-whip Jonathan in the process, Jimenez's gun accidentally went off and killed the 25-year-old.
As Tuck was "eight-months pregnant" at the time, she could not attend Jimenez's sentencing — nor did Tuck's parents, as it was too painful for them. In a letter written to the court, however, Tuck wrote, "A life for a life" and "We do not agree to any leniency in sentencing." "We do not ever want to see the face of the person who took our loved one away," she added. The 22-year-old Jimenez, who "sobbed uncontrollably" and appeared to be remorseful before the judge, was ultimately sentenced to 20 years in prison. Tuck doesn't seem to have commented publicly on the tragedy.