The Real Meaning Behind 'Popstar' By DJ Khaled Ft. Drake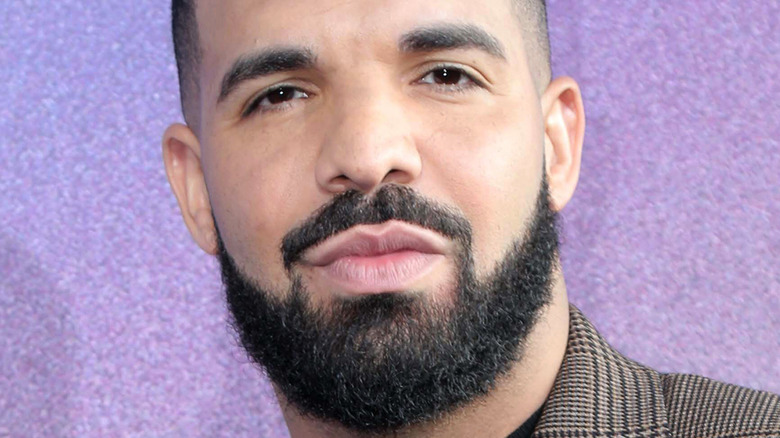 Kathy Hutchins/Shutterstock
Drake may technically be a rapper by trade, but for all intents and purposes, he is a pop star. According to Spotify, every one of his full-length albums has topped the charts around the world, and his most recent release, "Certified Lover Boy," appears poised to do the same. He was also the first male artist to have three songs debut at the top of Billboard's Hot 100.
Over his decade-long career, Drake has collaborated with numerous other musical stars, including Jay-Z, Lil Wayne, and his now-rival Kanye West. In 2020, he collaborated with DJ Khaled on the single "POPSTAR" from Khaled's album "KHALED KHALED." Pitchfork described the single as a bit of a tonal shift for Drake, who seemed to be embracing and relishing in his pop star status. The music video, starring Justin Bieber in Drake's place, shows Bieber living the lavish pop star life. But what does the song really mean? Let's take a look.
'POPSTAR' is pretty upbeat for a Drake song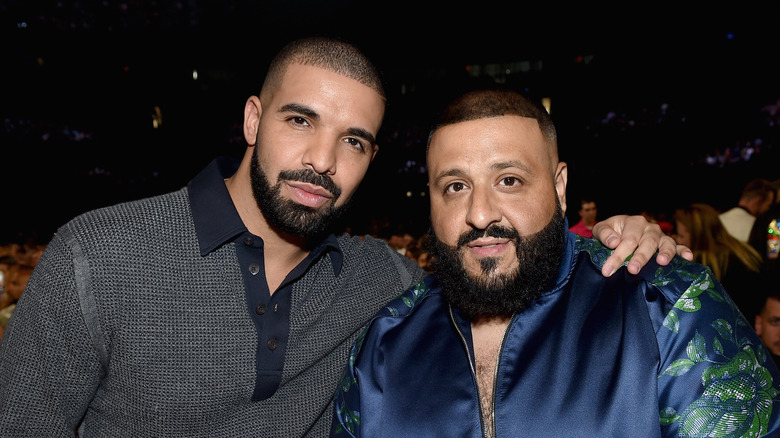 John Shearer/bbma2017/Getty Images
Although Drake seems to look at the upsides of his success in "POPSTAR," it wouldn't be a Drake song without also mentioning the downsides. The track begins with Drake complaining about women constantly calling his phone: "...like I'm locked up, nonstop," he sings, per Genius. This evokes a similar message to that of Drake's song "Fake Love," which is about the multitudes of people who only want to be close to him because of his success. "I got fake people showin' fake love to me / Straight up to my face," he raps on the 2016 single, per Genius. 
It's clear that Drake is able to see through the self-serving hangers-on around him. To onlookers, it appears as though pop stars have the perfect life surrounded by friends and fans, when in reality, it is in fact quite isolating.
Later in the verse, Drake boasts about his Visa card, which "can take as many charges as it needs to" because it's "platinum just like all of [his] releases." Here, Drake is playing into the traditional hip-hop trope of bragging about being surrounded by money and women, a departure from the more melancholy Drake we have become accustomed to.
Has Drake sold out as an artist?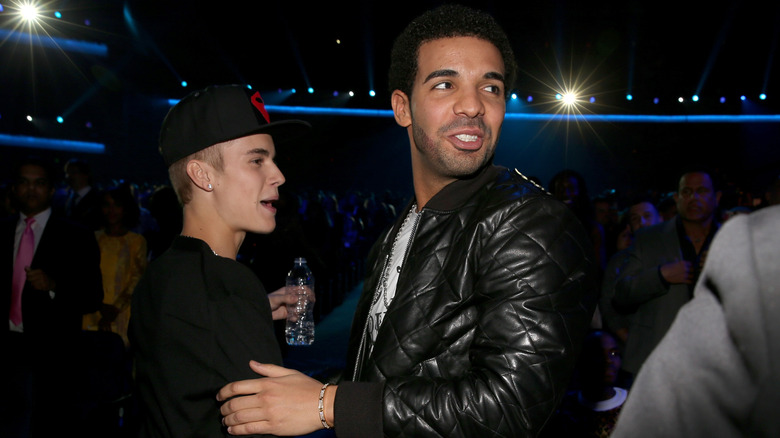 Christopher Polk/ama2012/Getty Images
The second verse of "POPSTAR" has more braggadocious lyrics. "Two, four, six, eight watches, factory, so they appreciate," he raps in a play on the classic cheerleading chant, per Genius. However, in this case, he's referring to the value of his watches appreciating over time. "Sh*t don't even usually get this big without a Bieber face," he continues in a later line, comparing his own looks to that of fellow Canadian Justin Bieber. Bieber is a prototypical pop star: baby-faced, conventionally attractive, and white, making Drake all the more impressed that he himself has reached that same level of success.
But not everybody is impressed. Pitchfork panned Drake in its review of the single. "Funnily enough, by accepting pop, Drake pens one of the laziest rap songs of his career," they wrote, saying that Drake's massive mainstream success has made him complacent as an artist. "There is a listlessness to his performance, the shrug of a man whose every utterance goes platinum."
And perhaps that is the entire point of the song "POPSTAR." Drake no longer has to be true to himself as an artist because he has reached a level of celebrity where everything he touches turns to gold.