Zoe Kravitz Calls Past Kiss With Lily Allen An 'Attack'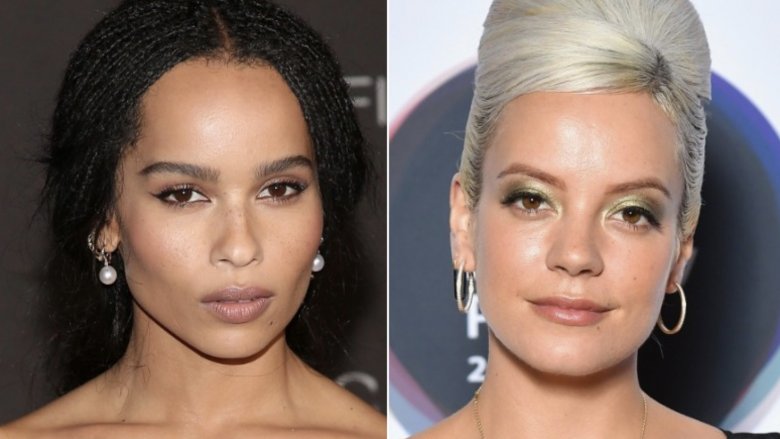 Getty Images
Actress Zoë Kravitz spoke out about her alleged past with pop singer Lily Allen — and she wasn't afraid to throw a lot of shade.
On Tuesday, Nov. 13, 2018, Kravitz appeared on Bravo's Watch What Happens Live With Andy Cohen with her Fantastic Beasts: The Crimes of Grindelwald co-star Eddie Redmayne. While answering questions from viewers, one caller asked Kravitz if Allen had warned her that she'd written about them kissing in her memoir, My Thoughts Exactly. Kravitz's response? "Who's Lily Allen?" she asked, looking at the camera with a straight face.
Opening up, the 29-year-old daughter of rock star Lenny Kravitz and The Cosby Show actress Lisa Bonet told Redmayne and host Andy Cohen, "If by 'kissing,' she means 'attacking,' then yes, she kissed me. She attacked me."
Elaborating, Kravitz said that Allen had made it seem like she'd "wanted it" in her book, but, clearly, Kravitz did not.
As noted by Us Weekly, Allen, 33, wrote in her book that she and Kravitz "went out partying and ended up kissing" while she'd been on tour in 2014. At the time, Allen was married to Sam Cooper. According to People, Kravitz had opened for Allen's concerts with her band, Lolawolf.
When Cohen asked Kravitz if she's read Allen's book, which was released in September 2018, the actress replied, "I don't think anybody read the book." Ouch!
So, how did Redmayne react to Kravitz's harsh words for Allen? After Kravitz initially answered the caller's question, Redmayne quickly said, "She's the voice of our generation, by the way!" He added, "I love Lily Allen." Kravitz then turned to him, shook her head, and said, "No, you don't."
Kravitz previously made headlines in late October 2018, when she casually announced her engagement to Nocturnal Animals actor Karl Glusman, 30, in her Rolling Stones cover story. "Oh yeah, I'm engaged," she told the interviewer after the writer noticed a big sparkler on her ring finger. "I haven't told anyone yet — I mean, I haven't told the world. I wanted to keep it private."