Is Kardea Brown Engaged? All About The Food Network Star's Love Life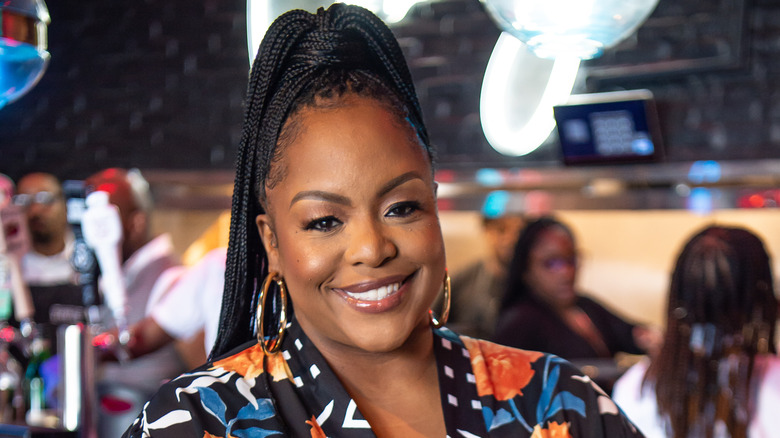 Marcus Ingram/Getty Images
When it comes to the secrets of epic Southern fare, Kardea Brown is an open book. Her love life? Not quite so much. However, in January 2023, the Food Network star took to Instagram to reveal some exciting news: She's engaged! The news was certainly worth celebrating for fans of Brown and offered a rare peek into her typically private personal life.
As fans of Brown will likely have gauged over the years, though she doesn't keep things completely under wraps, she's certainly partial to staying lowkey. Granted, in a 2020 episode of "Delicious Miss Brown," her boyfriend at the time, billed only as Nassir, made an appearance. No word if that was the same boyfriend who, per Garden & Gun, got her in contact with Food Network in the first place. However, given her track record of keeping things relatively close to her chest on social media, something tells us Brown has no plans of setting the record straight on that. 
Having said that, when it came to her engagement, Brown couldn't help but share the sweet Instagram video of her now-fiancé getting down on one knee just as she and her loved ones rang in the new year. It certainly seems as though she's known her husband-to-be is the one for a while, as he has appeared on her social media on several occasions. The details of their relationship may be limited, but it's clear the couple is very happy together.
She's engaged to Bryon Smith
Despite sharing the video of her proposal with the world, Kardea Brown nonetheless maintained some of the privacy she's known for when she did. In place of tagging him or sharing his name in the caption, she simply referred to her future hubby as, "The love of my life." Thanks to friends of the couple who shared their well wishes in the comments, however, we can confirm that her fiancé is Bryon Smith. 
Though Smith isn't typically tagged by Brown, he has made a number of under-the-radar (AKA untagged) appearances on her Instagram in the past. For starters, in July 2022, she shared snippets of their anniversary trip to Mexico (countless shots of their meals throughout the trip included, of course). Then, that October, she shared a sweet montage of some of their moments together in honor of his birthday. Just over a week later, she shared another video of them heading to Wisconsin to see a Packers game — her birthday gift to him.
As for Smith himself, he also keeps a fairly low profile. His Instagram profile is set to private, and his X account has just one tweet, posted back in 2021. Clearly, keeping things on the down-low is something these lovebirds have in common. That's not the only thing they seem to have bonded over, though ...
... and naturally, her fiancé is a foodie
While Bryon Smith's Instagram is private, one thing he does mention in his bio is that he's a foodie. It's just as well that he's marrying a Food Network star, then! 
Kardea Brown has shared a number of hints by way of her social media that she and Smith bond over good food. In the video documenting their anniversary trip, she made a point of including a number of their meals. What's more, it's clear they enjoy cooking together. In December 2022, just days before the proposal, she shared that they'd spent Christmas morning in the kitchen. "My honey helped me make breakfast for our family," she noted in an Instagram post. That's not all, though. In March 2023, she gushed over a dinner he'd made for her and her grandmother via Facebook, and the following month, he made an appearance on "Delicious Miss Brown." Yup — all signs point to these two being a match made in foodie heaven.
On that note, it's probably goes without saying that this couple's nuptials will require some seriously epic catering. And, it's safe to say that's been top of mind for Brown, since the proposal. As she joked in one Instagram video's caption, "Btw who's going to cater our wedding?!!!" Whoever snags the job will be under some serious pressure. Then again, something tells us this bride will be happy to share pointers in every tasting leading up to the big day.