Epic On Field Kisses We'll Never Forget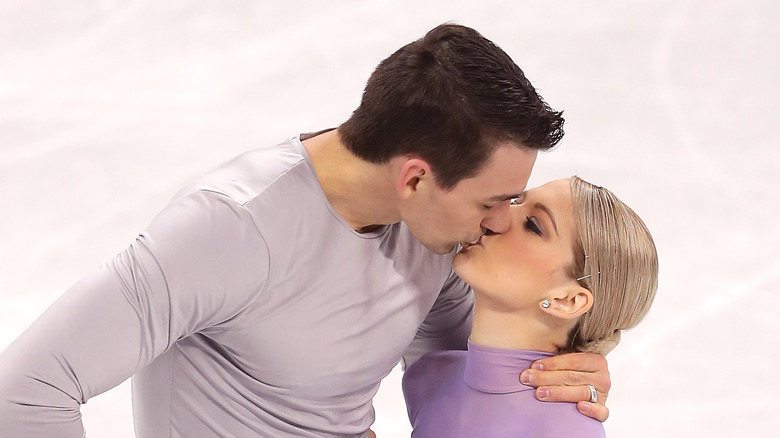 Richard Heathcote/Getty Images
These days you're just as likely to see someone locking lips at a sports game than you are in a rom-com. Thanks to the advent of the kiss cam in the 1980s, anyone who attends a basketball or baseball game with their other half should be prepared to pucker up in front of thousands of cheering spectators. It's also become the norm for anyone celebrating a victory to drag their other half out of the crowd and give them a smooch.
But not every public display of affection you see on the field, pitch, or court is necessarily romantic. In fact, it's more than likely to be a strictly platonic expression of joy with a teammate, or in some cases even a rival, that's simply a byproduct of getting caught up in the heat of the moment. From Russian relay runners puckering up on the podium to married American ice skaters celebrating Valentine's Day, here's a look at 14 of the most memorable.
Joe Burrow kisses Evan McPherson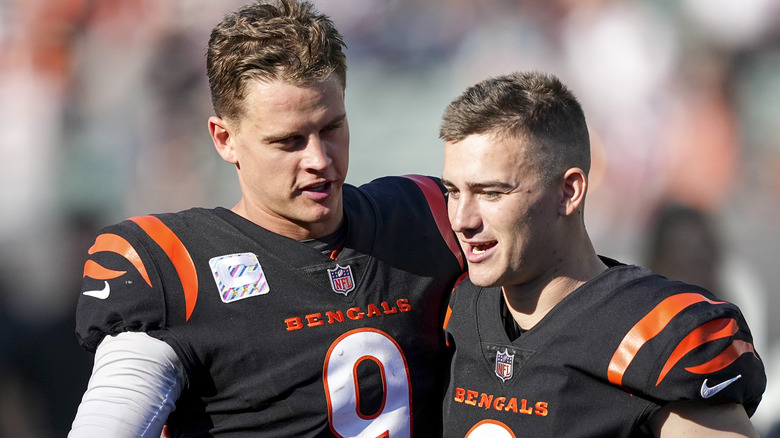 Dylan Buell/Getty Images
In 2022, Evan McPherson helped the Cincinnati Bengals reach the AFC Championship for the first time in 33 years after scoring a last-minute field goal in a 19-16 victory over the Tennessee Titans. Understandably, his teammates were thrilled when they saw his winning kick sail between the upright posts. But while most opted for a pat on the back or a man hug, one decided to express his joy via his lips.
Yes, as captured on camera, an extremely excited Joe Burrow decided to plant a smacker right on McPherson's forehead. And the quarterback was just as effusive when asked about the hero of the hour in a post-match interview, telling the Cincinnati Enquirer, "He came in and we knew exactly what we had in camp. You can tell how a kicker is when he walks in the building and how he walks, how he talks to people. That guy's unbelievable."
You can understand Burrow's enthusiasm. Not only did McPherson score the vital winning kick, but he also made three other field goals in the playoff victory. And the rookie kicker had already made history by setting a record for the most field goals of more than 50 yards in a single season.
Diego Maradona 'brutally' kisses Claudio Caniggia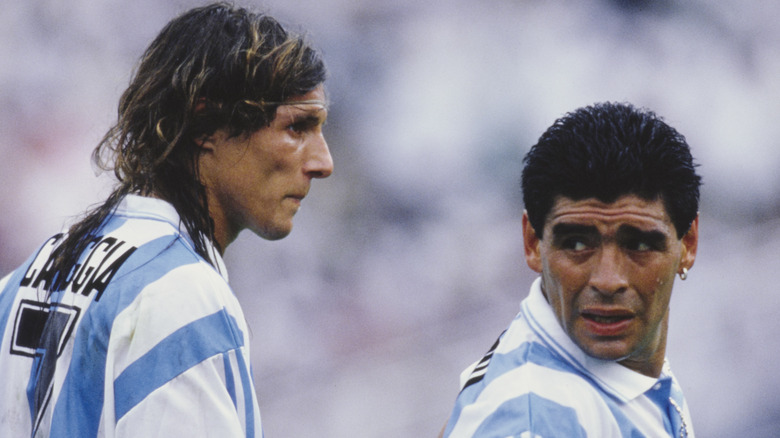 Michael Kunkel/Getty Images
One of the soccer world's most famous on-field kisses occurred in 1996 when the legendary Diego Maradona came good on a promise he made to his Boca Juniors teammate. The diminutive striker, considered by many to be one of the greatest of all time, had apparently told Claudio Caniggia that if he scored against rivals River Plate, he would give him a "brutal" smooch. Caniggia ended up scoring three goals in the Argentinian league's fiercest derby and Maradona undeniably stuck to his word. This wasn't the only time that the World Cup winner would embrace his fellow international in such a way, though.
Indeed, that very same year Maradona once again locked lips with Caniggia after he put Boca Juniors in the lead against Velez Sarsfield. Jose Luis Chilavert, the latter's goalkeeper certainly wasn't impressed, though, telling the Los Angeles Times, "I don't agree with two men kissing each other on the lips. Football is cause for joy, but let's not confuse matters." Sadly, for the amorous pair, their kiss on this occasion didn't spur them on to victory. Boca Juniors ended up losing 5-1 and Maradona was even issued a red card for dissent.
Ksenia Ryzhova and Yulia Gushchina's kiss sparks controversy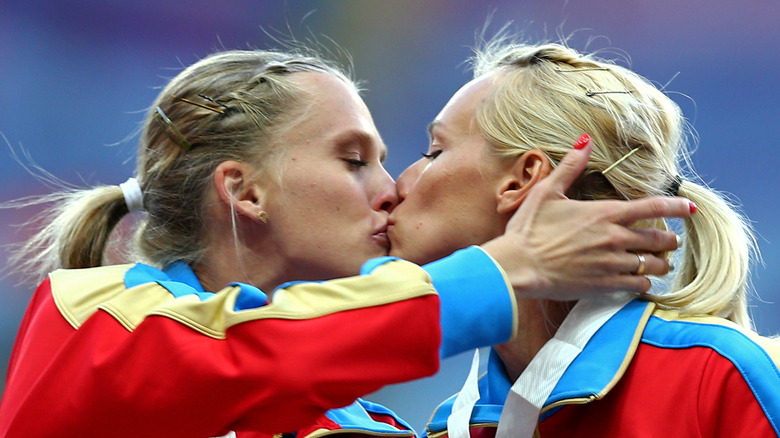 Paul Gilham/Getty Images
In 2013, Ksenia Ryzhova and Yulia Gushchina celebrated guiding Russia to 4x400 women's relay gold at the World Championships by giving each other a kiss on the lips. Of course, with the event being held in their homeland, a country renowned for its anti-gay propaganda law, their public display of affection was seen just as much as a protest as a congratulatory act.
And the two athletes continued to cause controversy when they shared a kiss on the podium while accepting their medals at Moscow's Luzhniki Stadium. However, at a press conference Ryzhova insisted (via Fox Sports) that there was nothing more than platonic love between the pair: "Yesterday, I was telephoned 20 times by various publications and instead of congratulating me they decided to insult me with these questions. Myself and Yulia are both married and we are not having any kind of relationship."
Ryzhova, who revealed she'd been friends with Gushchina for eight years, then made it even more crystal clear that all the gossip was completely unfounded: "The storm of emotions going through us was incredible. And if we, accidentally, while congratulating each other, touched lips, excuse me. We think the whole fuss is more of a sick fantasy not grounded in anything. This insults not just us but our trainers."
Isiah Thomas and Magic Johnson repeatedly kiss each other on the cheek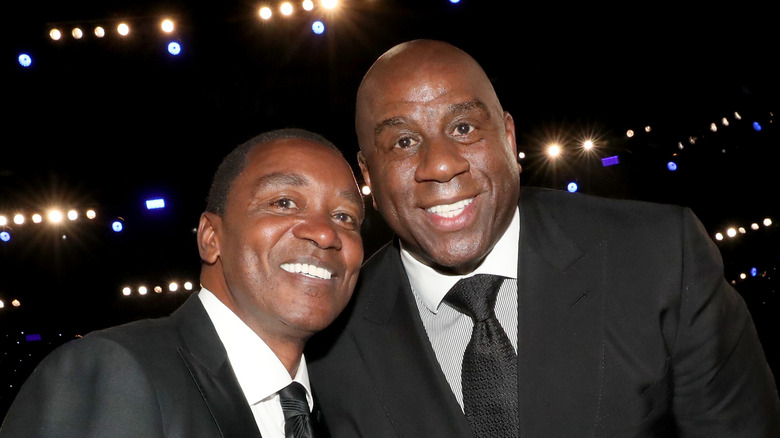 Johnny Nunez/Getty Images
Isiah Thomas and Magic Johnson have probably kissed each other on the field of play more than any other two sportsmen in history. Indeed, despite playing on opposite teams, the Detroit Pistons and the Los Angeles Lakers, respectively, the pair gave each other a peck on the cheek before every encounter during the NBA finals of 1988.
The platonic display of affection was apparently inspired by Italian family traditions. But sadly, their mutual respect soon dissipated. In fact, they went on to develop a feud that lasted for nearly 30 years! The drama reportedly began when Johnson failed to visit Thomas' newborn son, and was then exacerbated when he failed to help the point guard recover from an ankle sprain.
Things got more serious in 1992 when Johnson allegedly played a part in keeping Thomas out of the Dream Team that won the Barcelona Olympics. At the time, the former, who'd just been diagnosed with HIV, believed that Thomas was responsible for gossip about his sexuality. Thankfully, the pair finally managed to bury the hatchet in 2017 for a reunion screened on NBA TV. This time around, however, they opted for a hug.
Anna Tamminen and Rosa Herreros set aside rivalry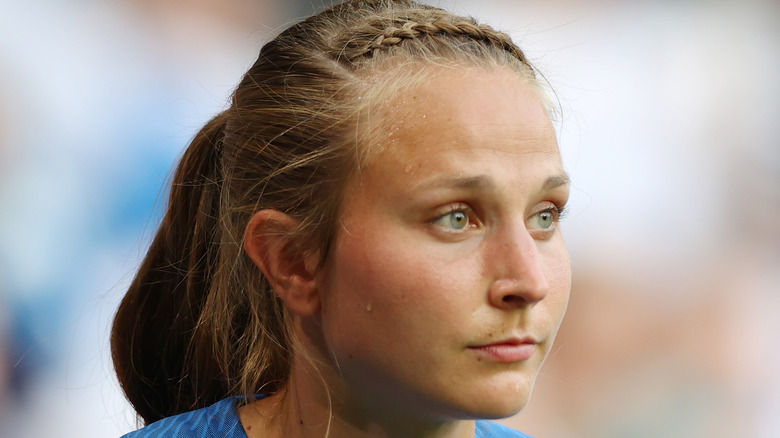 Naomi Baker/Getty Images
An encounter between Hammarby and Växjö of Sweden's top-flight soccer league wouldn't normally create global headlines. But it was what happened after the final whistle, rather than the 90 minutes of action preceding it, that got the sporting world's tongues wagging.
Following Hammarby's 6-1 victory in April 2023, goalkeeper Anna Tamminen was lovingly greeted on the pitch by her girlfriend, Rosa Herreros. Nothing too unusual about that in the women's game. You may remember that Sweden's Pernille Harder shared a kiss with Magdalena Eriksson, the Danish international who was watching from the stands, following a victory over Canada at the 2019 World Cup. And Australia's Sam Kerr and USA's Kristie Mewis famously rested their heads on each other following their nail-biting thriller at the 2021 Olympics. However, on this occasion, the two on-field kissers had only minutes beforehand been sporting rivals.
Yes, although she was never called off the bench, Herreros was a substitute for Växjö. As a result, the pair were questioned for their commitment to their respective teams as much as they were praised for their public display of affection.
Brad Marchand is a repeat offender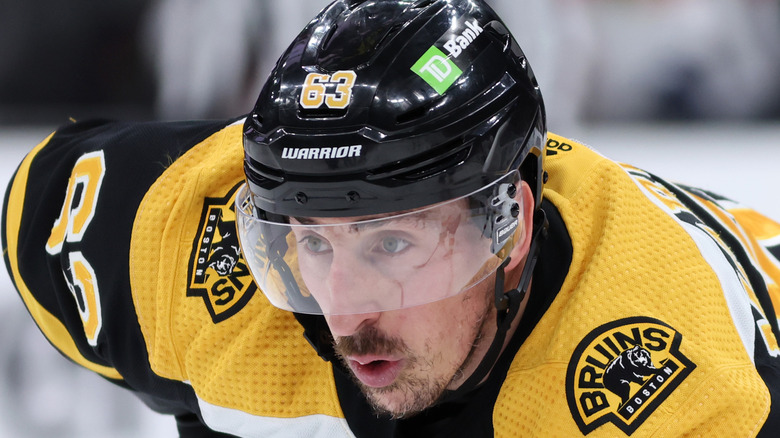 Maddie Meyer/Getty Images
When it comes to kissing on the field of play, or more aptly rink of play, the Boston Bruins' Brad Marchand is undoubtedly the don. In fact, he's been so amorous across his ice hockey career that he's had to be specifically told to keep his lips to himself.
Marchand's kiss list began in 2014 when he gave Jarome Iginla a kiss for scoring against the Red Wings in the Eastern Conference quarterfinals. He then did the same to Max Talbot in 2015 after the new recruit helped to set him up with the winning goal.
But not all of Marchand's kisses have been congratulatory. He's also used kissing as both a way of diffusing heated encounters with the opposition and a means of taunting them. And in 2018, he upped the ante when he licked the face of opponent Leo Komarov of the Toronto Maple Leafs. "I thought he wanted to cuddle. I just wanted to get close to him," came the explanation to reporters (via USA Today). "He keeps trying to get close to me. I don't know if he's got a thing for me or what. He's cute." 
Alan Birchenall and Tony Currie enjoy soccer's first kiss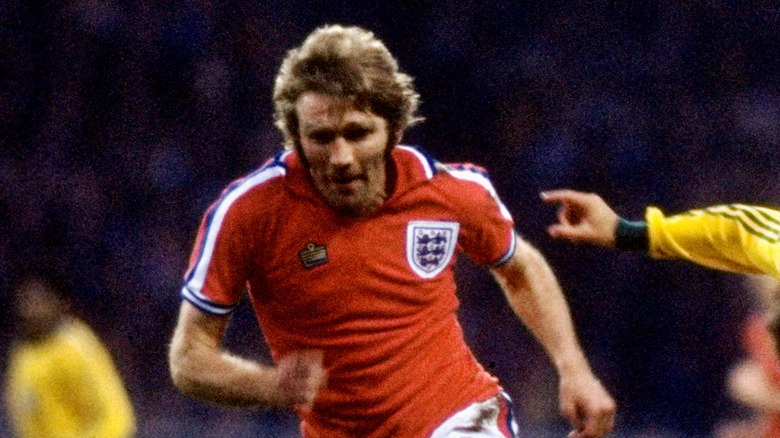 Tony Duffy/Getty Images
Soccer wasn't exactly 'the beautiful game' back in the 1970s, which makes Tony Currie and Alan Birchenall's spontaneous display of affection all the more daring. Indeed, in April 1975, the midfielders for Leicester City and Sheffield United, respectively, both ended up on the floor after a 50/50 tackle. But instead of getting into a scuffle, as was the norm back in the day, the pair decided to subvert all expectations and instead puckered up in front of bewildered fans.
In a 2018 interview with The Star, Birchenall explained how the smooch came about: "We were getting battered at the time. So I wasn't in the best of moods and we were both tangling for the ball. We ended up on the deck, looked at each other and it just seemed like a funny thing to do. TC and I have been doing it at least once a year since because every time we meet up, people keep asking us to."
But as he revealed in another chat with Four Four Two, Birchenall isn't always particularly enamored with this annual ritual. When asked about the worst moment of his career the ex-professional joked (via The Guardian), "Kissing Tony Currie...Every year we have to reenact the kiss and he gets uglier by the year."
Daria Iushko and Kysenia Sydorenko's synchronized kiss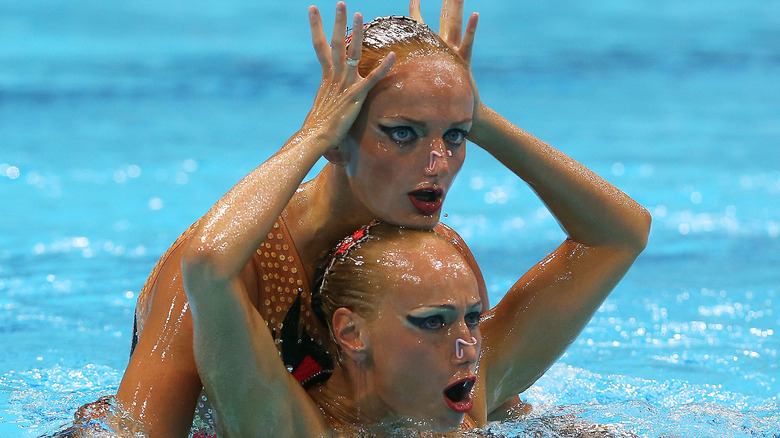 Clive Rose/Getty Images
We've had kisses on the ice rink, soccer pitch, basketball court, race track, and football field. So how about a display of affection in the swimming pool? Step forward Daria Iushko and Kysenia Sydorenko who got everyone's tongues wagging with their finale at the 2012 Olympics. At London's Aquatic Center, the pair from Ukraine finished the synchronized swimming women's duet competition in a creditable sixth place with a total of 184.340 points. 
But it wasn't their performance in the water that got certain viewers hot under the collar. No, it was the kiss on the lips that they shared on its completion. Some viewers took to Twitter to ask whether this was a traditional Ukrainian ritual or maybe even part of Iushko and Sydorenko's routine. But the more likely explanation is that the Olympians simply got caught up in the emotion of competing on the world stage.
Chris and Alexa Scimeca Knierim celebrate Valentine's Day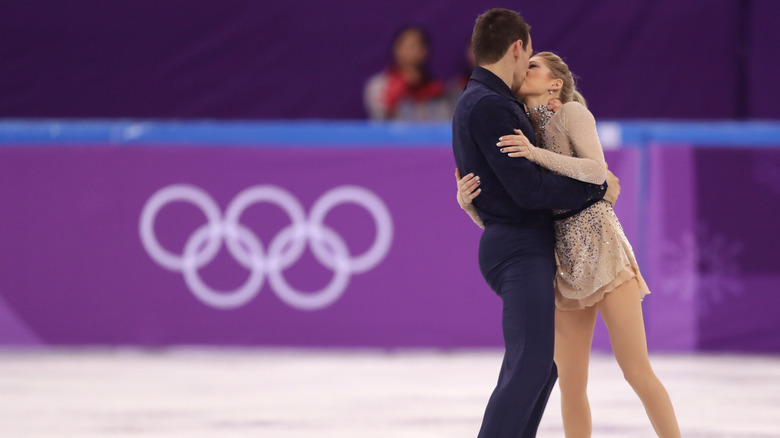 Richard Heathcote/Getty Images
American figure skaters Chris and Alexa Scimeca Knierim impressively managed to celebrate Valentine's Day and pull off a Winter Olympics routine at the same time in 2018. And of course, they sealed it all with a kiss. The husband and wife team made every old romantic go "aww" when they took to the ice rink in Pyeongchang for the qualifying stage of the free skate competition. Not only did they finish their performance with a smooch, but Chris also gave his other half a red paper heart with the handwritten message, "Will you (still) be mine?" The public display of affection did the trick and the pair sailed on to the finals in 14th place.
"It's Valentine's Day and I think we showed how much we love each other and love to skate with each other during the program," Chris said (via Express) in a post-skate interview. But this wasn't the first time the couple, who'd married two years earlier, had locked lips at the Games. The previous week they'd also shared a kiss during their fourth-placed routine in the team figure skating. Alexa told People, "When we kissed, in the back of my mind I was like: We're on Olympic ice. It's still such a big deal, we're still like kids taking it in."
Mijain Lopez kisses Olympic rival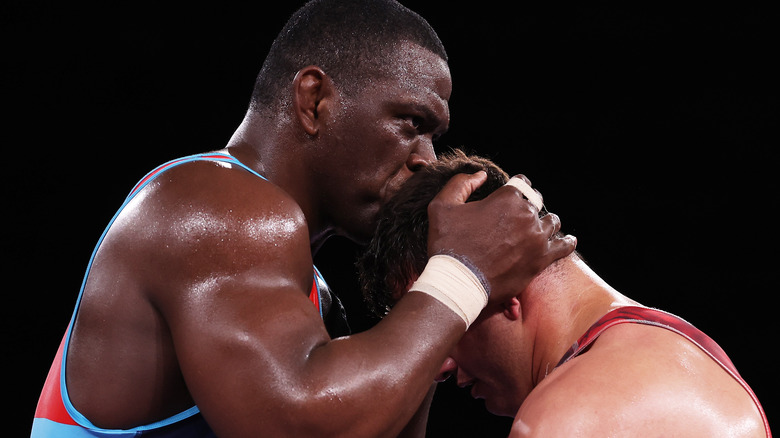 Tom Pennington/Getty Images
It's fair to say that Greco-Roman wrestling is one of the most contact-driven sports on the Olympic schedules. And Mijain Lopez leaned into that at the Tokyo Olympics in 2021 when he gave his fiercest rival a kiss on his forehead. The Cuban made the gesture after defeating Turkey's Riza Kayaalp in the semi-finals of the 130kg weight class by 2-0. The pair had previously fought against each other on six occasions, with Lopez winning four including their earlier two Summer Games bouts. While some saw the kiss as a sign of respect and gamesmanship to his clearly distraught opponent, others saw it as a display of alpha male dominance.
Whatever the intentions, Kayaalp can perhaps take some heart from the fact that he lost to arguably the event's all-time great. Indeed, Lopez went on to win the final against Georgian Iakobi Kajaia at the Makuhari Messe Hall to add to the three golds he picked up in Beijing 2008, London 2012, and Rio de Janiero 2016.
Kevin Sinfield kisses Rob Burrow on the marathon finish line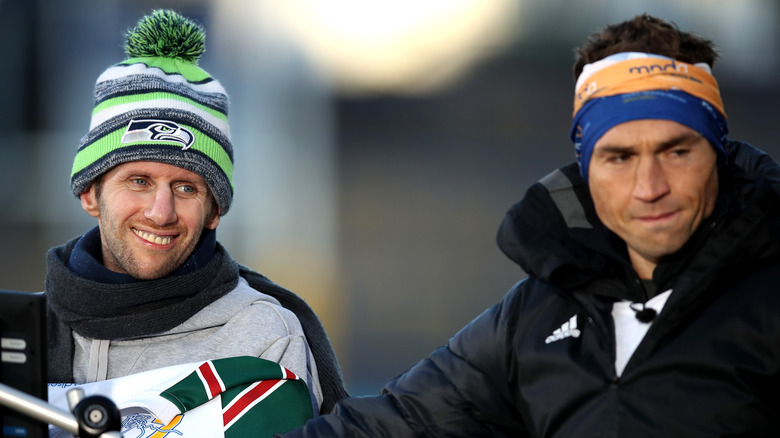 George Wood/Getty Images
Get ready to dry your eyes. In 2023, former rugby league player Kevin Sinfield completed one of his many charitable sporting endeavors when he crossed the finish line of the Rob Burrow Leeds Marathon. The race was named in honor of his one-time Leeds Rhinos teammate who four years earlier had been diagnosed with Motor Neurone Disease. But Sinfield hadn't run the course alone.
Indeed, the sportsman had also pushed Burrow around for 26.2 miles in a custom-made wheelchair. And Sinfield celebrated going the distance by giving his pal a kiss on the cheek. "Today is a celebration of friendship," he told reporters soon after (via Sky Sports).
Sinfield has managed to raise more than $8 million in four years for charities affiliated with Burrow's condition. In 2020, he took part in seven marathons in as many days. The following year, he ran 101 miles in the space of just 24 hours, and then in 2022, he once again pushed his body to its physical limits with the Ultra 7 in 7 Challenge, an event in which he ran a remarkable 40 miles every day.
Alun Wyn Jones steals a kiss from George North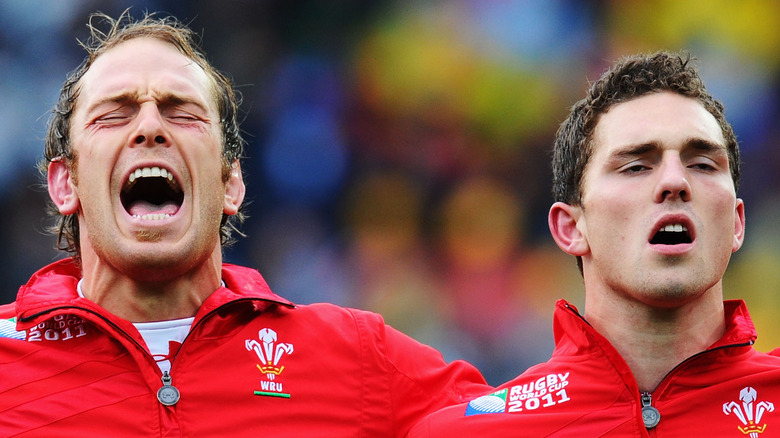 Stu Forster/Getty Images
In 2019, Alun Wyn Jones became the most-capped player in Welsh rugby union history when he guided his country to a memorable 29-25 win over Australia. But the only thing everyone was talking about after the match was his on-field kiss with wing George North.
Jones appeared to take his teammate completely by surprise when after giving him a hug, he quickly gave him a peck on the lips. When asked about the public display of affection at a press conference, the record breaker said (via The Independent), "We were obviously excited at the end and you share those moments with players. Not always like that but it is what it is. I am sure there will be some memes made out of it."
The sportsman was also asked how he'd top his kiss with North if his side also picked up a victory against the next opponent Fiji. "Well I think his wife is safe, put it that way," came the reply. Wales did win that particular game 29-17 but thankfully for North, Jones managed to keep his lips to himself.
Guram Tushishvili kisses Adam Okruashvili's belly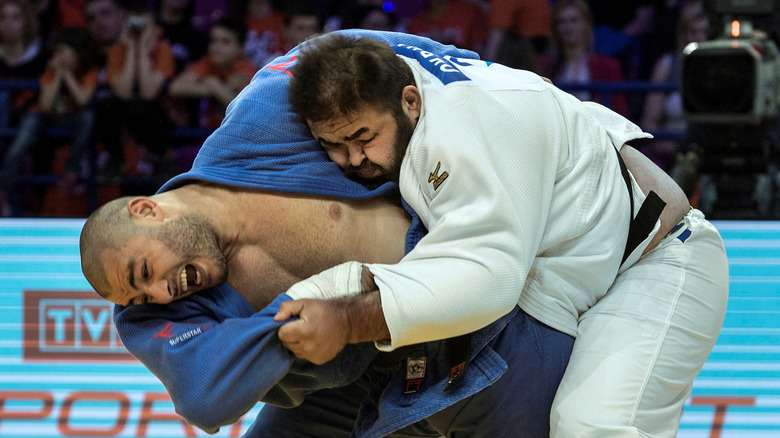 David Finch/Getty Images
Guram Tushishvili is undoubtedly the outlier on this list as unlike all the other kissers who opted either for the lips or the forehead, his body part of choice was the belly. And a rather hairy, perspiration-drenched one, too. The unlikely celebration occurred after the Georgian had beaten his fellow countryman Adam Okruashvili at the 2017 European Judo Championships in the Polish city of Warsaw. 
Instead of shaking his opponent's hand following the battle to win the 100-plus kilogram division title, Tushishvili instead leaned across a horizontal and clearly worn-out, Okruashvili and gave his exposed belly a surprisingly tender kiss. Okruashvili had won the same title two years previously which perhaps explains why Tushishvili, six years his junior, felt a little apologetic in the wake of his victory. The latter would also go on to win the same title in Minsk in 2019 but this time without any belly kissing involved.
Yaisel Puig kisses Charlie Culberson's neck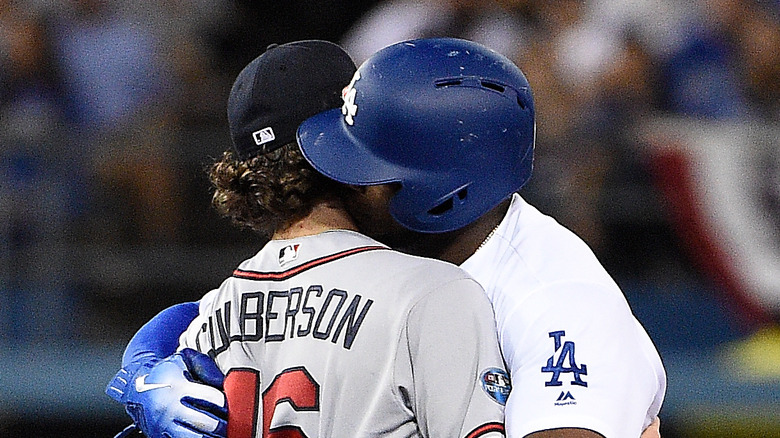 Kevork Djansezian/Getty Images
Los Angeles Dodgers right fielder Yaisel Puig has a history of kissing in the middle of a baseball game. Following a home run against the Minnesota Twins in 2017, he wrapped his arms around coach Turner Ward before giving him a peck on the cheek. And a year later, he received no fewer than three smooches from the same man during a victory against the St. Louis Cardinals.
But his most surprising public display of affection came not with a member of his own team, or in a moment of triumph, but against an opponent in a moment of defeat. While taking on the Atlanta Braves in Game 2 of the National League Division Series in 2018, Puig was thrown out in the bottom of the sixth inning. But instead of sulking to the dugout, the MLB star instead headed straight for the man responsible.
No doubt much to the relief of Charlie Culberson, this wasn't an act of aggression. He simply wanted to give the Braves shortstop a kiss on the neck. The recipient took the gesture in good humor and Puig eventually headed to the dugout to cheers and applause from the crowd.