Here's What Jenna Ortega Looks Like Without Makeup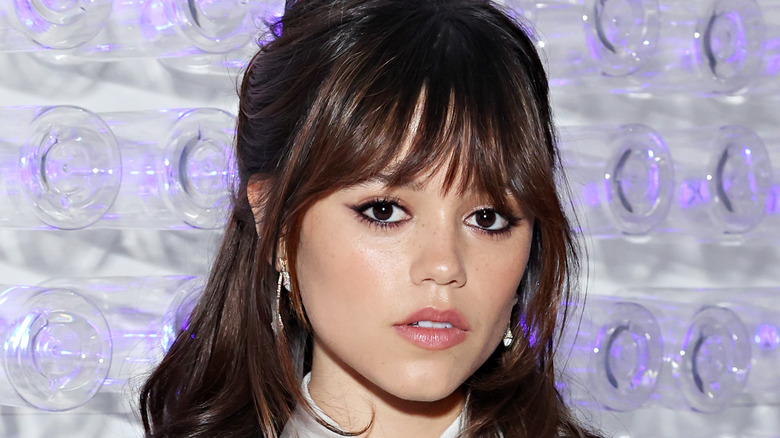 Cindy Ord/mg23/Getty Images
Jenna Ortega may only be 20 years old, but she's already built a pretty impressive Hollywood resume. Many may know her from her roles in "Jane the Virgin" and "You," but it wasn't until she grabbed the starring role in Netflix's "Wednesday" that she started to stand out as a fashion icon and people began copying the character's goth look. While Wednesday Addams was all about a dark lip, Ortega told Vogue that she prefers a simpler look off-screen. "Maybe it's because of my chaotic lifestyle, but I find myself really drawn to a more minimalist, neutral aesthetic. Oftentimes, I'm away from home, so I need things that are comforting, relieving, and relaxing; clean," the actor shared.
Despite her penchant for a more natural makeup look, Ortega wasn't afraid to go full goth glam for the "Wednesday" premiere. As reported by CNN, the "Scream" star wore a black wedding dress-inspired gown with a sheer, black veil covering her face. She completed the look with a dark, smokey eye and blush-stained lips. The makeup was indeed dramatic, as per her character, but a bare-faced selfie proves Ortega looks just as amazing without any products at all.
Jenna Ortega's makeup-free selfie proves she's a natural beauty
When Jenna Ortega is in character, she fully embraces whoever she's portraying, but off-camera, she's not afraid to show off her playful side. In a before-and-after pic on Instagram, Ortega teased her fans with gory makeup and then displayed her clean face after using facial wipes. "Without fail," the star wrote while posing with her favorite brand.
The "American Carnage" actor is not afraid of a bit of horror makeup and in fact, she showed up at her "Wednesday" audition after her role in "X," in which her character gets shot. "[It] was funny because when I met Tim Burton for my Wednesday audition, I had just finished doing that. So I had stage blood, and glycerin sweat in my hair and a massive cut on my face and had been up for over 24 hours," she recalled to Wired. Thankfully, Burton laughed and as we all know, Ortega got the part. While she's used to wearing character makeup, Ortega prefers to keep her skin bare and fresh-looking with a simple beauty routine when she's not on camera.
Jenna Ortega is blessed with naturally clear skin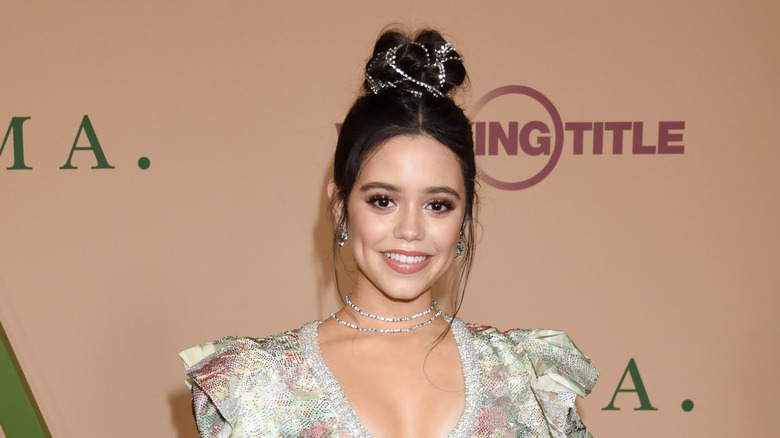 Ga Fullner/Shutterstock
Jenna Ortega has been acting since she was a kid, so she's naturally used to an onslaught of hair and makeup products. Thankfully, she has had minimal issues with breakouts. "I don't have any specific skin issues. I do have combination skin, and during the summer, it tends to lean more on the oily side. So for me, it's just about making sure I keep my t-zone in check," she told Byrdie. Ortega, who is known for her signature bangs, stated that did notice some breakouts on her forehead due to the style and shared that she tries to maintain her clear skin while still keeping her fringe.
When it comes to her go-to makeup look, Ortega draws inspiration from her mother. "My mom always had a strong lip liner, and when I'm concerned or scared or don't know what to do or feel lost in the beauty world, I just take off all my makeup, then put on nice burgundy lip and I feel like home," she revealed to Glamour. As for one of the makeup products she would use for the rest of her life, Ortega said that sunscreen is vital in her routine. We couldn't agree more.