A Look At Jason Aldean And Luke Bryan's Close Friendship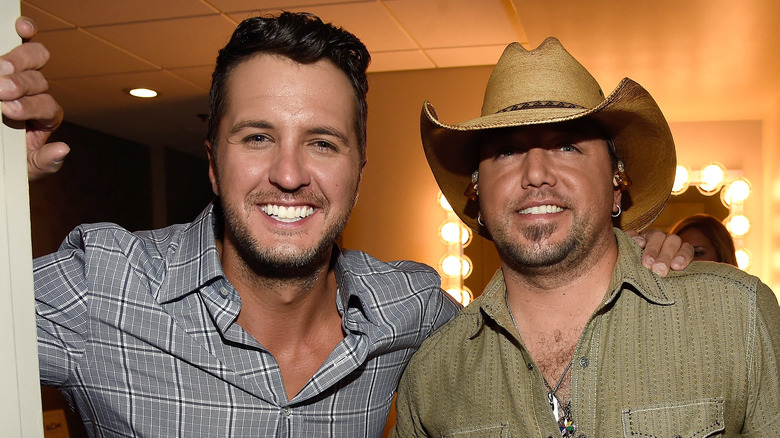 Rick Diamond/Getty Images
They might be two of country music's biggest stars, but Jason Aldean and Luke Bryan have proved that all is not war in Hollywood. Since coming into the limelight in 2005, Aldean has enjoyed a successful career, boasting several awards and achievements, including multiple entries on the Billboard Hot 100 chart. "It feels good to know that for the last 16 years, I've had a chance to wake up and go do a job that I truly love to do," Aldean once gushed to People.
Alongside his many accolades, Aldean has built long-lasting friendships with many of his fellow country stars, including Luke Bryan, with whom he has developed a great friendship. Despite both being country stars, Bryan and Aldean have broken the barriers of industry rivalry to remain each other's biggest supporters. During a September 2022 appearance on the "Full Send" podcast, Bryan opened up about his relationship with Aldean, saying: "We've loved each other for all the right reasons. We have a damn blast with each other's successes like he would win artist of the year, and I would win album of the year."
Beyond their constant support for each other's career successes, however, Bryan and Aldean's relationship is based on much more. Here's a look into the pair's admirable friendship!
Jason Aldean and Luke Bryan are longtime collaborators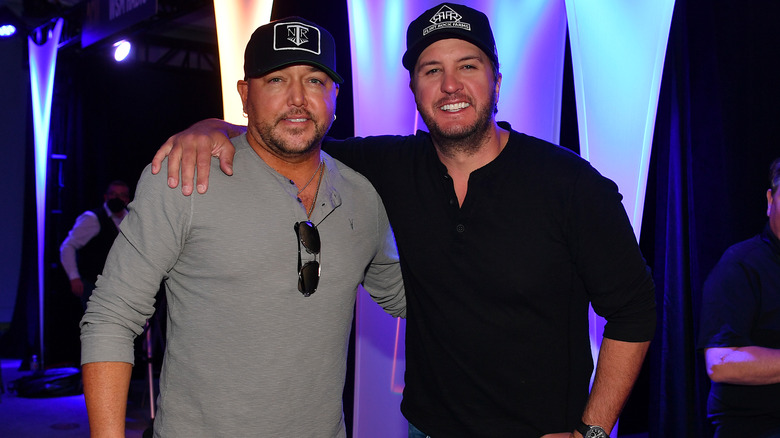 Denise Truscello/Getty Images
As revealed to HuffPost, Jason Aldean and Luke Bryan first met at a Tennessee radio station, hit it off immediately, and soon struck up a friendship. In 2012, Aldean released "The Only Way I Know," a single featuring Bryan and Eric Church. This would mark the first of many collaborations. Speaking to CBS News of his time working with Bryan on the track, Aldean said. "He and I have two completely different personalities. He comes in and never stops talking, and I'm the complete opposite." When they are not recording together in the studio, Aldean and Bryan also tour together. "My best artist friend is definitely Jason Aldean," Bryan told HuffPost. "He and I really get along great and are really great friends. It's fun to tour with a buddy and somebody that I just enjoy hanging out with." Outside of their music careers, however, Bryan and Aldean have also proven to be great business partners.
Alongside others, including Major League Baseball players Adam LaRoche, Tom Martin, and Ryan Langerhans, Bryan and Aldean own Buck Commander — a company that sells hunting clothing, accessories, and paraphernalia, fueled by their shared love of the hobby. Additionally, Bryan and Aldean co-own a Nashville steakhouse called E3 Chophouse, per Taste of Country. "This is the town they call home, and they're directly involved in the development and design of the restaurant," LaRoche told Music Row about the pair's involvement.
Luke Bryan and Jason Aldean will always have each other's back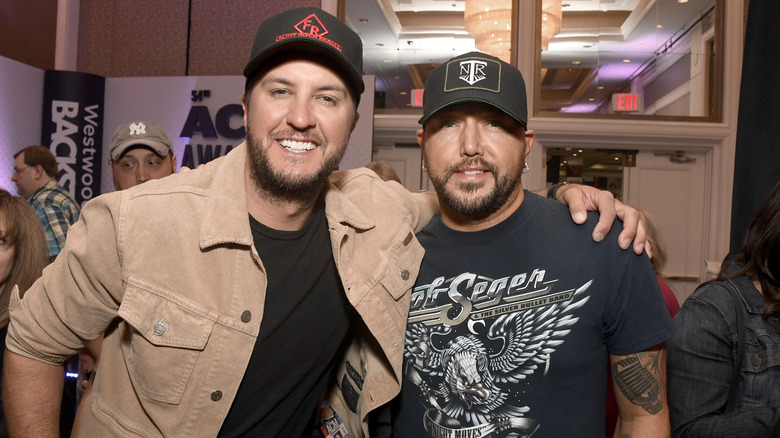 Frazer Harrison/Getty Images
With a wide range of things in common, it is no surprise that Luke Bryan and Jason Aldean share an incomparable connection. "There's a bond there that I think is hard to describe," Aldean once told Rolling Stone. "We hunt together, own a company, and are looking at doing some other stuff too. It's been a cool friendship." In the interview, Aldean also attributed his thriving, long-lasting friendship with Bryan to having similar personal and professional experiences.
Unsurprisingly, this has translated to the pair supporting and having each other's backs through unfortunate situations. "With Luke, he and I are ones that can pick up the phone and say, 'This is what's going on. Have you experienced this? How would you handle that?'" Aldean said. "We got to go through all that stuff together. Things that a lot of people don't understand, he and I do. On the other side of that, there are personal things we've gone through together."
Of course, when things are going well, Aldean and Bryan are there to celebrate each other's wins. Following Aldean's first No.1 entry on the Billboard Hot 100 chart, the "She's Country" singer celebrated his new milestone with some of his loved ones, Music Mayhem reported. Obviously, the gathering included his best buddy, Bryan.